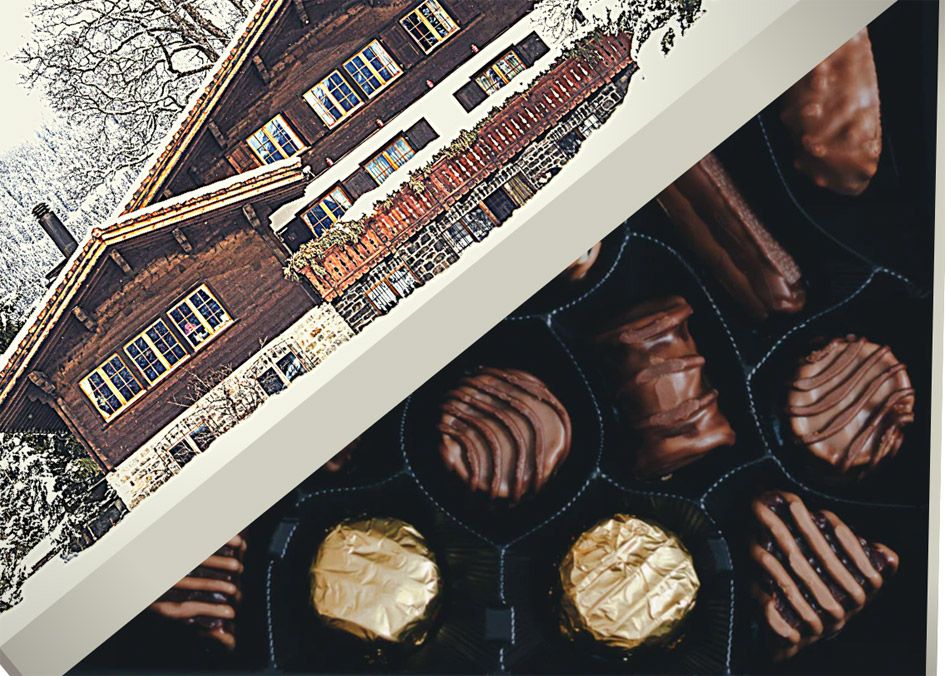 The phrase 'chocolate box chalet' derives from the beautifully scenic pictures painted on chocolate boxes in the Victorian times. The idea then became a marketing tool for Cadbury's in the early 1900's and gained significant popularity in the 1950's and 1960's. We now widely use the phrase to describe chocolate box ski chalets and cottages as those with original charm and character.
Let's unwrap this box of luxury chalets in Switzerland where we will be sure to find a large variety of pretty, charming and traditional chocolate box chalets. They may all look to be a heavenly temptation with true alpine charm, but with each and every one possessing their own unique character, which one will satisfy your palette?
Le Ti Chalet is the perfect chalet to start off our list of the top chocolate box chalets in Switzerland. It may be small sleeping just 6 adults and 2 children, but it by no means lacks charm from the outside in. The property has been intricately designed with authentic timber holding a beautiful idyllic structure on the outside, as well as embracing the traditional alpine feel on the inside with original beams and rustic furnishings. It becomes a luxury chalet with the added handpicked antiques and quality fabrics placed throughout, along with the exceptional catered service and outdoor hot tub with breathtaking views.
Le Ti Chalet is one of our chalets available for a seasonal rental.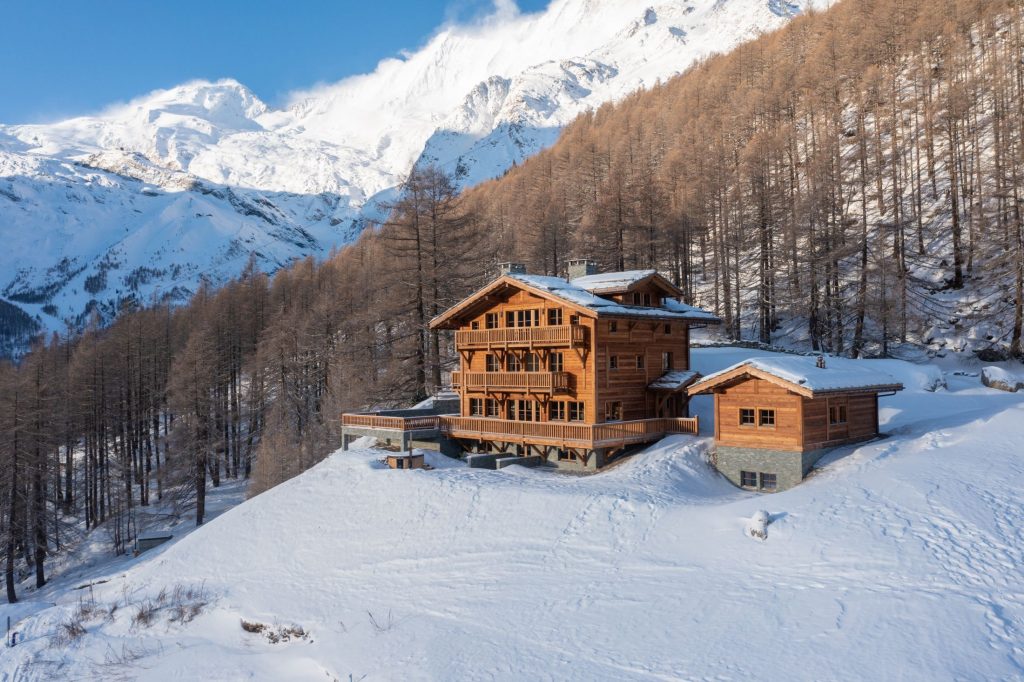 If you think of a chocolate box chalet scene, Chalet Lycka and its surroundings is likely to match what your imagination creates. A typical wooden panelled chalet, positioned in a peaceful location beneath woodland, its the epitome of a chocolate box chalet scene. Chalet Lycka benefits from the best sun on the Hohnegg Plateau and stunning views of the rugged peaks. Stepping inside you'll find elegant and contemporary interiors fused with a classic alpine style which together creates a luxurious and traditional Swiss home for your luxury ski holiday in Saas Fee.
And this chocolate box is brimming with treats to suit everyone's tastes. From a fencing room to a cinema, pool table to an outdoor Nordic bath and an office space to outdoor fire pit and alfresco lounge, whatever the requirements and desires of the group, you are sure to "Lyck'a" this chocolate box chalet.
As one of the last log chalets in Klosters, we couldn't leave out this characterful chalet. Arguably one of the most traditional ski chalets in Switzerland, Chalet Bear is the true definition of a chocolate box chalet. Perched on small hill with stunning views, a total of 8 guests can relish in all its charm and luxury. Inside you will find a quintessential chocolate box cottage with original alpine beams, open log fires and a grace of an English stately home.
The majestic mountain backdrop sets the scene for chocolate box Chalet Aline. Or should I say 'Chalet Pr-Aline'? If there was a chocolate box chalet in Switzerland that oozed the delicious creamy nutty goodness, Chalet Aline would be it. The traditional paned windows perfectly frame the stunning south-facing views and along with the aged-wooden beams inside, encase the living area as the ideal place to relax. Gaze out to the stunning scenery whilst relaxing in front of the open fire after a hard day on the slopes, perhaps with a glass of Champagne and a box of chocolates – why not?
The second chocolate box chalet in Klosters to feature on our list is no other than Chalet Maldeghem. The kind of chocolate box chalet to be wrapped in red ribbon and gifted to a loved one. Once unwrapped, discover a wonderfully charming family home with all the luxuries you need on a ski holiday in Klosters. Each room has a unique style but all capture the essence of quintessential luxury with elegance and warmth – it's a true home away from home.
Just a few minutes from the centre of chocolate box ski resort Verbier, but perched on the hillside for stunning mountain views, this chocolate box penthouse apartment is perfectly suited for your luxury Swiss Alps holiday with the family. With enclosing snow-laden trees, south-facing laced balconies and a traditional garden picket fence, Chalet Sherwood and the surroundings make for the perfect chocolate box chalet scene. Inside, the heavenly filling is made up of quality furnishings and traditional features including an open log fire and original timber frames.
Chalet Bella Coola has the wow factor and charm deserving the front scene of any chocolate box. A traditional Swiss Chalet it may seem from the outside, but overall Chalet Bella Coola resembles something of a hazelnut praline truffle and Turkish Delight, all in one. Whether you are a fan of both chocolates or not, we don't doubt you'll be a fan of this unique luxury chocolate box chalet in Verbier. The living room, dining area and snug feature traditional alpine woods and rich fabrics, representing the rich but classic hazelnut praline truffle; whereas the spa area, corridors and bedrooms come well associated with the Turkish Delight for the elaborate mix of European and Asian inspired antiques and furnishings – it truly opens the eyes of a traditional chocolate connoisseur with a flavour like nothing else.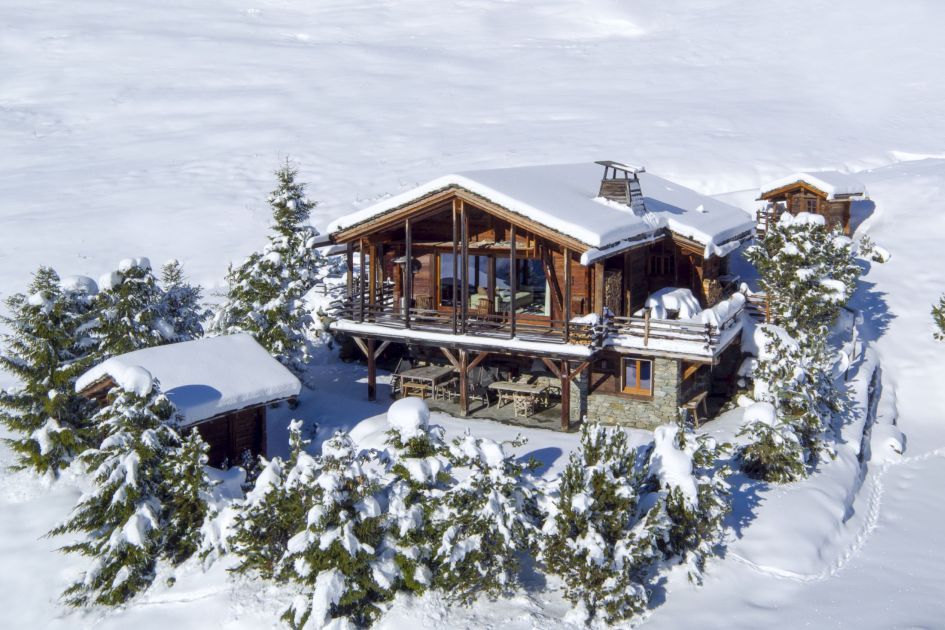 If Chalet Bibi was placed on the front of a chocolate box in a shop, I don't think you would walk away so easily. Everything about this traditional chalet in Switzerland is warm and inviting delivered through its alpine character and elegance. Traditional milk chocolate box chalet with interiors that will meet you with an orange cream delight, Chalet Bibi has to make the list of the best chocolate box chalets in Switzerland. The architecture has been intricately designed and encases a smooth and creamy interior with zests of vibrancy, creating the perfect authentic but fresh luxury chalet.
Chalet Les Attelas is a beautiful free-standing chalet built with the perfect combination of exposed stone walls and wooden panelled walls inside and out, giving it that vintage chalet aura. These features alone showcase the characteristics of a traditional chocolate box chalet, and with the winter wonderland setting, it sure creates the idyllic snowy scene. Beyond the delicate paned windows, you'll find six individually styled bedrooms and a characterful living room with warmth from the log fire and the glowing tones from the rich furnishings. It's a wonderfully cosy chalet to enjoy a relaxing evening exchanging stories of your day on the mountain.
If Walnut Whips designed a typical chocolate box scene for the front of the box, I'm sure the imagination would generate something very similar to Chalet Nyumba. Standing tall on the mountainside surrounded by soft fondant-like snow, it's a heavenly bite of something delicious. The structure of Chalet Nyumba exposes fine alpine detail in the timber with intricate carvings that of African artwork origins. The walnut crown of this luxury chalet in Verbier has to be the stunning mountain views from the 10m indoor L-Shaped swimming pool.
Chocolate box chalets are always a popular choice for luxury mountain holidays. There is just something about the traditional style and charming appearance that captures a true sense of escapism. So if you need help on deciding your favourite luxury chocolate box chalet flavour, we would love to hear from you. Send us an email or give us a call on +44 (0)1202 203560 and our Ski Specialists will love talking all things chocolate… oh and ski!