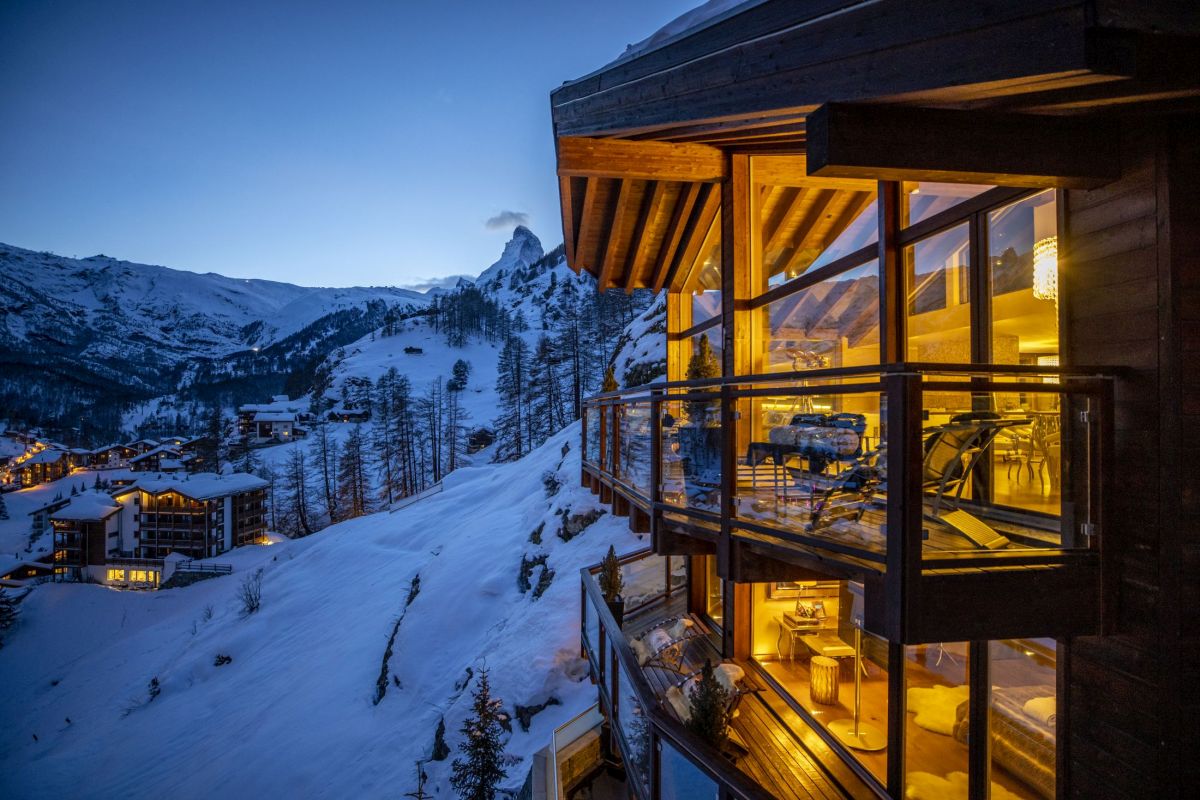 You can't beat a chalet with a view, unless it's a Matterhorn view! Whether you are sitting in the living room, on the balcony, the hot tub or even relaxing in the bath, the iconic Matterhorn can be seen from many luxury ski chalets in Zermatt. If you are looking for special places to stay on your Zermatt ski holiday, then Ski In Luxury's list of top 10 luxury catered chalets with Matterhorn views might just give you some inspiration.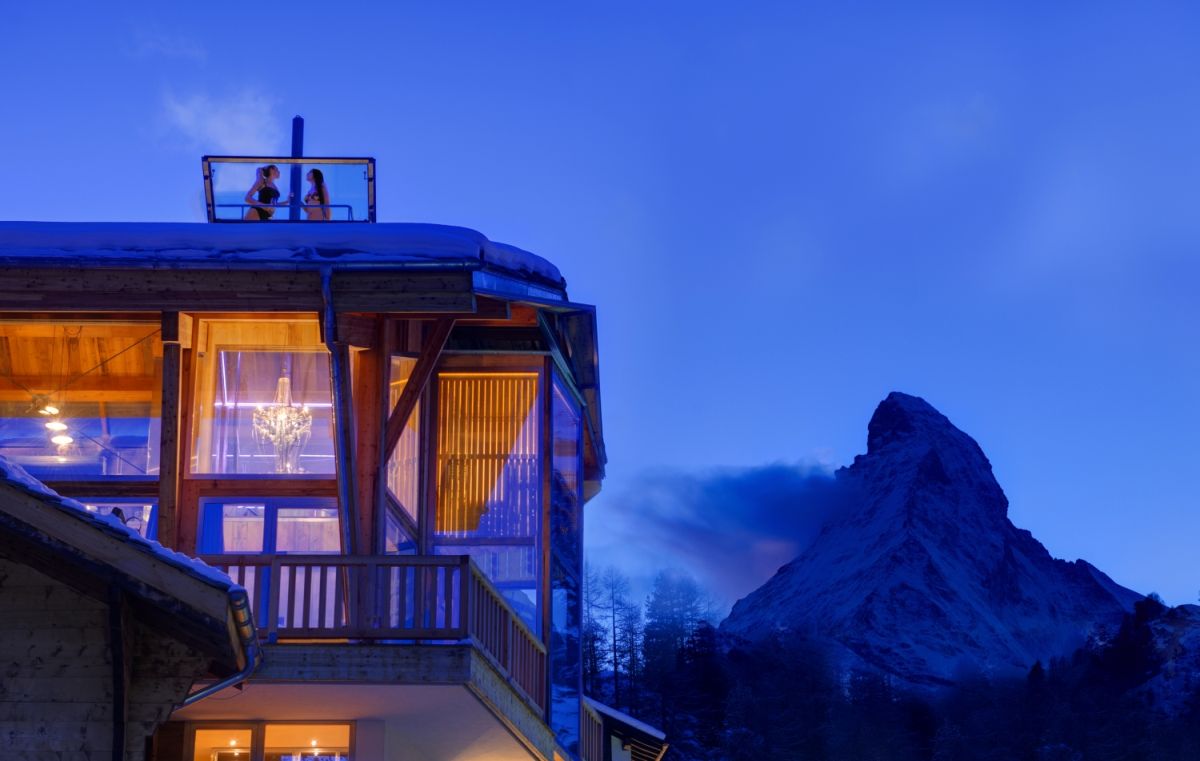 This is a particularly special catered chalet in Zermatt where unobstructed views of the Matterhorn can be seen from the rooftop in the hydraulically lifted whirlpool. Designed by Zermatt's famous architect, Heinz Julen, Backstage Chalet is a design triumph. It encompasses 360 degree panoramic views through it's clever construction combining local larch and large panes of glass to maximise the stunning vistas. Inside, it's contemporary design incorporates bespoke Heinz Julen furnishings with traditional interiors creating a luxurious and cosy feel. Typically Backstage Chalet is offered on a catered basis which includes full gourmet catering and a complimentary drinks bar. However, should you be looking for some more catering flexibility, you can choose to take this stunning property with bed and breakfast or on a self catered basis.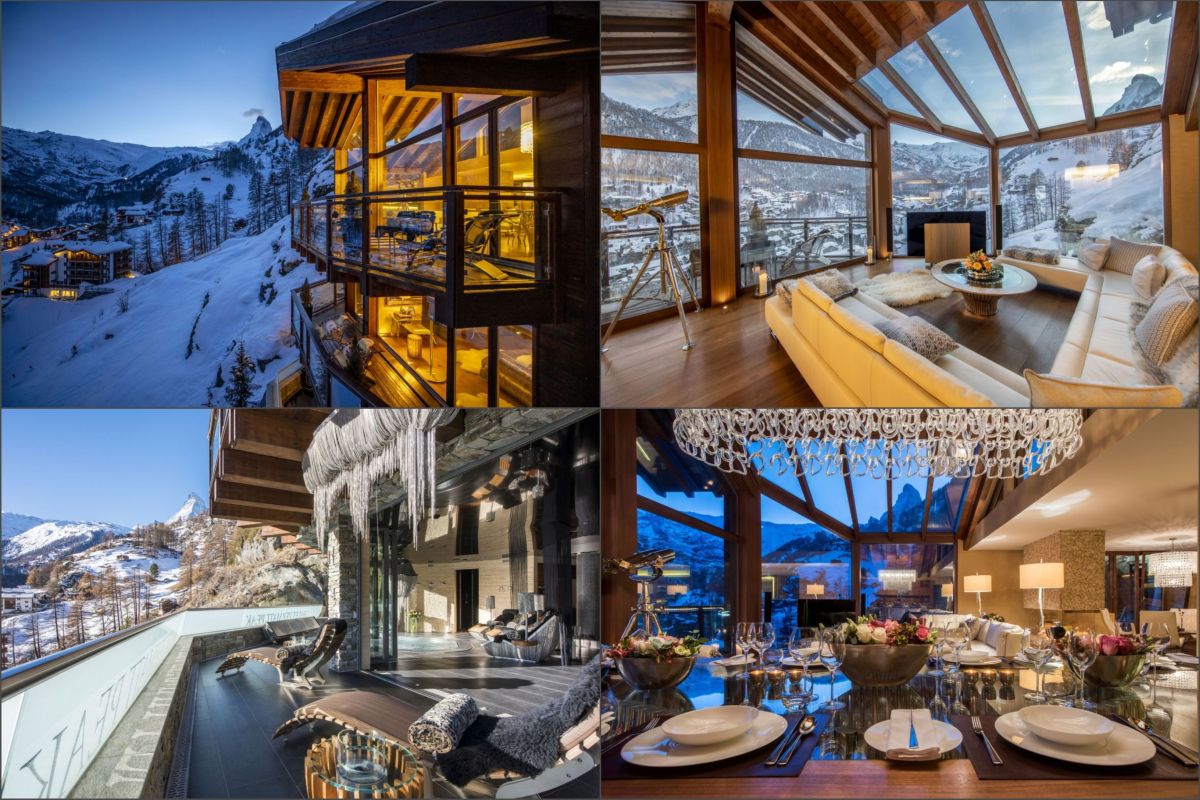 Voted as the World's Best Ski Chalet for 2020, Chalet Zermatt Peak is an extraordinary catered chalet in Zermatt with Matterhorn views from the outside in. Perched on the mountainside, this stunning Zermatt ski chalet is in a prime position and benefits from breathtaking views as well as optimum privacy. As one of the most private luxury chalets in the Alps, it is with no surprise that as a guest you will receive some of the highest level service, inclusive of a Michelin star chef curating bespoke menus to suit your individual preferences and desires. Chalet Zermatt Peak cannot be featured without a mention of its outstanding wellness spa. There simply is no better way to relax than revelling in the luxurious indoor/outdoor Jacuzzi or enjoying an ESPA massage, both complete with Matterhorn views. You will also find a steam room, sauna and state-of-the-art TechnoGym, perfect for repairing aching ski muscles.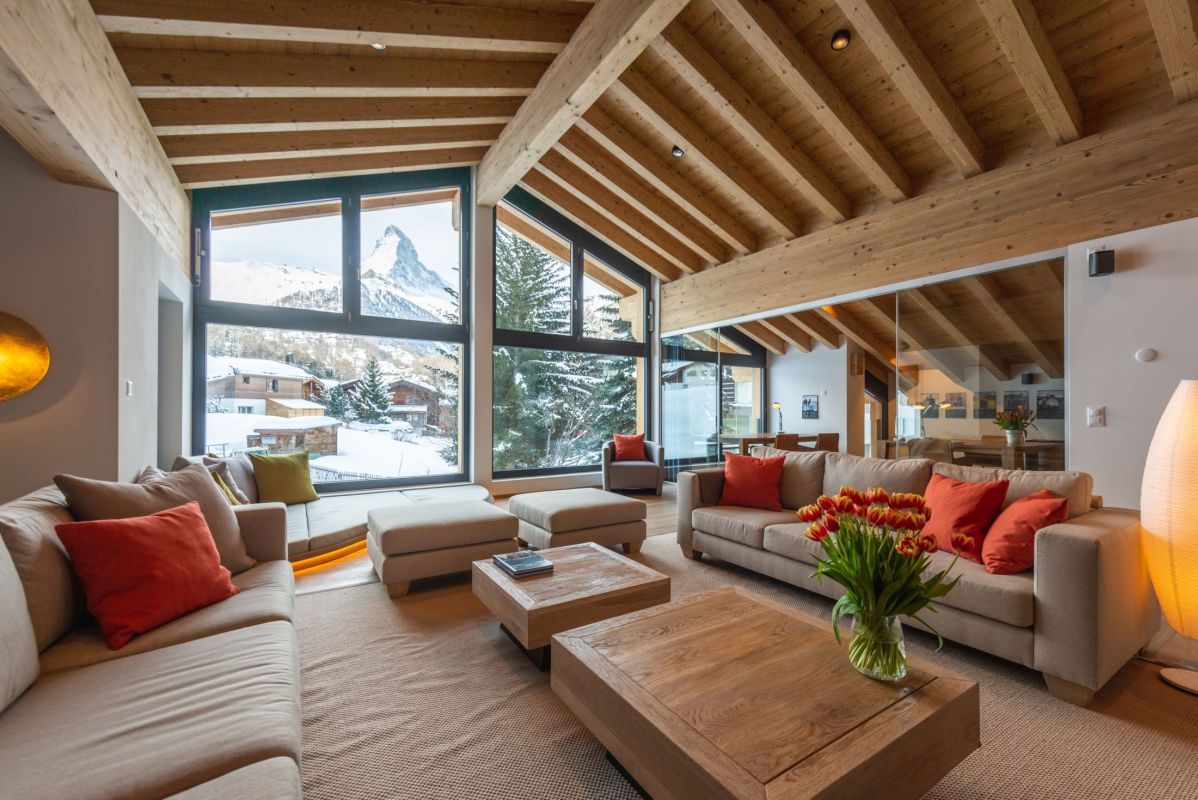 Accommodating 15-20 guests this catered chalet in Zermatt is perfect for a large group ski holiday. In the desirable Winkelmatten district, you not only benefit from a ski-in position, but also stunning views of the iconic Matterhorn. The best view of the Matterhorn is from the stylish open plan living space, where the famous landmark can be admired from the comfort of the sumptuous sofas through the large floor-to-ceiling windows; glass of Champagne in hand should you desire! If you're lucky enough to land in the master bedroom, you can also enjoy Matterhorn views from your stand-alone bathtub! Just a 15-minute walk into the centre of Zermatt (or 4 minutes by electro-taxi), Tuftra Findelbach's location is highly desirable for enjoying some of the best restaurants in Zermatt.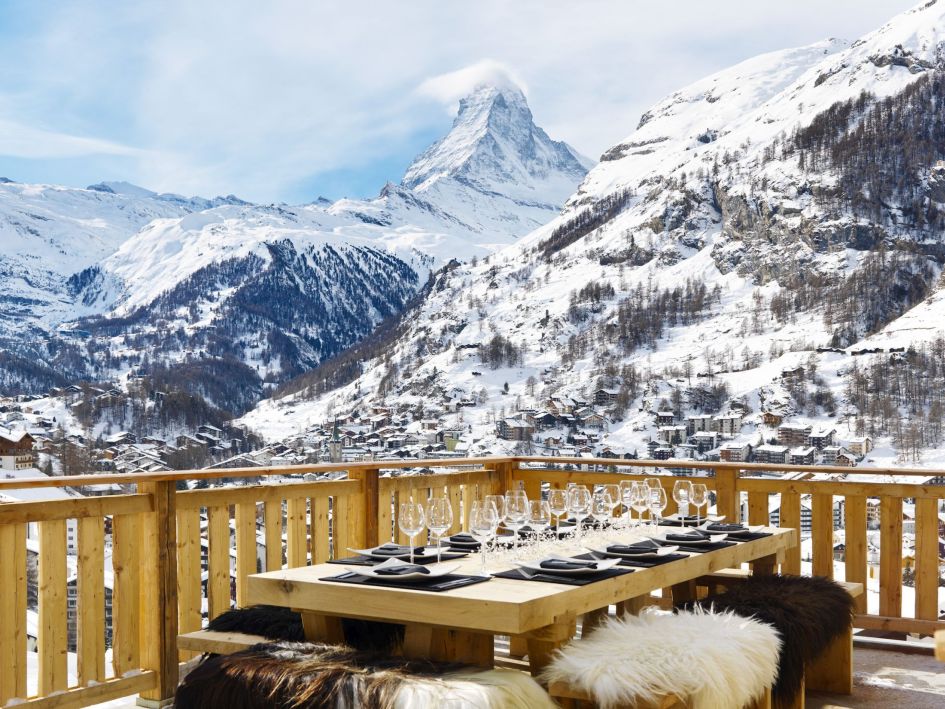 Alfresco dining done properly! Whilst you are wined and dined with the exquisite service at Chalet Les Anges, you can admire the stunning view of the Matterhorn. Step inside the chalet and you don't lose sight of the iconic peak. From the indoor dining room, open plan living space and even from the comfort of your sumptuous bedroom, Chalet Les Anges is strategically positioned to maximise the best views of the Matterhorn. This stunning catered chalet in Zermatt is located in the Petit Village area, in close proximity to the town centre. Covering 700sqm, up to 14 guests can enjoy the open plan living space which is designed primarily with comfort and entertaining in mind. Most of the bedrooms also benefit from direct Matterhorn views – it's the perfect way to wake up and kick-start a day in the mountains!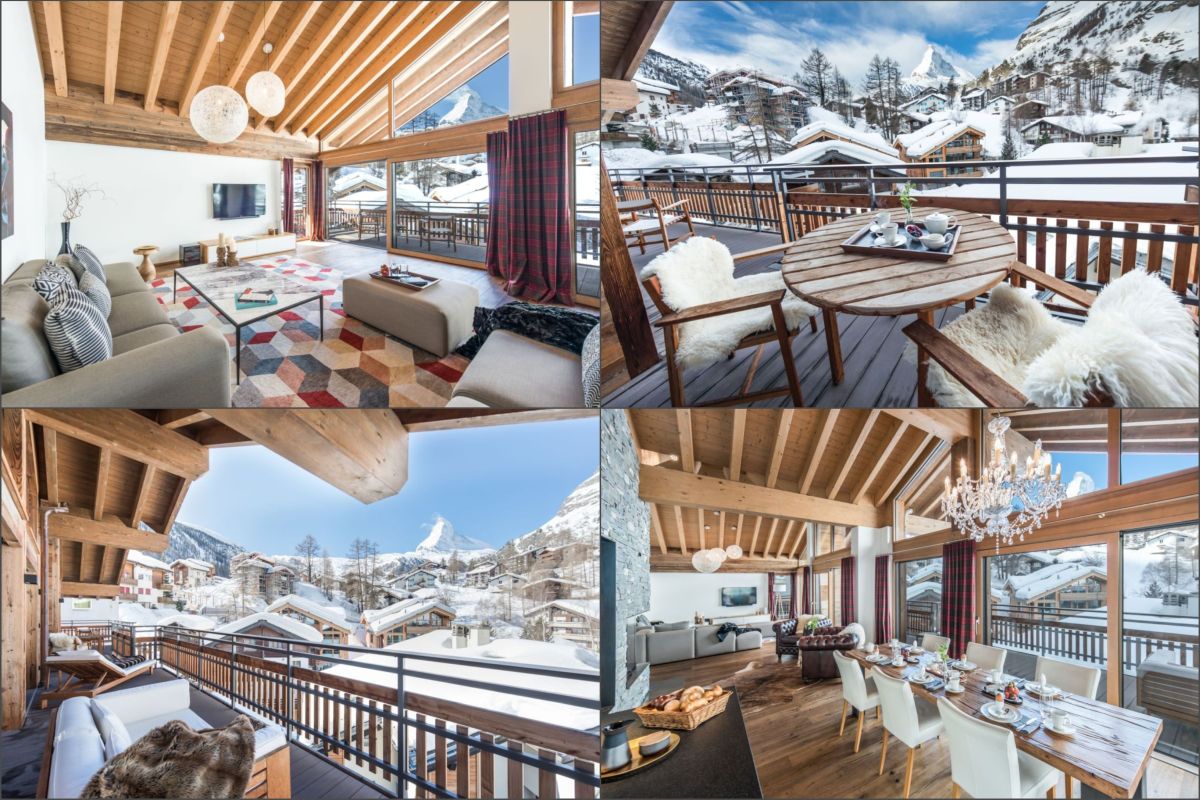 Next on our list of the best catered chalets in Zermatt with Matterhorn views is Aria Penthouse. The Matterhorn is framed by the floor-to-ceiling windows in the open plan living room so whether you have your feet up in front of the fire, or are tucking into a multi-course meal, Zermatt's iconic mountain can be admired. Only a two minute walk to the centre of Zermatt, and up to 7 minutes' walk to the Klein Matterhorn lift, Aria Penthouse is perfectly positioned to access all you'll need on your luxury ski holiday in Zermatt. It is offered on a catered or self-catered basis to give you either the flexibility or structure you prefer.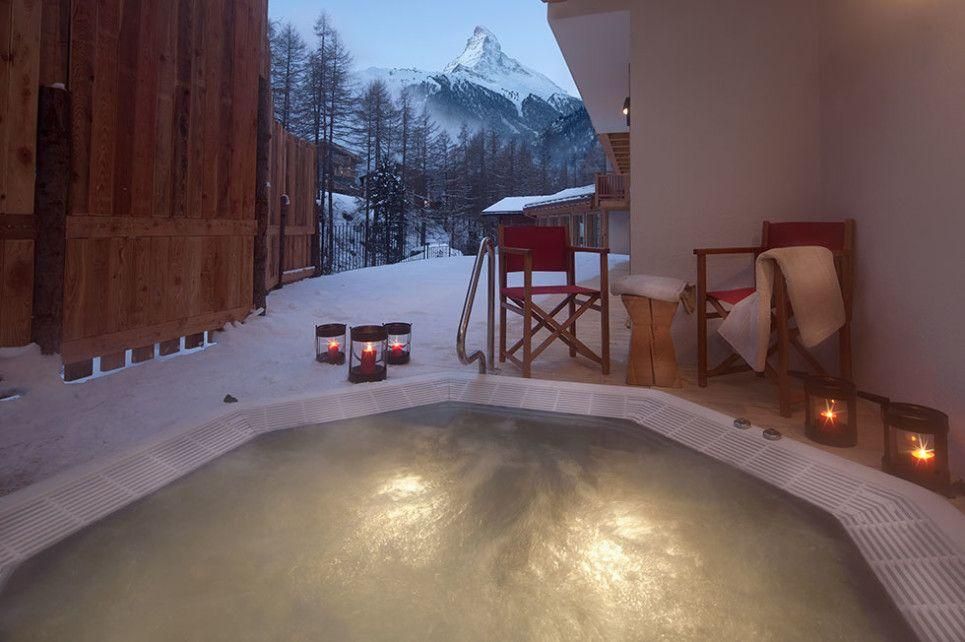 Chalet Binna is a typical alpine Swiss chalet. Its modern comforts are fused with the traditional wooden style structures, enclosing warm and luxurious soft furnishings. Accommodating 6-9 guests Chalet Binna is an excellent choice for a family ski holiday to Zermatt. While the children play in the snow beneath the Matterhorn, the parents can sit back and relax in the warmth of the outdoor hot tub with a stunning, uninterrupted view of the Matterhorn.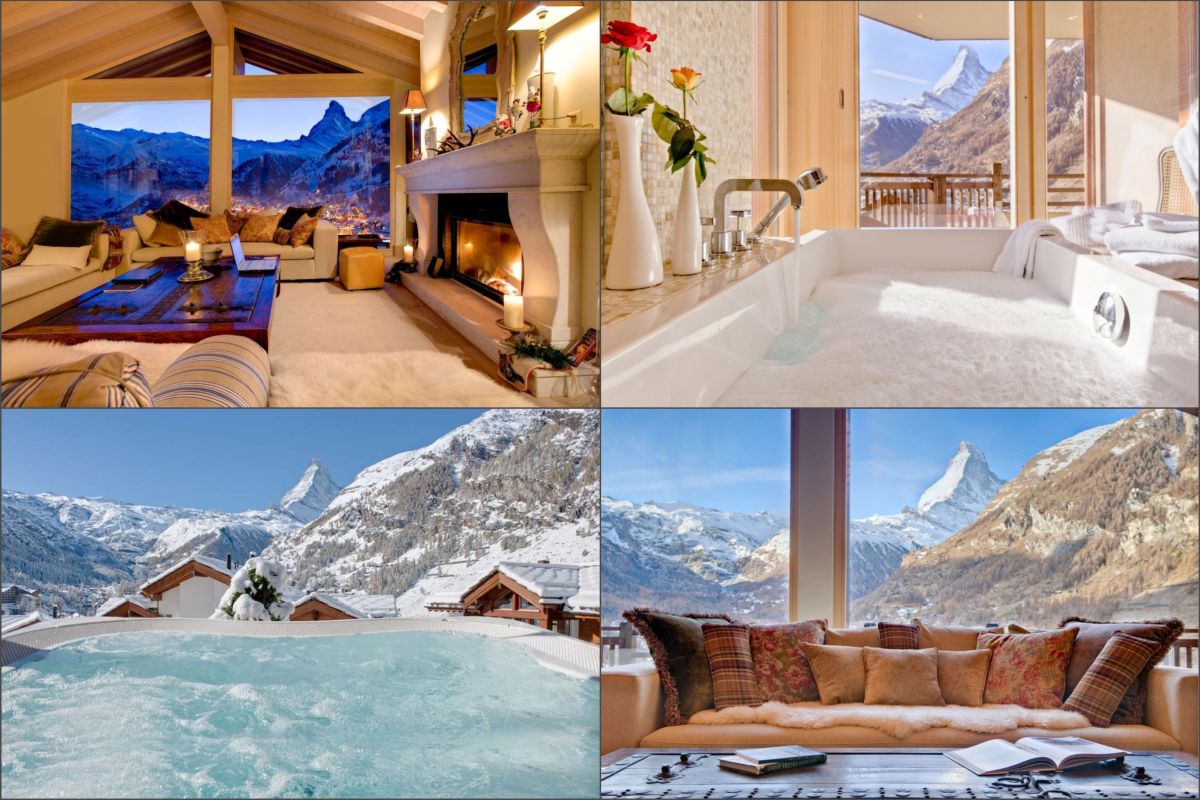 The last catered chalet in Zermatt on our list, but by no means least, is the gorgeous Chalet Grace. Benefitting from a south-facing position, the chalet has been carefully constructed to maximise views of the Matterhorn. From the open plan living room, the outdoor hot tub and even the bathtub in the master suite, the Matterhorn will captivate guests in all its glory. In addition to its outdoor hot tub, time off the slopes can be spent recharging in the sauna, watching your favourite blockbuster in the TV lounge, getting competitive in the games room or simply soaking up the views on the large terrace with a sundowner. As one of the best chalets in Zermatt, Chalet Grace leaves little to be desired.
So that concludes Ski In Luxury's list of the best catered chalets in Zermatt with Matterhorn views. Although the chalets on this list are primarily offered on a catered basis, many of them offer flexibility in service. If you would also consider a self-catered ski chalet in Zermatt, get inspired by our Gourmet Guide to a Self Catered Ski Holiday in Zermatt. Should you need any further help on finding the perfect chalet in Zermatt for your group, please do not hesitate to contact Ski In Luxury on +44 (0)1202 203650 or send an email.