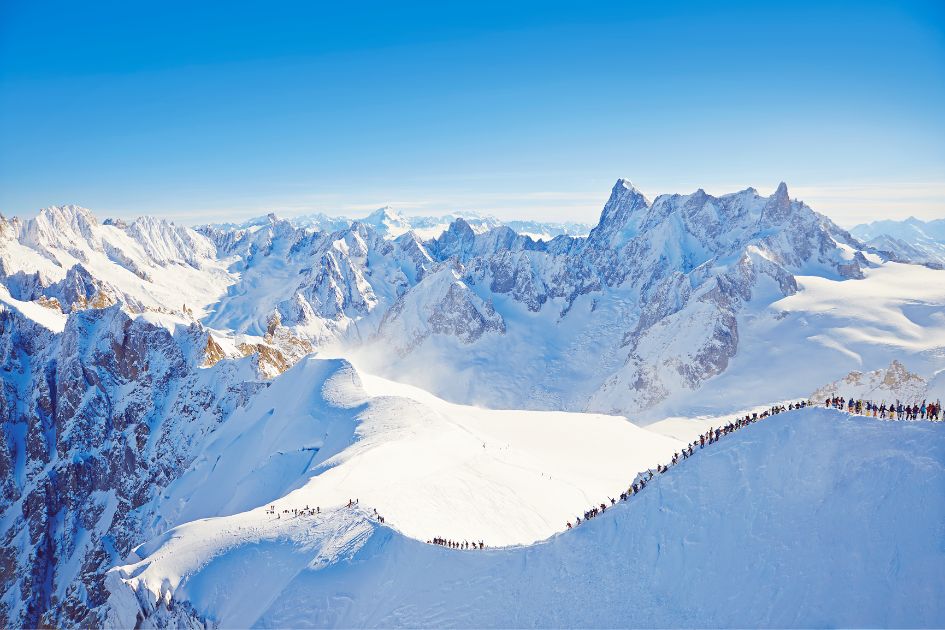 Satisfying the skiing needs of the group can be one of the most important aspects to consider when choosing where to head on your next luxury ski holiday, especially when ensuring there is enough to challenge the experienced skier. For some, black run skiing offers a sense of achievement to make it down in one piece, and for others, a thrill combined with ticking off all the runs in resort. What's more, some resorts have reclassified some of the harder runs to 'itinerary runs' of which have a higher level of difficulty as the pistes are often ungroomed and unpatrolled.
Here's our top 5 ski resorts for black run skiing, to make sure those adrenaline-fuelled skiers are fully satisfied…
Presentation du Domaine Skiable des Grands Montets – Mont Blanc Natural Resort
Highlighted in Rebecca's Guide to Skiing in Chamonix, there is plenty for all abilities in Chamonix. However, it doesn't have an extreme skiing reputation for nothing. It is a magnet for experienced and intrepid skiers with some challenging and notorious skiing along the valley.
The Grand Montets ski area, the highest ski area in the Chamonix Valley (3,275m) and accessed from Argentiere, offers some great black run skiing from Point de Vue or on Pylons. Both routes offer some truly stunning scenery, but are prone to developing moguls, adding to the challenge. Along the other end of the valley, Les Houches' famous World Cup black run, The Kandahar, is a must for those who want to feel the motions of the pros! Lastly, we can't forget the Vallée Blanche; unmarked, unpatrolled, unpisted and running for 14 miles with a 2,700m vertical descent. It's an off-piste heaven and not for the faint-hearted – a tick on the bucket list for sure. Note: you will need to take a guide as there is some tricky terrain and plenty of crevasses.
Chamonix is also one of our best ski resorts for off-piste skiing, perfect for when you've mastered all of its black run ski slopes.
Skiing Mont Fort, Verbier – Nik Hazell
Also included in the Chamonix Mont Blanc Unlimited ski pass, Verbier competes with a good selection of black run skiing. Mont Fort, the highest point in the 4 Vallees (3,330m), is on the list simply for the views. From this point, there is just one black run or off-piste route to descend, which will undoubtedly test your ski fitness when negotiating the moguls. For less advanced or non-skiers who don't want to miss the spectacular view, head up via the cable car.
Why not also try the well-known Tortin run on a Verbier ski holiday? This is arguably one of the scariest runs in the world when the snow cover isn't plentiful! Traverse across to a steep slope to then pick your route over the many moguls before you.
When you've conquered black run skiing in Verbier, make sure to reward yourself with some après-ski. Ultimate Luxury Chalet's guide to après-ski in Verbier will show you some of the best places to visit.
La Sache Black Run – Tignes Tourisme
One of the most popular resorts amongst British skiers, Tignes ski resort offers some of the most difficult black runs to encounter. There are many to consider, but a few key runs that should be mentioned…
For the longest black run, start at the top of the glacier (Grande Motte, 3,456m) and descend the piste over the moguls which then joins into Double M and Cirse (red runs) to take you into Tignes Val Claret. For one of the most scenic runs, taking in the famous Aiguille Percee (Eye of the Needle), La Sashe is a leg burning test into Tignes Les Brevières. La Face is another run to consider, arguably one of the most famous, testing all vertical limits and covering a total 3km on a descent of 959m. Although a challenging and steep run, with some icy patches in places, the piste is wide and open so should allow some steadier and more controlled turns.
For those who fancy a real challenge, you can even consider the Espace Killy Black Run challenge. This series of black runs will take all day – you can look forward to a nice cold beer at the bottom of Val Claret!
Valluga St Anton, Freeride with Guide Martin Zarfl – Mountain Media Center
St Anton, being one of our top ski resorts for advanced skiing, is arguably one of the most demanding resorts in Europe. St Anton has 51 km of black run skiing which gives plenty of opportunity for progression and fun for skiers looking for a challenge. Not only is there a great choice of ski terrain for all, the après ski in St Anton is extremely popular with something to suit everyone's taste.
The Kandahar is piste-perfect in the morning. But, should you wish to bring that extra challenge and work your legs, the afternoon presents lots of bumpy moguls. For more seriously challenging pistes, get your guide to take you down the steep descent of the Valluga's North face [see video].
Bernhard Russi Black Run – Ski Arena Andermatt-Sedrun
A go to resort for experts, Andermatt boasts a north-facing bowl with a 900m vertical piste beneath the Gemsstock cable car – it is one of the most thrilling black runs around. The bowl becomes an amazing ungroomed playground after a fresh dump of snow for some top free-ride experience. This ski area also includes the Bernhard Russi black run (4.3km), named after the former ski racer who achieved legendary success during the Olympics and Championships.
Outside of the bowl, the Natschen-Gutsch and Oberalppass-Schneehuenerstock are both great areas for some challenging black runs with varying difficulty.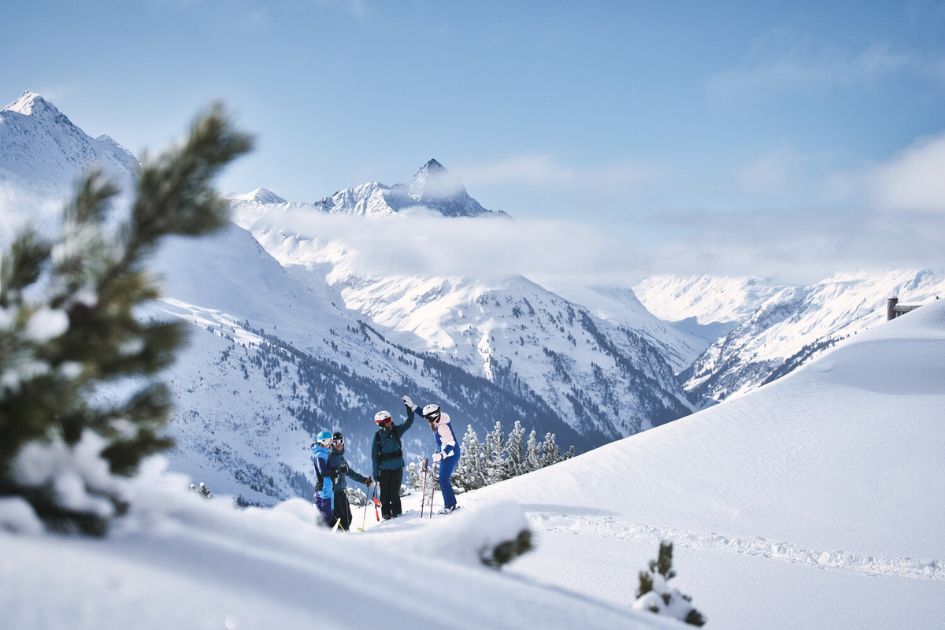 Are you ready to tackle some of the top black runs in the Alps? Or are you currently an intermediate skier looking to progress to black run skiing? Before you answer both with a confident 'YES', I have a couple of top tips for you to consider:
Have you prepared yourself for the season? When skiing black runs you will need to make sure you are physically prepared. I recommend some pre-holiday training to strengthen your thighs and core to ensure a more agile black run descent.
Check and plan your routes! Make sure all the runs you plan are open and safe to ski.
Consider taking a guide with you. They do not only know the mountains inside out and back to front, they will have more experience and knowledge of the safest routes and conditions to ski in – especially for itinerary runs.
If you are looking for your next trip to the Alps, do get in touch with our team of ski specialists, and we would love to help you find a luxury ski chalet for your trip. Send us an email or give us a call on +44 1202 203650.
For more inspiration on luxury ski holidays and the best luxury chalets in the Alps, be sure to follow us on social media.