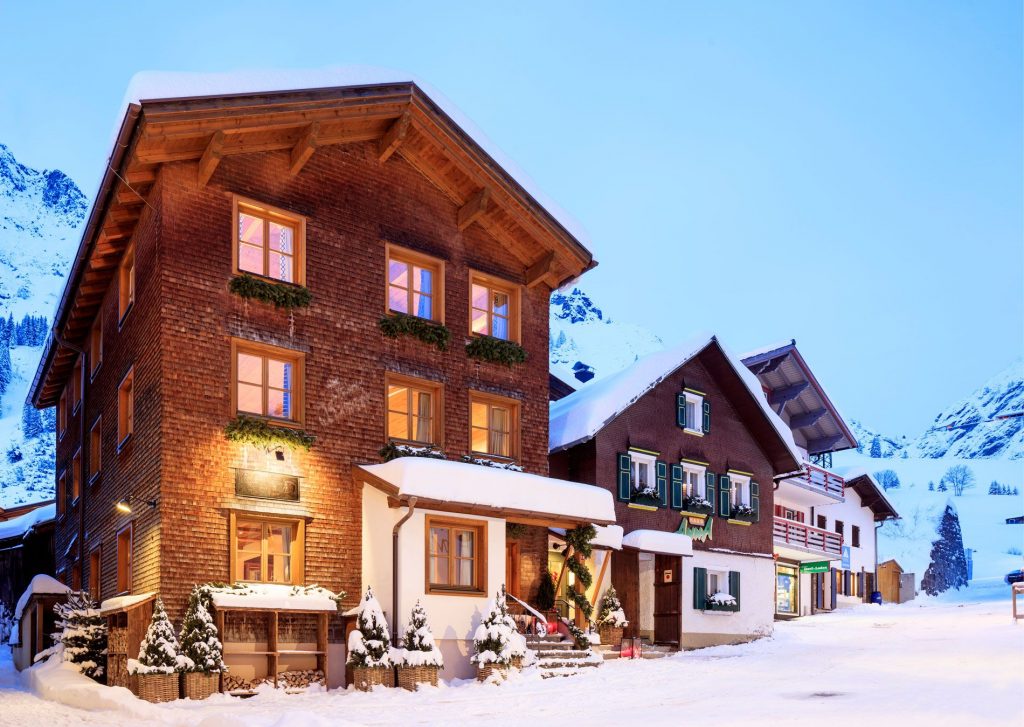 Have you thought about self catered chalets in Austria for your next ski holiday? Do you like going out to eat, and trying different restaurants and bars each night? Whether you are keen to explore Austria's gastronomic scene or simply enjoy cooking from home a few nights a week, our list of the top 10 self catered chalets in Austria is perfect for those who like the freedom to choose. Come on our Arlberg journey through St Anton, Lech, Zurs and St Christoph to discover the best luxury self-catered chalets in Austria.

If you are looking for a luxurious self catered apartment in Austria, head to St Christoph where you'll find the Crux Penthouse. It's a great choice if you are a keen skier; you can ski back to just across the road, and are close enough to the ski lift to aim for the first lift up each morning!
For a self-catering holiday in Austria this penthouse apartment has everything you could possibly need. It boasts a well-equipped kitchen, and an open plan dining and entertaining space with a large wood burning fireplace. With 4 beautiful double bedrooms and a great double bunk room, this an ideal self-catered luxury penthouse for 2 families.
Guests who choose Crux Penthouse have the added bonus of being able to use the spa, swimming pool and childcare facilities at the neighbouring Arlberg Hospiz hotel, as well as a great choice of 5 different restaurants to dine at throughout the stay.
House Hannes Schneider is a superb self catered chalet in Zurs ski region, in the charming village of Stuben. The chalet has been beautifully and sympathetically restored, transforming it into a luxurious property for an exquisite self-catered ski holiday in Austria. Make the most of family ski holidays together in the sumptuous open plan living space which includes a fully-equipped Gaggenau kitchen and comfortable dining area. The pioneering skier Hannes Schneider used to live in this gorgeous house, so it's no surprise that it's conveniently located just a 2 minute walk from the nearest lift. A picture perfect self catered chalet in the Arlberg, it's a great option for families looking for doorstep skiing combined with a relaxed home from home experience.
Within the hamlet of Stuben, you will find a choice of 6 restaurants close to this luxury ski townhouse, as well as a shop only 20m away.  A shopping butler can be organised to arrange all the necessary food and beverage purchases.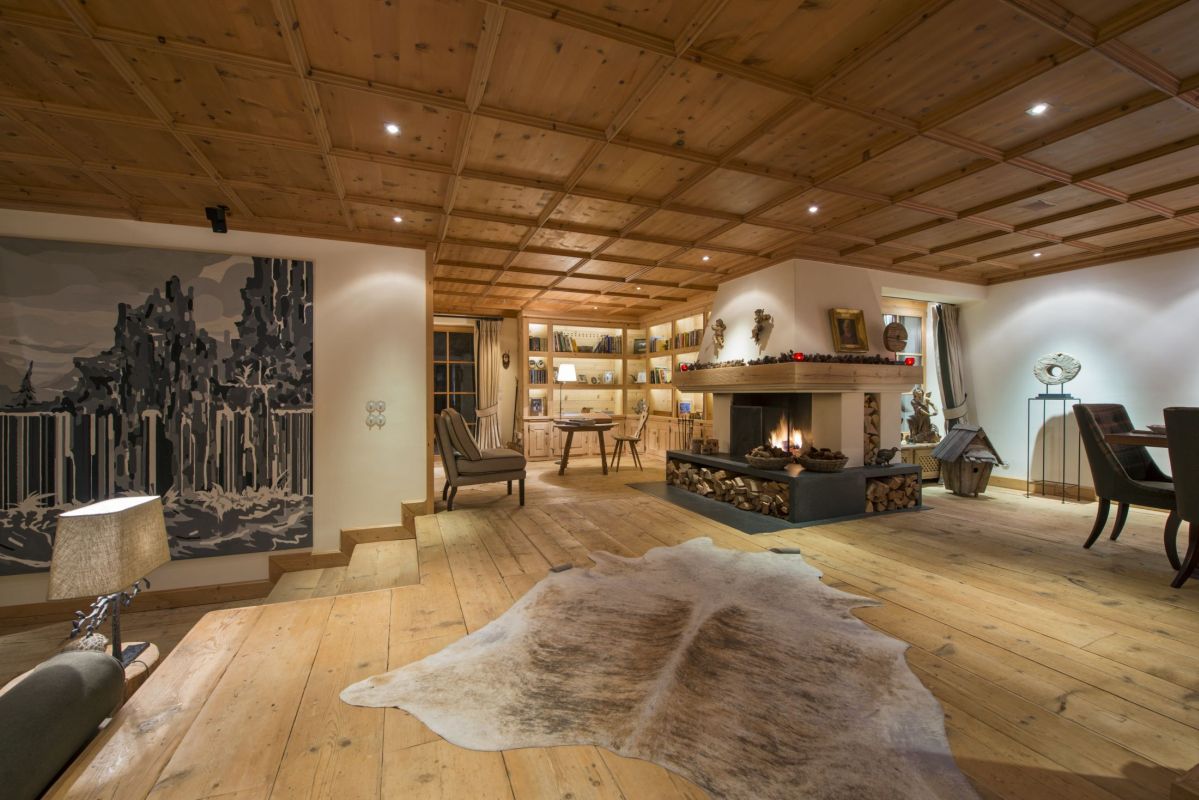 Next on our list of the best self catered chalets in Austria is the beautiful, stand-alone Chalet Maria Schnee. This stunning self catered chalet in St Anton is perfectly positioned only a few minutes' walk to the lifts and, when snow conditions permit, you can ski to within a short stroll of the chalet. A wander into the heart of St Anton takes just 10 minutes, so the amenities and attractions of this renowned town are super convenient. Maria Schnee is an ideal winter retreat for groups of friends or large families, comfortably sleeping 15 people in seven bedrooms. Showcasing a grand drawing room with open fireplace, a sauna, children's playroom and an extensive kitchen with a stylish mix of Tyrolean woodwork, contemporary art, and modern steel appliances, Chalet Maria Schnee offers all you could wish for on a luxury self catered ski holiday in St Anton.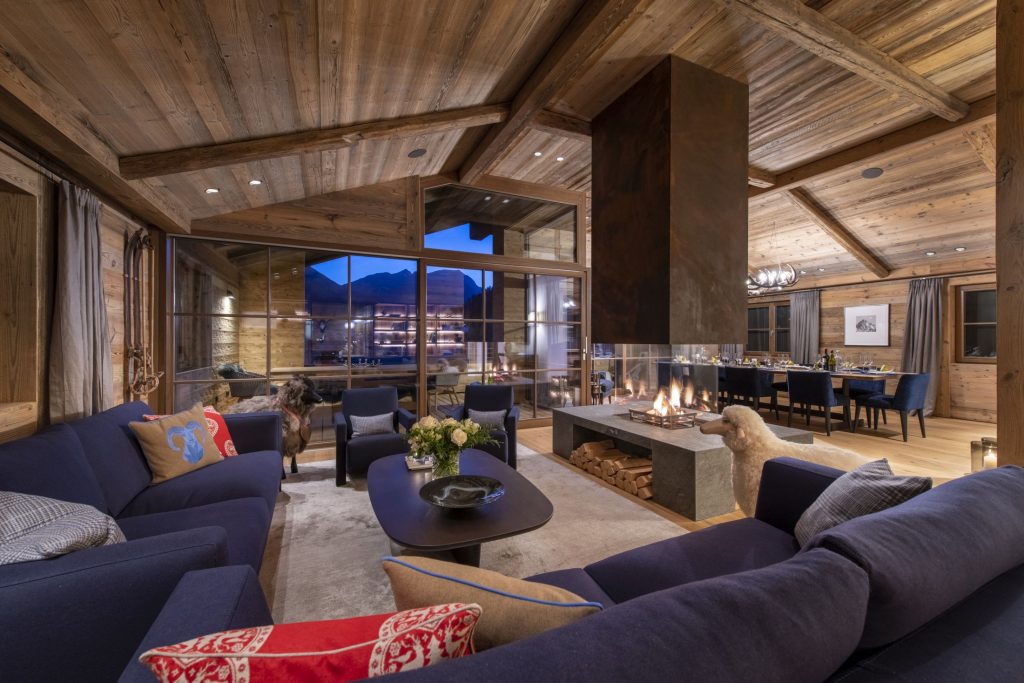 Chalech S is a stunning, contemporary, self catered chalet in Lech. The property can sleep up to 12 people in 6 wonderful bedrooms. There is a large open plan living space, with a feature wood burning fireplace and a large dining table seating up to 12. The kitchen is superb, modern, and fully equipped, making this an ideal self catered chalet in Austria.
Chalech S boasts its own private sauna and steam room, and guests can also enjoy use of a swimming pool and gym that's shared with 4 other luxury apartments. It's brilliantly located, both for the slopes and the town, which can be easily reached on foot or by hopping on one of the frequently passing free buses.
At Chalech S there really is everything you could possibly want from a self catered luxury chalet holiday; beautiful design, stunning alpine views, lovely wellness facilities, and all the little conveniences that truly make it feel like a home away from home.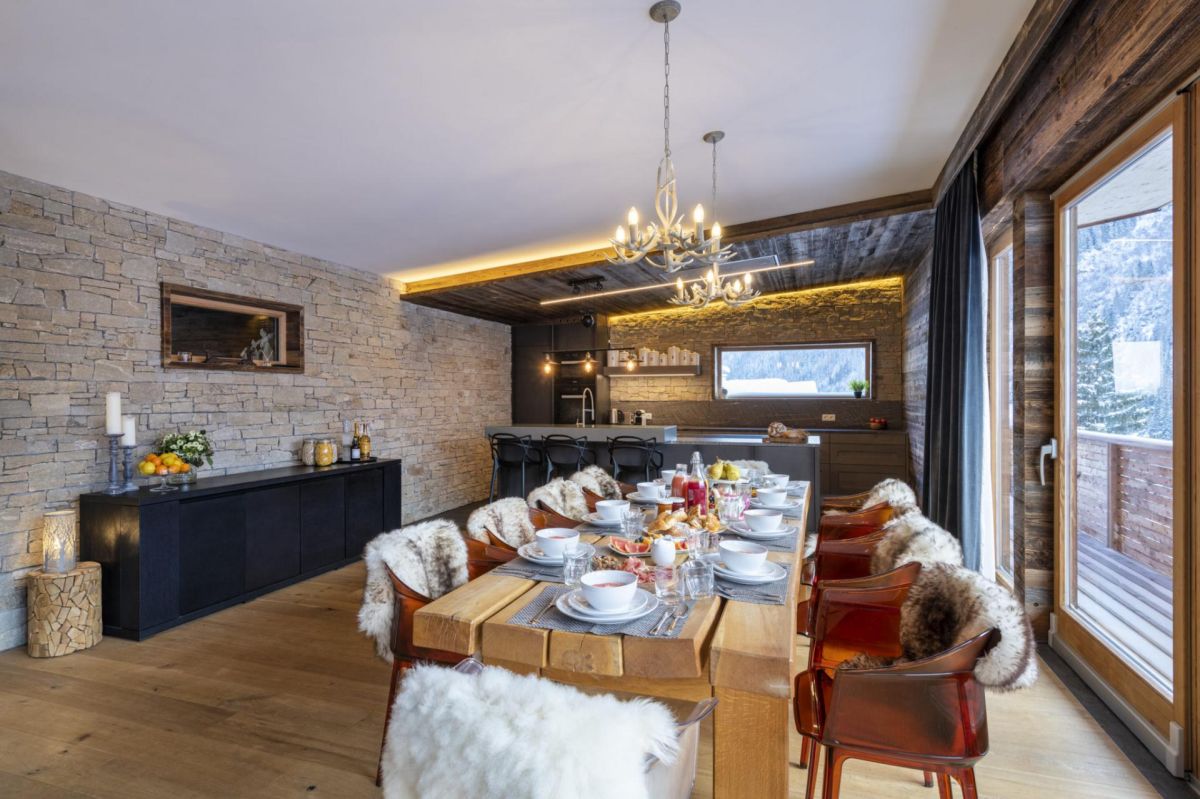 Chalet Bluebird is situated in the pretty, peaceful neighbourhood of Oberdorf in St Anton, a 7 minute downhill stroll to the ski lifts or 10 minutes into the lively centre of St Anton.
The chalet is an ideal holiday home for a couple of families who are looking for a self catered chalet in St Anton. It is spacious with 4 double bedrooms and a kids bunk room. The open plan living space and kitchen includes a chic dining area with a beautiful hand-crafted wooden table. There is a second, smaller lounge with a TV where the kids can disappear off to watch a movie while the adults sit around the roaring fire chatting through the day's adventures.  This is truly a home from home and epitomises the luxury self-catered chalet experience.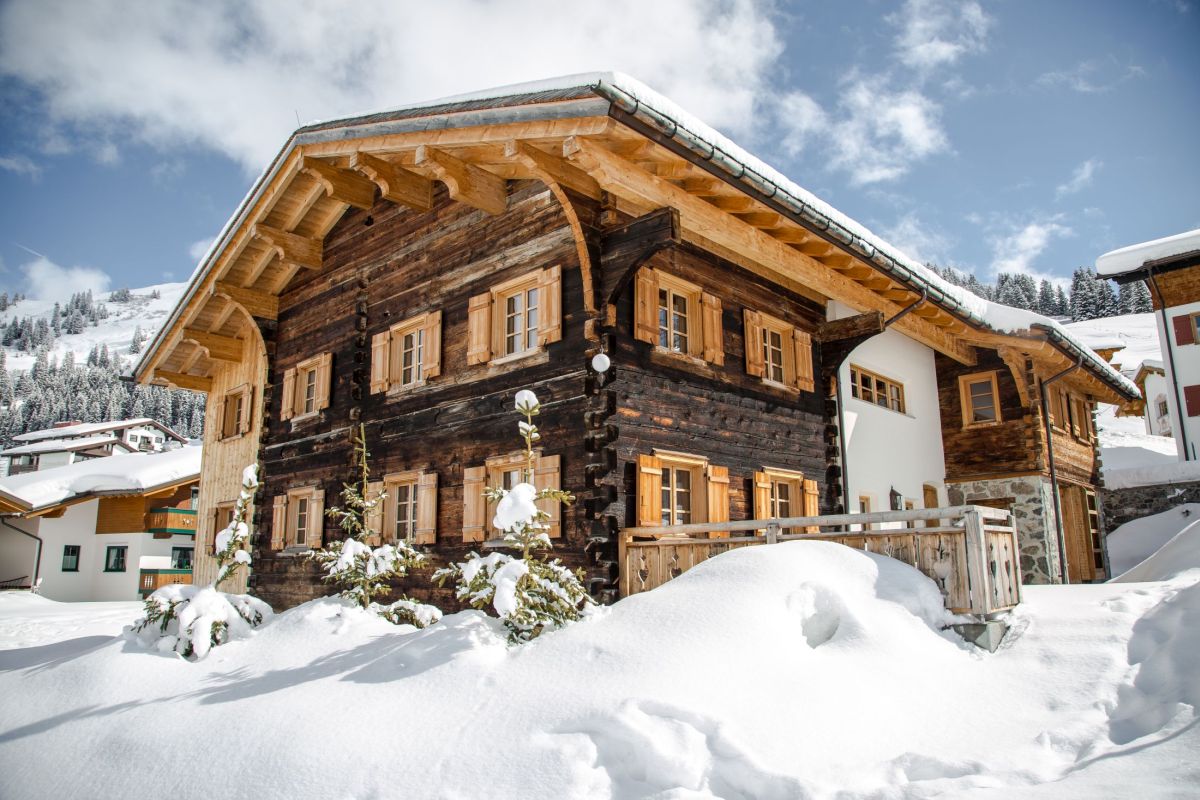 Chalet 1597 is as old as its name. It is a fine example of a beautifully and lovingly restored self catered chalet in Lech. The chalet is set over 3 floors and sleeps a total of 12 guests. Enjoy the breathtaking views from the sunny wraparound balcony.
There is a fantastic traditional stone cave and wine cellar where you can enjoy a pre-dinner drink before heading up for a home-cooked meal in the impressive dining room with its lovely fireplace. Your designated chef for the evening will enjoy the well-equipped kitchen for preparing culinary delights.  After dinner you can retire to the cosy living area or put your feet up with a movie in the cinema room.  The chalet also has a superb spa with a bio sauna, massage room and outside hot bath; the perfect place to relax those tired limbs after a day on the slopes.  On the nights where you want a break from self catering, you can explore Lech, the centre of which is only 3 minutes' drive away. Here you will find everything you could possibly need, with plenty of restaurants and bars to choose from. There are also a couple of supermarkets, delis and bakeries to fulfil all your culinary needs.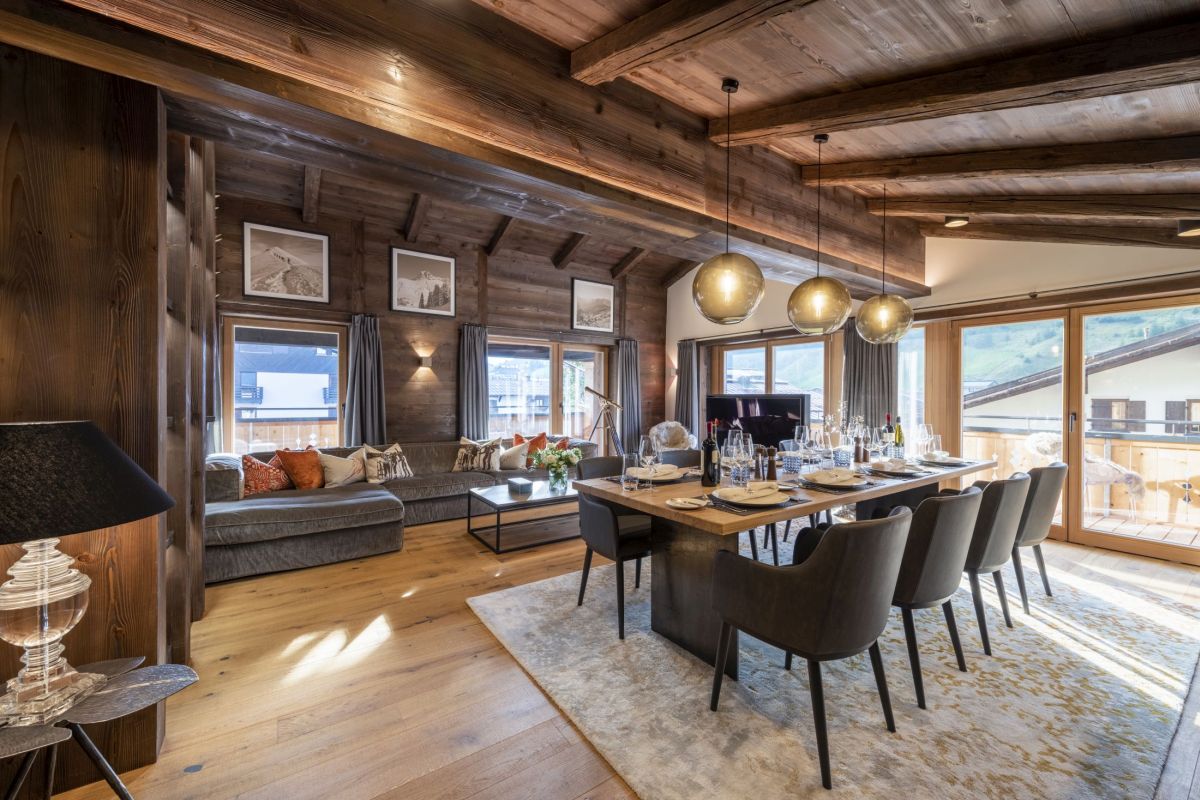 Another great self catered chalet in Lech is the Balegia Penthouse, a beautiful apartment located on the top floor of the luxury Balegia Residence in Lech. It is ideally situated close to the centre of the glamorous ski village, where you will find exclusive shops and restaurants. The ski lifts are just a short walk away too.
This luxury self catered apartment is pleasingly spacious and sleeps up to 8 guests. There is a fabulous open plan living area for relaxing and socialising, as well as a generous dining table and a well-equipped kitchen.
If you like the look of Balegia Penthouse, but it doesn't quite match your group size, there are further self-catered apartments in the residence for fewer guests that may suit your requirements; explore our collection of self-catered chalet rentals in Lech to find your perfect property.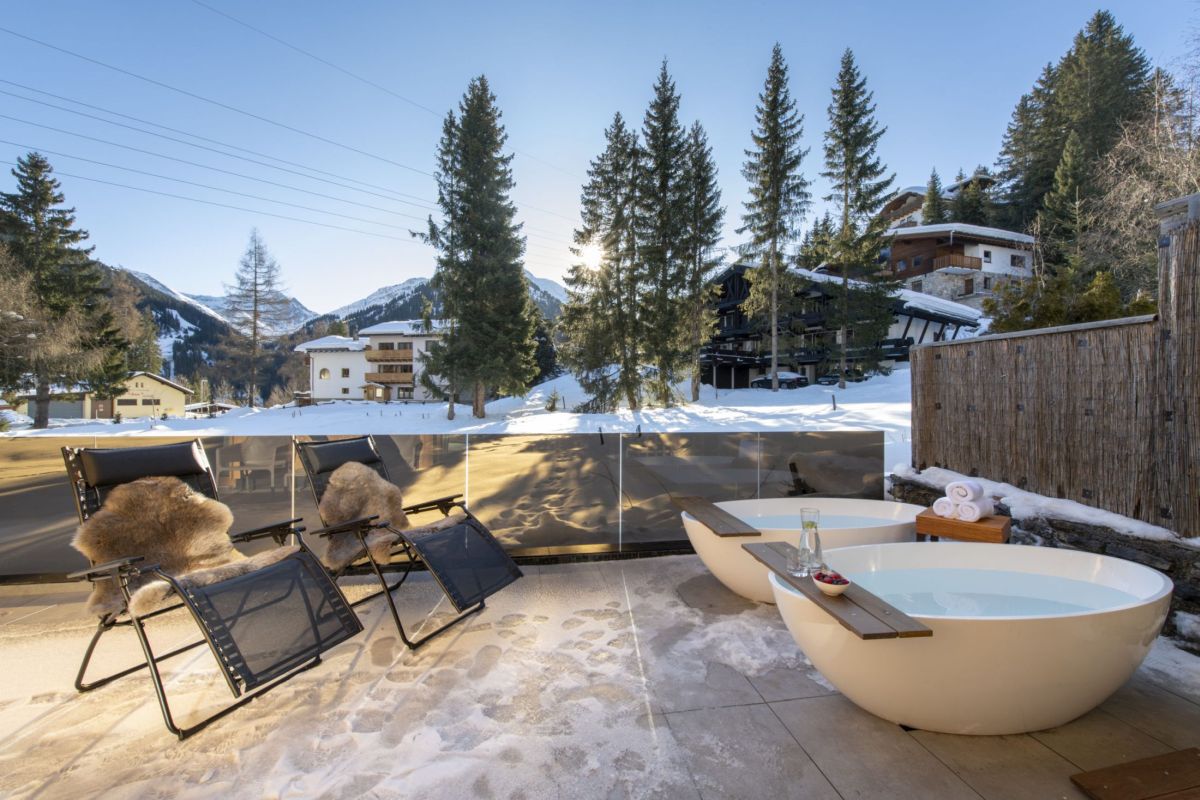 Villa Villekula is a stunning, contemporary, ski-in, self catered chalet in St Anton which can sleep up to 12 people. It is set over three floors, one of which is dedicated to the open plan kitchen, dining and living room. This welcoming space has a wood fire and French windows leading onto a south-facing balcony, with fantastic views over the resort. Villa Villekulla is ideally equipped for relaxing at the end of the ski day with its sauna and two sumptuous alfresco baths on the terrace – a unique but fantastic way of relaxing and recharging after a day on the slopes.
Situated in the perfect spot for keen skiers, this chalet is close to the main piste leading into St Anton. A quick three-minute walk takes you straight to the slopes and it is possible to ski directly back to the chalet door. The village centre is a 20 minute walk, or an easy 4 minute drive away, where you will find some of the best restaurants and bars in St Anton.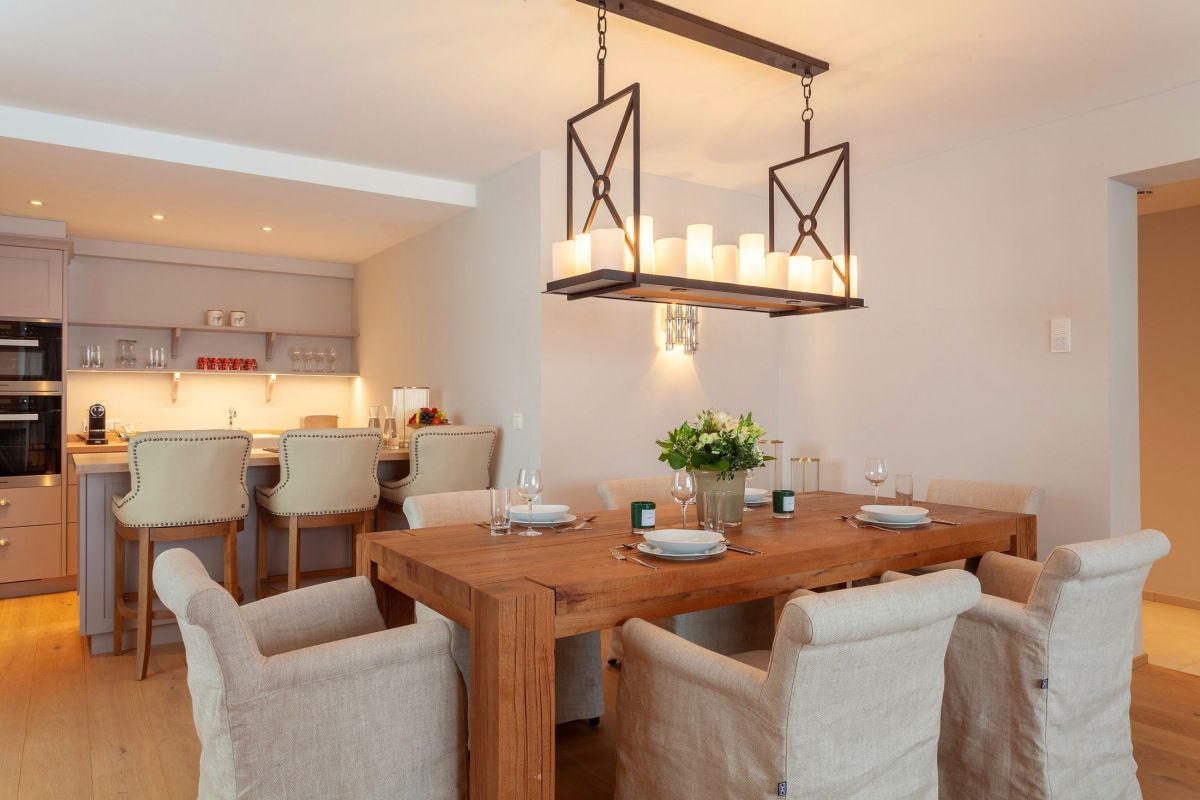 Thurner's Residence is a collection of luxury ski-in, ski-out self catered apartments in Zurs, varying in size from 1 to 5 bedrooms. Perhaps the most luxurious of the residences is Thurner's Apartment 1, which can accommodate 6 across 3 bedrooms. The contemporary open plan living space has a cosy fireplace for an authentic alpine atmosphere, and an adjoining kitchen/dining area. Truly the heart of the property, in this space you can enjoy sociable time altogether in luxury and comfort. Although all residences benefit from access to the Hotel's spa facilities to unwind and relax, Thurner's Apartment 1 also has the advantage of it's own private sauna for loosening up well-worked ski muscles.
As an extra, breakfast can be served in the privacy of your own apartment or in the hotel, and in the evening you can choose to dine at the hotel's lovely restaurant or wander into Zurs to explore the many restaurants on offer. For a self catered ski holiday in Austria, the Thurner's Residences are a great option for couples and families. For larger groups, it is possible to rent all of the residences in the chalet exclusively, meaning everyone can be together, but also enjoy the privacy of their own private apartment.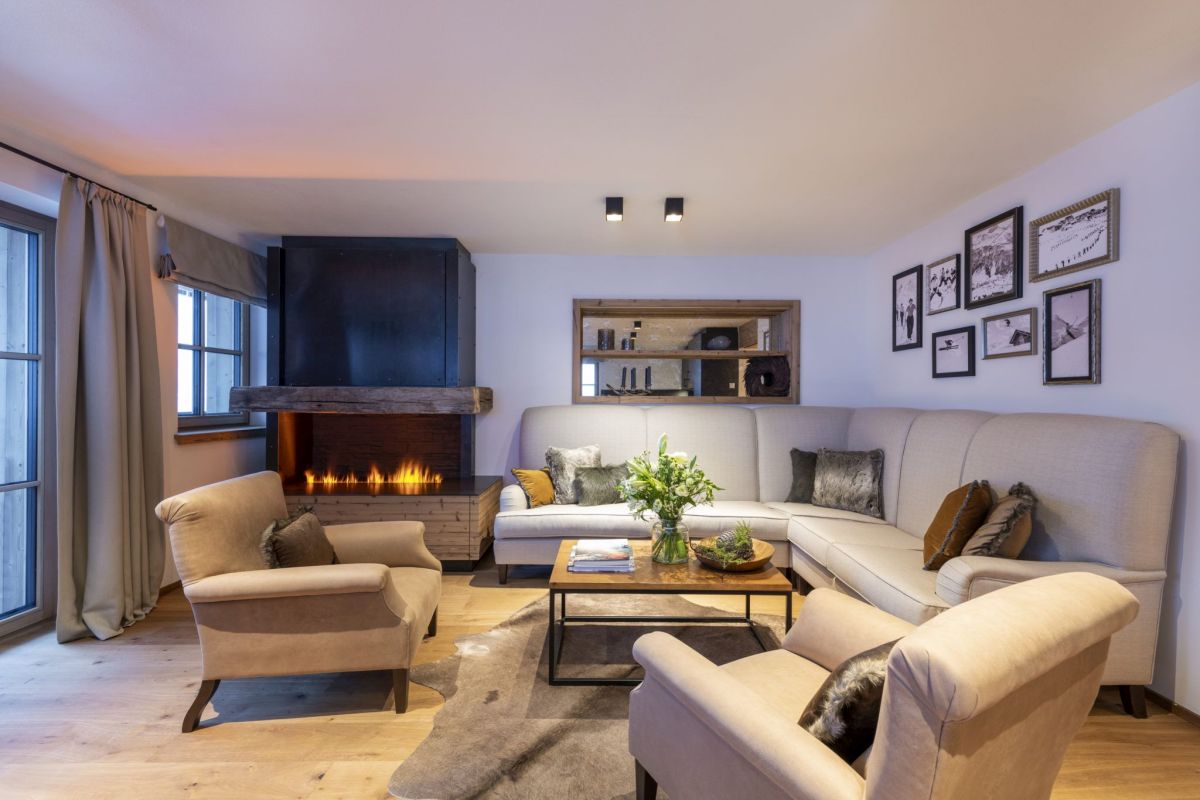 The Brunnenhof residence is an beautiful building offering luxury self catered apartments in Lech. Amongst the 14 stunning apartments, you'll find Brunnenhof 4. This luxury Lech apartment accommodates up to 4 adults and 4 children, making it the perfect spot for an Arlberg family ski holiday. In line with its neighbours, Brunnenhof 4 has access to the shared spa area featuring a swimming pool, Hammam and sauna. On a self catered ski holiday in Lech, having these facilities at your fingertips is the perfect way of recharging for your next day on the slopes. Another highlight has to be the cosy and contemporary open plan living space with a balcony looking out onto spectacular mountain views.
Being only a 10 minute walk into town, Brunnenhof 4 has to make our list of the best self catered chalets in Austria for its convenient location, from where you can enjoy the large choice of restaurants in Lech.  Access to the nearest chairlift, the Schlosskopf, is only a six-minute walk from the apartment. If you are an experienced skier you can ski back to within only few hundred metres. Whatever your group size, the Brunnenhof Residence is the ideal base for an unforgettable self catered holiday in Lech.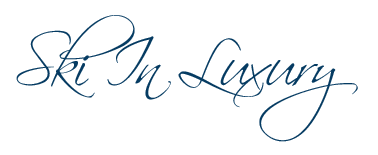 The Brunnenhof Residence concludes our list of the top self catered chalets in Austria. If any of the above have sparked your interest or if you'd like to start planning your next self catered ski holiday to Austria, do get in touch with our Ski Specialists. You can give us a call on +44(0)1202 203650 or send us an email, and we'd be happy to assist you on your way to one of the best luxury ski resorts in Austria.