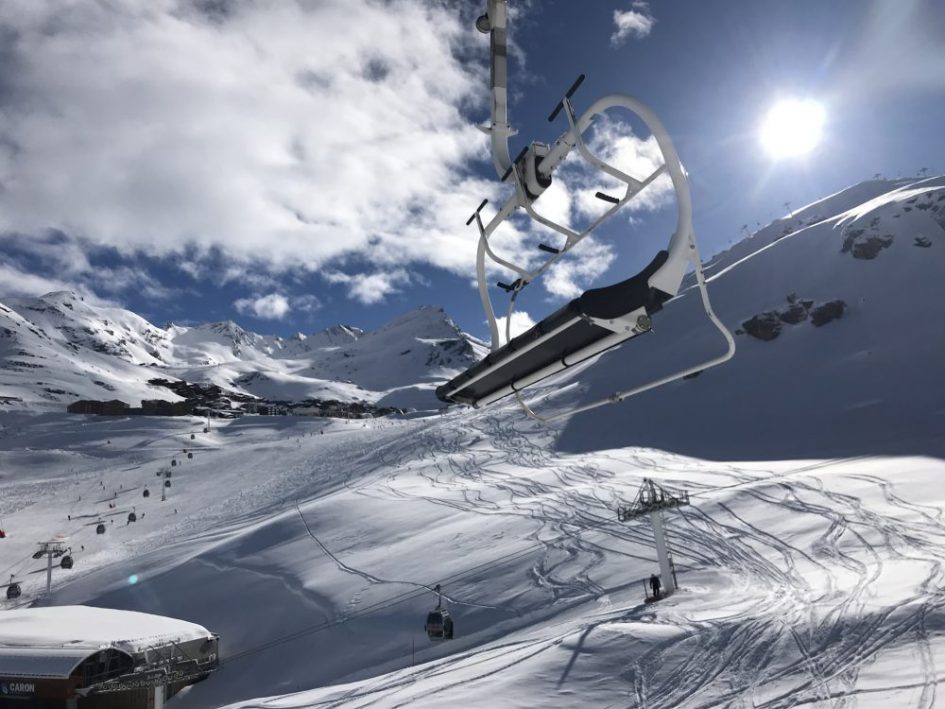 Don't be fooled by the deep tracks across a fresh covering of thick powder, this picture was taken in April on the end of season Ski In Luxury team trip to Saint Martin de Belleville! As well as amazing skiing conditions and brilliant blue skies, we had a weekend full of highlights and great experiences. I have been tasked the role to tell you all about it and for once I am finding the words are coming to me all that bit more naturally. So grab a cuppa', take a seat and have a read if you are curious about what we got up to on our familiarisation ski trip in St Martin de Belleville!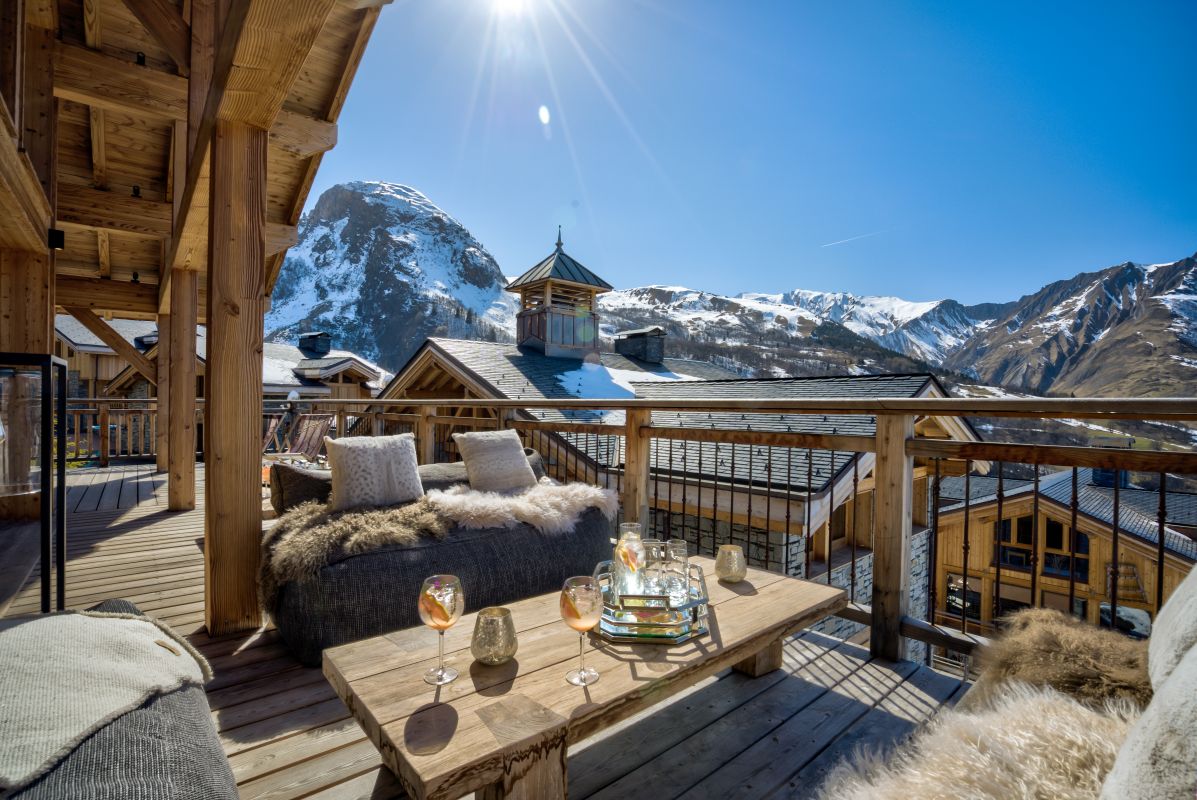 Our Stay in St Martin de Belleville
We stayed with one of the leading luxury chalet operators in St Martin de Belleville. With a growing collection of chalets, offering sumptuous luxury on your ski holiday to The Three Valleys, they will tailor your stay to make it extra special. Just like they did for our stay. We were very well looked after with delicious home-cooked meals by professional chef Alex and attentive hospitality from the rest of the team too – particularly when it came to topping up the Champagne glasses in the hot tub!
A massive thank you goes to the whole chalet and in-resort team for such an awesome stay!

Perhaps one of the top requests in the office of things to do in the Three Valleys was the Roc n Bob run in Les Menuires (F-J is our man in the know having completed 6 seasons working in the resort, previously). Some of us were naturals (Gavin and Fran) and were at the bottom wondering where everyone else was. Myself and a few others (Luke, Ellie and Andy) were less skilled in the art of tobogganing and were just grateful to get to the bottom in one piece!
For family ski holidays or friends just out to enjoy the skiing, I think everyone should give a toboggan run a go!
A big thank you goes out to the team at Roc n Bob for the fantastic experience.

Naturally as our trip was a way of celebrating the end of another busy winter season we had to include some Après time. Where better to head than the Folie Douce in Val Thorens? The live music, VIP booth and Magnums of rosé certainly put us all in good spirits! Take a look at some of our best spots for après ski blog if you want to know where to head for a good time.
Thank you Folie Douce for a great end of season finale! You truly throw an awesome party!

As the season was winding to a close we were able to take a sneaky peak of some of our favourite chalets in Val Thorens and St Martin. This included The Ecurie and La Datcha VT from our Ultimate Luxury Chalets collection as well as the popular St Martin chalets, Chalet Verdet and Chalet Coco. Although, they were all so very different, we were really impressed with them all.
If you're interested in visiting the Three Valleys next winter we will be more than happy to talk you through the chalets and see if one may suit!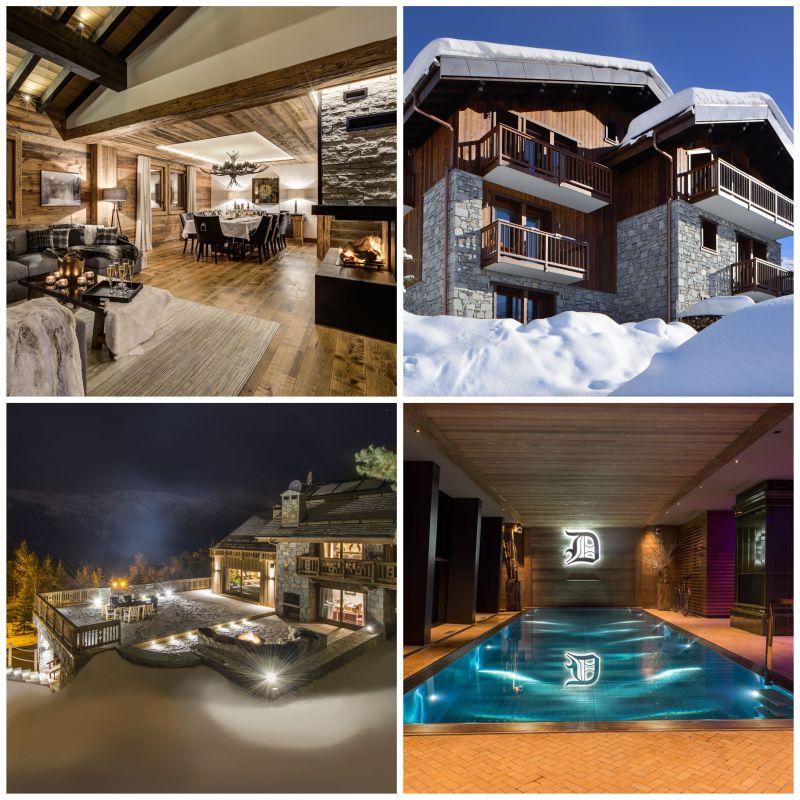 Val Thorens is the highest altitude resort in Europe which made it the perfect destination for spring skiing. The snow this season has been exceptional and even at this late time in the year the snow was still fresh and crisp. We had our own personal guide (F-J) for the trip which meant we could just enjoy laid back skiing and leave the navigating to him. I would really recommend getting a ski guide or instructor for your holiday as their knowledge of the pistes and area is invaluable.
We headed to La Face Ouest for a bite of lunch and the obligatory magnum of rosé. It seemed the dish of day was the Lasagne with 4 of us ordering it. However, I was quite jealous of Lauren's massive cheese and F-J's succulent steak! It turned out to be a great choice and there were empty plates and glasses all round.
We were all very happy with our ski equipment that we had hired from Intersport in St Martin de Belleville too! Thank you Intersport!

There are lots of reasons why the luxury catered chalet experience is very popular in Europe. This is very often due to having a dedicated concierge service which can help arrange extra activities during your stay. We opted for a yoga session on the terrace with Katey, the in-house yoga instructor, which was scheduled to be at 7am the day after our Folie Douce adventures. It has to be said, that I was impressed to see 5 out of 8 of us made it out to give yoga a go. I think we need a bit more practice with our downwards dog and praying mantis though!
Thank you Katey for a great session, you really do know your stuff!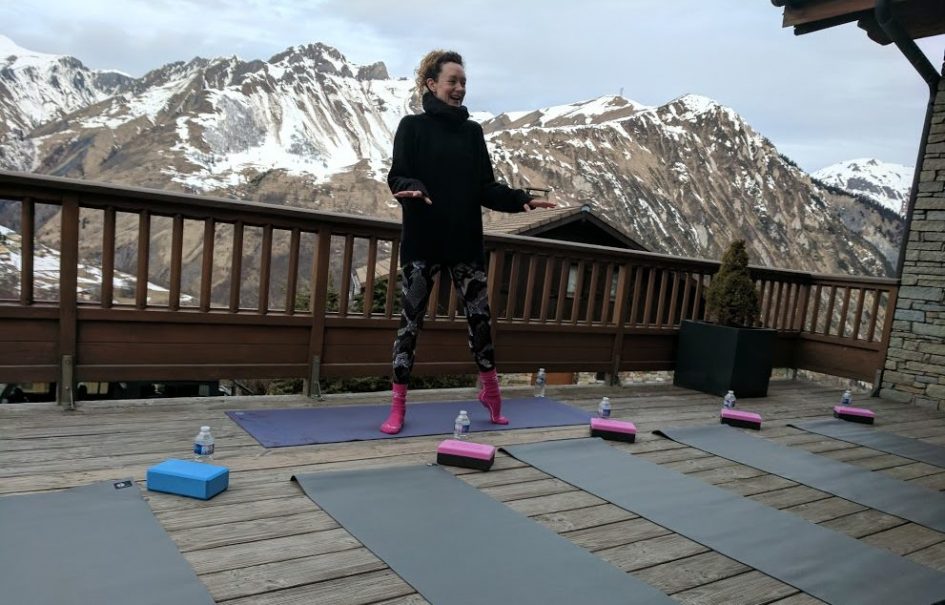 On our last afternoon on the Ski In Luxury team were surprised with a snowmobile tour with Val Tho Motoneige. Possibly our biggest highlight of the trip; we went off racing up the empty slopes of Val Thorens hitting speeds of up to 105km per hour!  Each of us had our own snow mobiles and it soon became a race to get the top speed.
It was a great way to end an amazing trip and one that we would say should definitely be on the bucket list. Thank you Val Tho!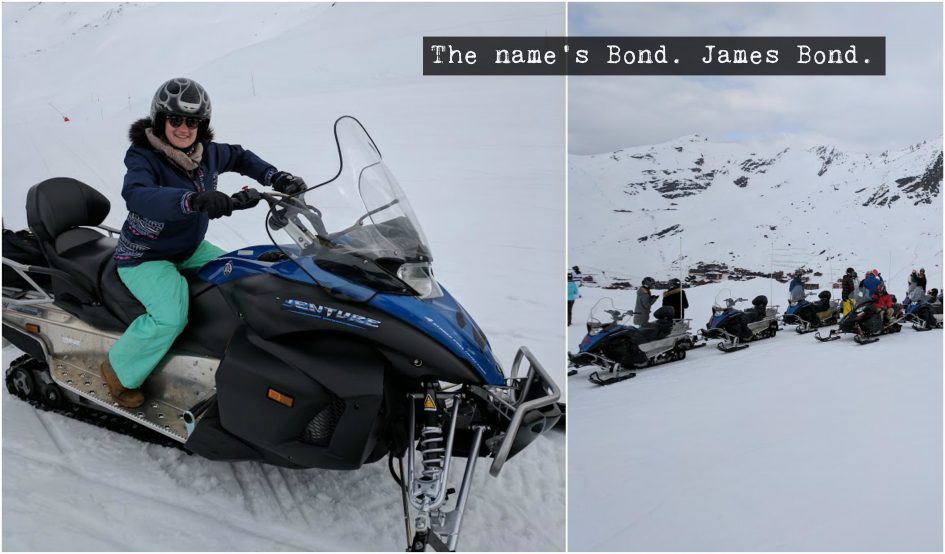 It's safe to say that the whole Ski In Luxury team had an absolute blast and it was the perfect way to end a very busy winter season – Thank you Andy and Fran for ending the season with a bang.
We hope that all of our Ski In Luxury guests enjoyed their holidays this winter and had an amazing time too. Now, it's time to bring on the summer which has a whole list of brilliant activities and experiences in the Alps of its own. If you fancy a summer holiday filled with thrills, take a look at our sister brand Alps In Luxury. We'd love to help you out with some ideas for summer holidays in the Alps!
OR get ahead of the game and start looking forward to your ski holiday for next winter and call us on +44 01202 203650 or send an email to start getting the plans in motion.