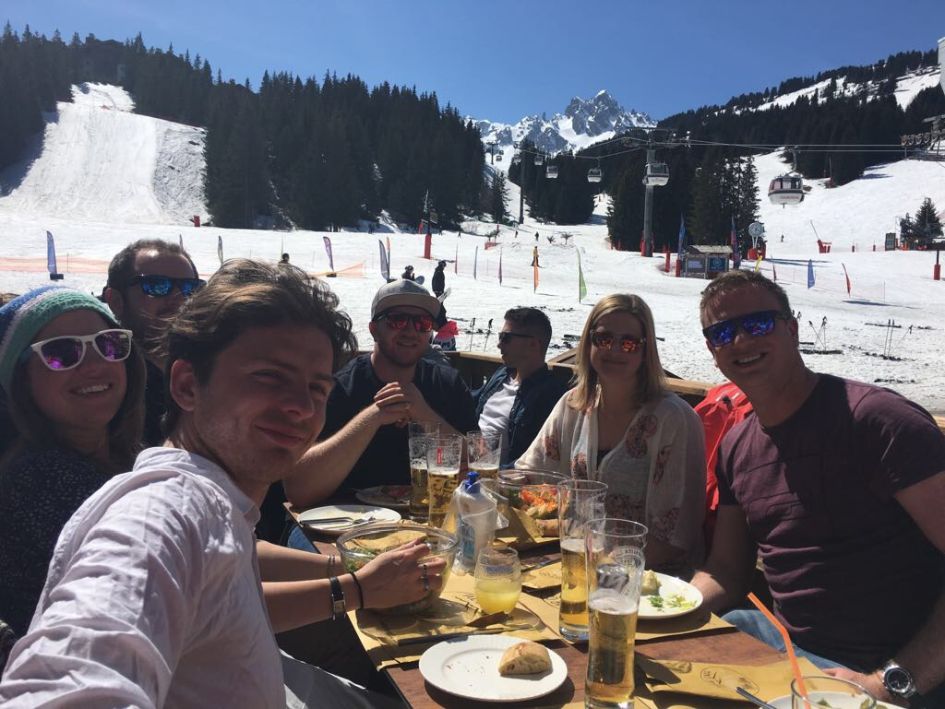 As a team we recently visited Courchevel for our end of season ski trip. If you haven't read it already then you're best off starting with the first half of this blog.…… So Andy went to bed early whilst Will, FJ and I enjoyed Chalet Le 1550's amazing swimming pool and hot tub.
The following day was our ski day. Spring is one of the best times to visit Courchevel. Temperatures in resort were upwards of 15 degrees and there wasn't a cloud in the sky. The slopes that were open were actually in very good condition. They were nice and crisp early in the morning and as the day went on they started to loosen up a little. The main benefit though was that they were nice and quiet. I had been out in Courchevel four weeks earlier and it was amazing the difference in terms of how quiet the slopes now were. We had some runs to ourselves.
It was a great opportunity for us to all get out together and ski. As a team we have managed to get in a lot of skiing this season but this was our first opportunity for us to all get out together. Some of us were a little rustier than others. F-J has been skiing since he was very young and was just coming to the end of his sixth season. Needless to say he spent more time skiing backwards than he did forwards. Andy and Fran had just got back from skiing in Val d'Isere with their family and Hannah had just got back from skiing in Val Thorens with her husband and friends so there was no rustiness from them. I am struggling with a bad back so took it easy and Luke our IT guy spent a little more time on the floor than he'd have hoped. Will, like F-J has been skiing since a young age so the two of them spent a lot of time chasing each other around the mountain like energetic kittens.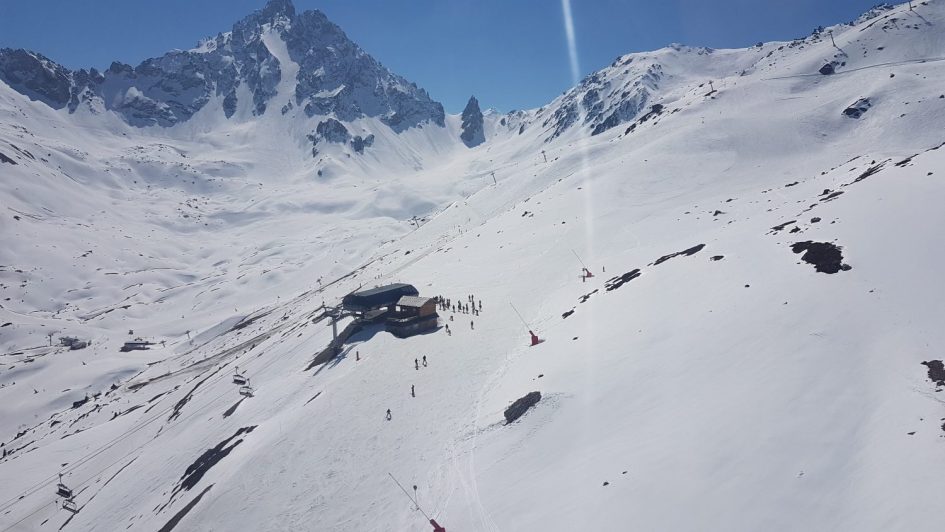 By the end of the morning we were all gliding along enjoying the delights of spring skiing in Courchevel. We headed over to Courchevel Moriond (1650) where we found empty pistes and some brilliant skiing. As the morning came to a close we all headed off in different directions. Hannah and I had a quick blast in Courchevel 1850. Will and F-J hit the snowpark and Andy, Fran and Luke decided it was beer o'clock and hit the nearest bar.
After a quick lunch stop we decided we'd better do some work. Well I say work, it was time to view some of Courchevel 1850's best ski chalets. I guess I can't really call that work. We started off up by the Pralong ski lift in the Nogentil area of the resort and began by viewing Chalet Perce Neige. Chalet Perce Neige is one of the finest chalets in the resort. It has a list of facilities as long as your arm and can sleep up to 15 adults in 8 bedrooms. The chalet was modern with sharp angles and has a large swimming pool area.
The second chalet that we viewed in this area of the resort was Chalet Eglantier. We were all pleasantly impressed with Chalet Eglantier and agreed that the photographs really don't do the property justice. It is in a great location, ski in, ski out from the pralong run in Courchevel. The nearest chair lift is a matter of metres from the chalet and the outdoor terrace houses a large hot tub. The swimming pool area was also impressive.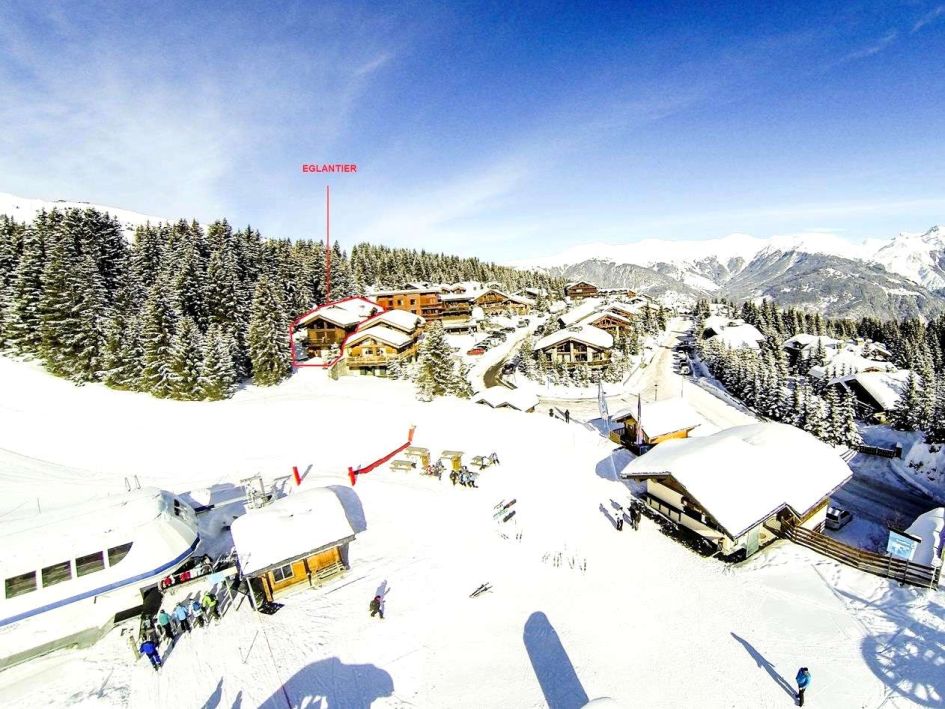 Opposite Chalet Eglantier is Chalet Totara. The two chalets would work very well if booked together for large groups or two families who want their independence but still want to be close by. Chalet Totara has a new large hot tub for the coming season.
Following this we headed to what we all agreed was one of our favourite luxury chalets in Courchevel 1850. Chalet La Grande Roche is located down in the Cospillot area of the resort, close to Hotel Le K2. Everything about this chalet had us in awe, from the artwork on the walls to the games room or swing over the swimming pool. The main attraction though had to be the amazing view from the living area. For next year they plan on adding a cover to this to create an outside room where you can relax with a glass of champagne and admire the stunning vista before your eyes.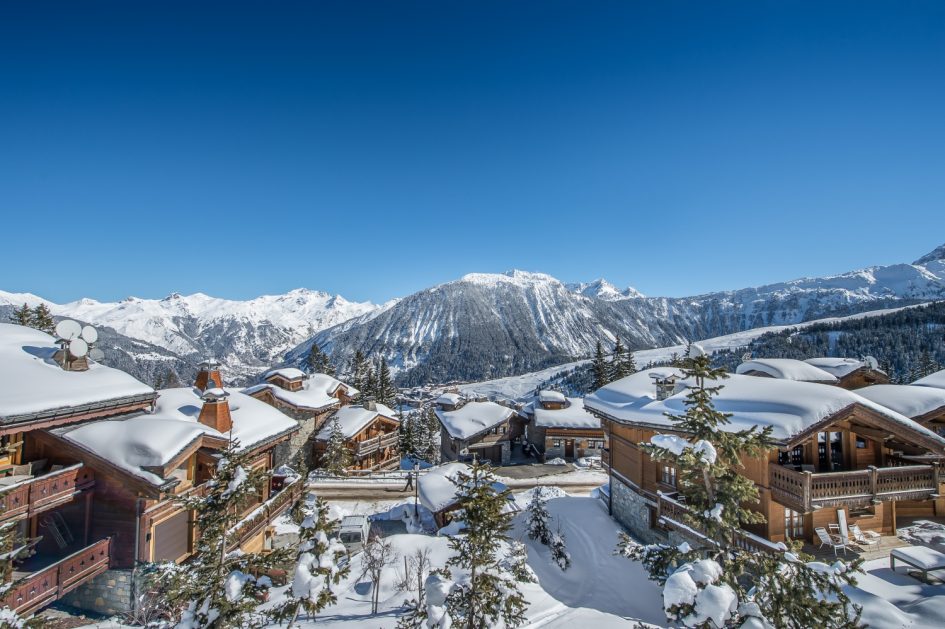 Next on the list of viewings were Chalets Nanuq and Chalet Bastidons. These are two of three relatively new chalets in the Chenus part of town, the other is Chalet Cryst'Aile which unfortunately we weren't able to view. The Chenus area of Courchevel is very close to the centre of the resort, up by Le Chabichou restaurant which has 2 Michelin stars at the time of writing. These large chalets are very similar, Chalet Bastidons and Chalet Cryst'Aile are the larger of the two at approximately 800 square metres whilst Chalet Nanuq is just over 500 square metres. Each of the chalets have all the facilities you would expect of a luxury ski chalet in Courchevel 1850. Cryst'Aile and Nanuq even have a secret underground door so if you wanted you could rent both properties to create one very large chalet in Courchevel for groups sleeping up to 24 adults.
Next we headed to Chalet La Datcha. This amazing chalet is owned by Russian entrepreneur and owner of the Tinkoff cycling team, Oleg Tinkoff. Oleg offers his private chalet for rent during the winter. The chalet was new for this season and no expense had been spared. The main feature of this property has to be the huge wellness area. There was even a TV in the sauna. The main thing that surprised us in this chalet was the wine cellar. We opened the wine list to see what was on offer and promptly put it straight back down as we saw a bottle of red for a whopping €300,000. On that note it was time to head back to Chalet Le 1550 to prepare for our big night out and awards evening. This is what Andy had been preparing himself for the night before. He had seen many people broken by a night out in Courchevel on previous trips, so knew exactly what he was letting himself in for.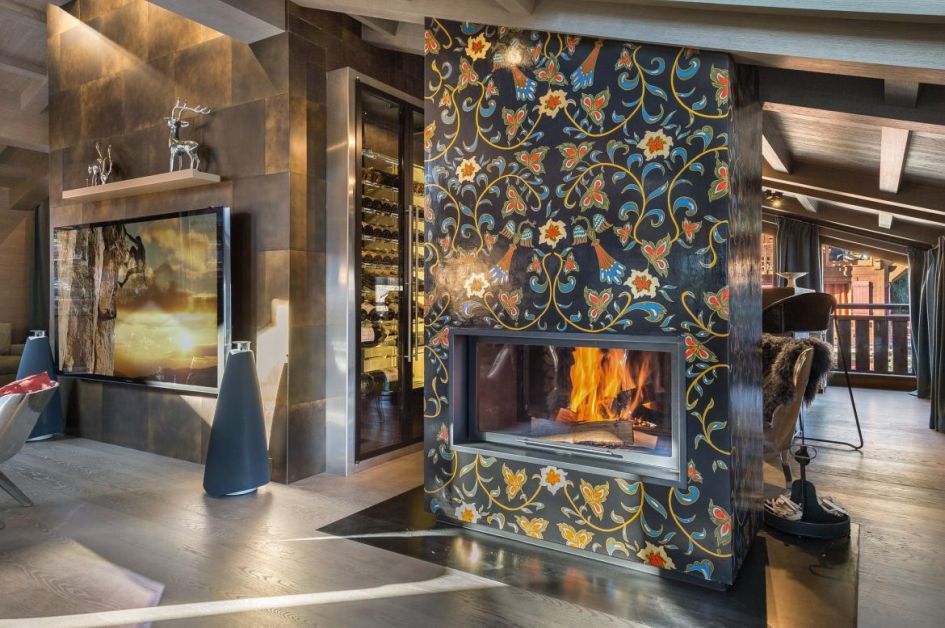 That evening we had been invited to the newest 5* hotel in Courchevel 1850, the Hotel Barriere Les Neiges, for a tour and for our evening meal. Prior to this, we had a small awards evening at the chalet. We are all incredibly proud of our achievements at Ski in Luxury and we like to celebrate this. Each of us were congratulated for different aspects of our work and we headed off to the Hotel Barriere Les Neiges in high spirits. The hotel was incredible. It has a prime position directly on the Bellecotte piste and right in the heart of the resort. The food was superb as was the accompanying wine and cocktails. Some might say a little too good as it seemed to flow quite well. Now it was time for the formal shoes to be put to one side and the dancing shoes to be unleashed. We first headed to l'Aventure where we met up with our friends at Snow Descent ski school. They too were celebrating after a successful year so we enjoyed a couple more cocktails and bottles of champagne with them in front of the roaring fire where they were cooking huge slabs of succulent steak. The food looked amazing and it will definitely be somewhere that I will revisit for a meal.
Next is where the party really started. If you've ever been lucky enough to enjoy the nightlife in Courchevel 1850 then chances are you will have ended up in La Mangeoire. If you didn't know about this place you could easily miss it. There are no signs outside and nothing outside to suggest what is going on inside. We arrived at La Mangeoire relatively early and to my surprise there were people sat around finishing their dinner. Andy had told us all about his previous visits there so I was a little taken aback to find out that the place that Andy was talking about was actually a restaurant. Quite soon after we arrived the tables were cleared and dancers hopped onto the bar. After a while we found ourselves on the tables dancing the night away. Maybe it wasn't just a restaurant after all. Together with the guys from Snow Descent Ski School we were going through a lot of bottles of champagne. Each time a bottle was delivered they let off flares and cranked up the music. It was like nothing I had experienced before. I somehow ended up with a pair of sports shorts with the american flag on them on the outside of my trousers and Will ended up with a cape. We have no idea where they came from and quite frankly didn't care. Hanging from the ceiling were chains which people were swinging from and a swing was also set up from the ceiling. We had to give this a go, obviously. Stood in the middle of us, stone cold sober, was poor Hannah, she had been enjoying her pregnancy up until this point, surrounded by slurring buffoons, hanging from the ceiling.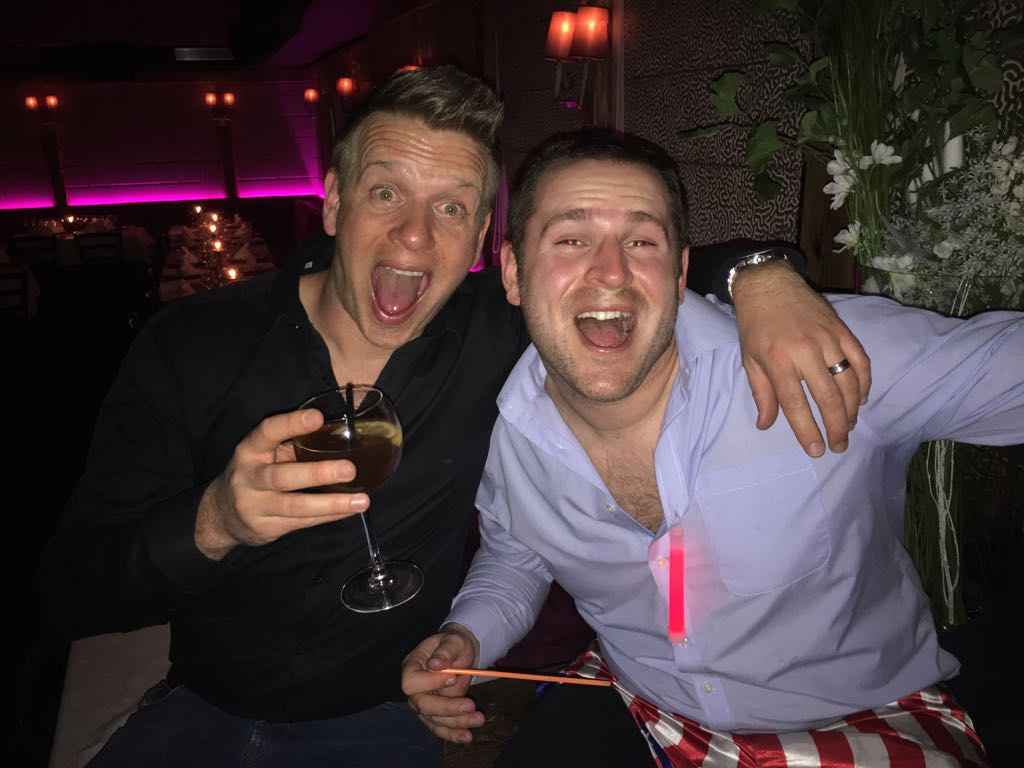 After eventually managing to find my bed, it was soon time to get up again just a couple of hours later as we were being picked up ready for more chalet viewings. With a pounding head I could now see why Andy had decided to retire to bed early a couple of days previously. Courchevel and La Mangeoire in particular had broken half our team!!
Loaded up with bottles of water we headed up to Courchevel Moriond (1650) where we saw Chalet Licorne and Licorne Des Neiges. These chalets were huge and in a great position, right on the piste. The swimming pools in these chalets were the main attraction. They offered great social areas, perfect for pool parties. In terms of value for money, the best chalet in Courchevel Moriond was definitely Chalet Amnesia. This chalet was beautiful, right by the piste. The chalet was beautifully decorated, nothing looked out of place and it felt very homely. Prices for a week in Chalet Amnesia start from approximately € 6,000 to include breakfast service. It really was excellent value for luxury.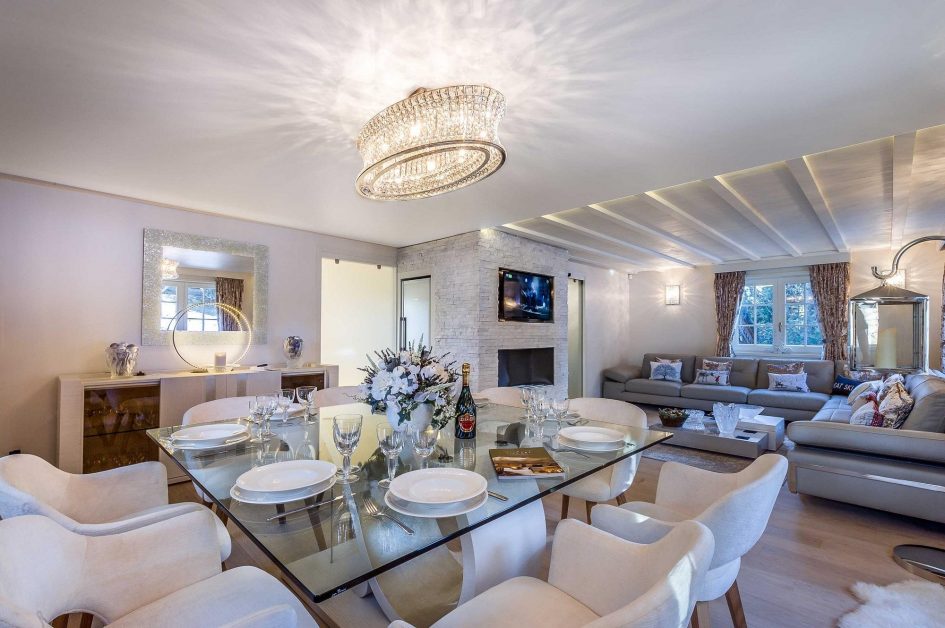 That afternoon, with hangovers still raging in the afternoon heat, Andy decided it was time for an uphill 25 minute walk/hike/mild jog to our next chalet, Chalet Black Pearl. Now this was my favourite chalet in Courchevel 1850. This chalet was very impressive and had amazing views of Saulire. The chalet had a great combination of traditional timber beams and modern decor that seemed to work well together. It felt homely and comfortable. As we went through the chalet from top to bottom we were left shocked and surprised as we arrived at one of the floors to be met with a huge entertainment area and night club. It was in complete contrast to the rest of the chalet but yet didn't feel out of place.
The entertainment area had a night-club, self-playing piano, pool table, kids room and an amazing cinema room. It also had a great view of the waterfall which went down to the wellness floor below. The wellness area was equally as impressive with a huge indoor pool, a jacuzzi, and a UV tanning bed as well as other great wellness facilities. Everything about this chalet screamed opulence. It was simply amazing.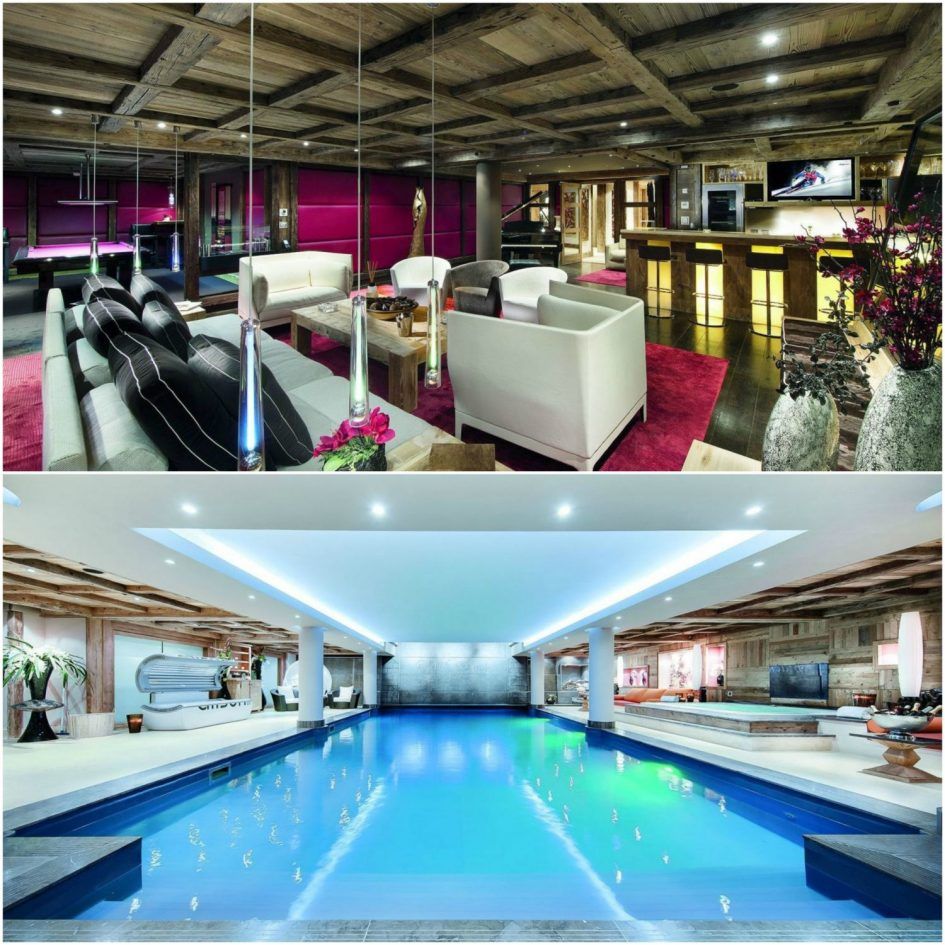 After 3 very busy, fun and productive days in the Courchevel valley, our visit was coming to a close. We had to be up very early the following morning for our transfer back to Geneva airport. We'd had a great time viewing some of Courchevel's best ski chalets and found the time for some skiing and partying as well. The team at Cimalpes had been very welcoming, everyone that we had met was professional and approachable and their properties were some of the best chalets in the Alps. We would like to say a massive thank you to Benjamin, Julien, Olivier, Gregory, Carole and the rest of the Cimalpes team. We had an amazing time and you were the perfect hosts.
If you would like more information on any of the chalets featured in these blogs or you would like more information on Courchevel itself then get in touch. We would love to pass on our first hand knowledge and tell you why Courchevel is one of the best ski resorts in the Alps. You can call us on +44 (0) 1202 203 650, or alternatively, send us an email.
If you like the sound of working for Ski in Luxury and experiencing the luxury lifestyle for yourself, then come and join the team. We are currently recruiting for Ski Specialists. Come and join the Ski in Luxury family and work in a fun, fast paced environment.