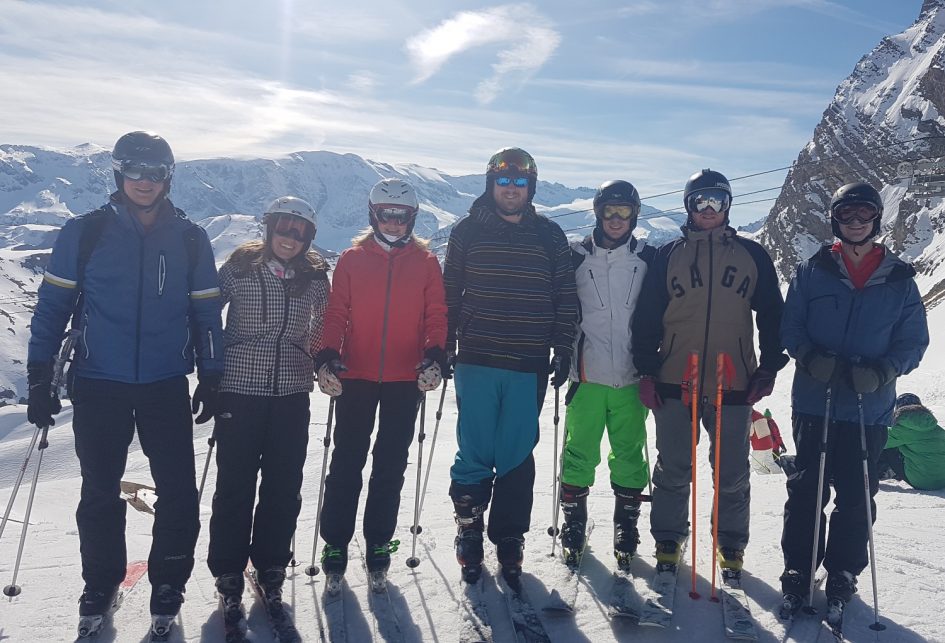 Wow, what a ski season!! This season has flown by. During the Summer of 2016, myself (Gavin), Will and Hannah all joined Ski in Luxury whilst it was nice and quiet. What a job we all thought as we sat back, put our feet up and had our peace and tranquillity interrupted by the occasional enquiry. Nearly a year down the line and none of us were prepared for just how busy our winter was to be. We have had an incredible season, matching people with the perfect luxury accommodation for their ski holiday. Long days and busy weekends of calls and emails was all made worth it though when Ski In Luxury Directors Andy and Fran organised an end of season trip to Courchevel with one of our key operators in resort, Cimalpes, as a thank you. Here is little more about what we got up to.
We were picked up super early from our Bournemouth HQ and we headed off to Heathrow to jet out on our luxury trip to the Alps. Our eyes were barely able to stay open and a chorus of yawns echoed around our transfer minibus. Now, it is important for us to experience the levels of service and luxury that our clients experience, so with this in mind Andy popped the cork on a couple of bottles of Champagne on the way to the airport. Now, I'm not usually one for starting to drink at 5am, this is usually the time I would cease an evenings drink consumption but as I mentioned a moment ago, it was important to experience the luxury life so reluctantly, OK not so reluctantly if I'm honest, we let the bubbles flow.
On arrival at Heathrow, Andy and Fran announced that for our hard work over the season they wanted to thank us in a special way. They wanted to give us an experience we would never forget. This season with work I was lucky enough to watch World Cup skiing in Austria, Will has been Ice driving in Val Thorens and Hannah visited the Glacier Palace in Zermatt. We have all been treated to some pretty amazing experiences so surely they couldn't organise anything to surpass these experiences, could they? Yes, yes they could. So just what was this surprise? Well, we would be getting a helicopter into resort!! We would be flying over Geneva and then the Grand Bornand ski area before landing in Courchevel. We would be getting a helicopter to Courchevel!! What a way to travel!! What a great surprise!!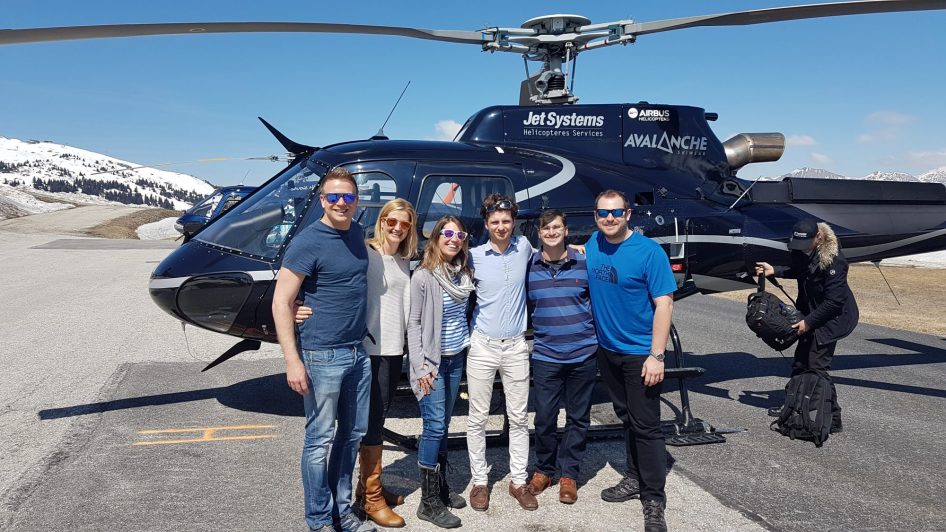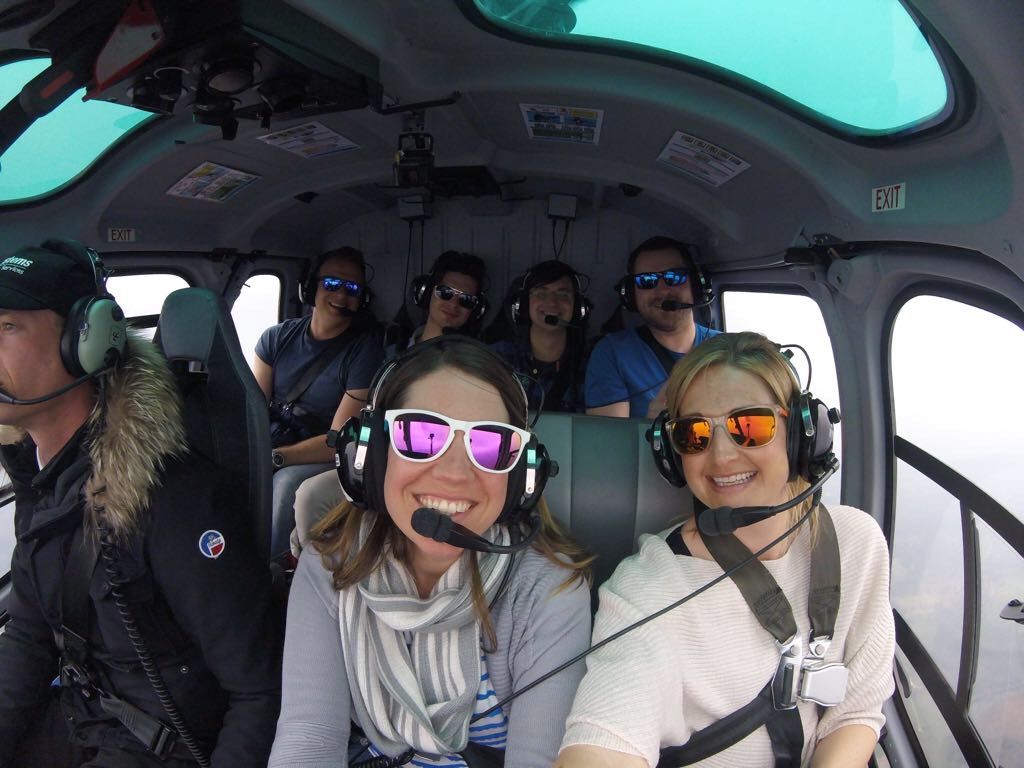 We arrived into Geneva late and were all apprehensive that the helicopter flight would be cancelled so I am sure you can imagine our relief when we were met by Jet Systems Helicopters in the arrivals area who assured us that we were good to go. A luxury minibus whisked us across to the opposite side of Geneva airport where we boarded our helicopter transfer to Courchevel 1850.
The views that we experienced on our way to resort were mind-blowing. Small mountain villages and rolling mountains passed beneath us and after just 25 minutes of flying we arrived into the Three Valleys where we could all be seen pointing out the windows at the ski slopes and ski lifts that we recognised from previous trips to Courchevel and Meribel. We flew into the valley and landed at the Altiport, a popular place for people to stop when skiing in Courchevel to watch as the the private planes take off and land.
On arrival we disembarked and were greeted by our hosts for the weekend, Benjamin and Julien from Cimalpes. We had spoken to these two guys frequently throughout the course of the season whilst organising a number of luxury ski holiday for our clients, so it was great to finally put a face to a voice.
Benjamin and Julien then whisked us off to our next treat, a short skidoo ride up to the Caves des Creux mountain restaurant where we stopped for a delicious lunch combined with stunning views. We sat back and enjoyed the delicious gourmet food on offer and relaxed in the midday sun as people skied by. As we sat there with full bellies we all agreed that we could see why spring skiing in Courchevel was so popular. In May we have a new recruit joining the Ski in Luxury Team, Francois-Joseph (aka F-J). F-J is currently doing a season in Les Menuires and was fortunate enough to be allowed a couple of days off to come over and join us for the majority of our stay. This gave F-J a great chance to see the type of properties that we sell but also be invited into the close knit Ski in Luxury family.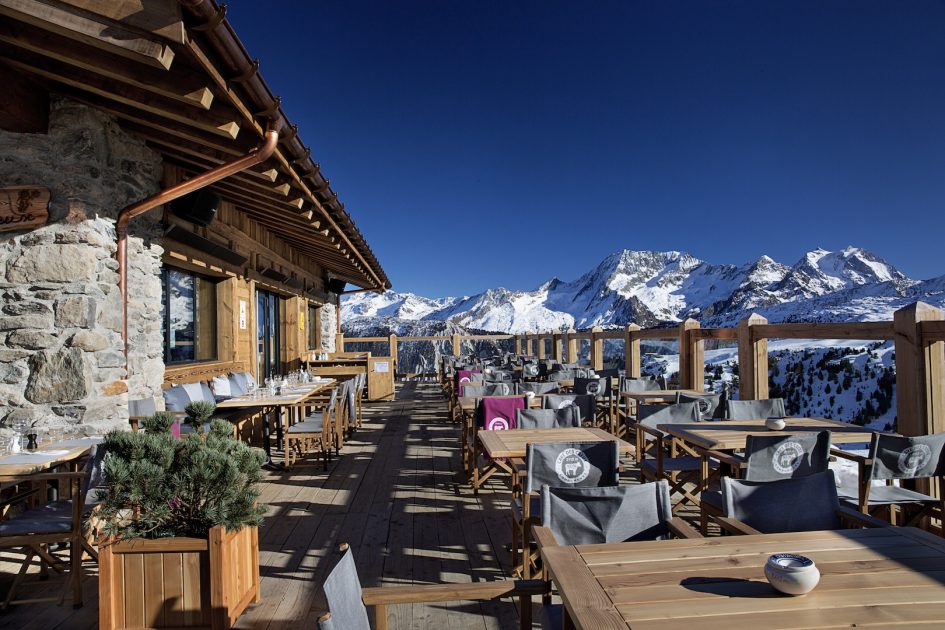 Whilst we could have sat on the terrace of Caves des Creux all day, unfortunately the fair haired and slightly balding amongst us started to toast. Without any suncream it was time to move on. Back onto the skidoo we hopped to get down the mountain. We were then whisked off to the L'Atelier ski hire shop which is just off the main Croisette lift hub in Courchevel 1850. We would be skiing the following morning so we got kitted out.
After this we headed down to Courchevel Village to view Cimalpes' new apartment complex in the heart of the Village. The Carre Blanc development is perfectly situated. The nearest ski lift is just 20 metres from the front door. Courchevel Village (1550) is undergoing a lot of development, mainly due to its fantastic links to Courchevel 1850. A short gondola rides takes you right in the heart of Courchevel 1850 in a matter of minutes. A lot of the owners of luxury chalets in Courchevel 1850 are now buying land in the much cheaper Courchevel Village to start their next project. This has led to a renaissance in what used to be one of the sleepiest of the Courchevel villages.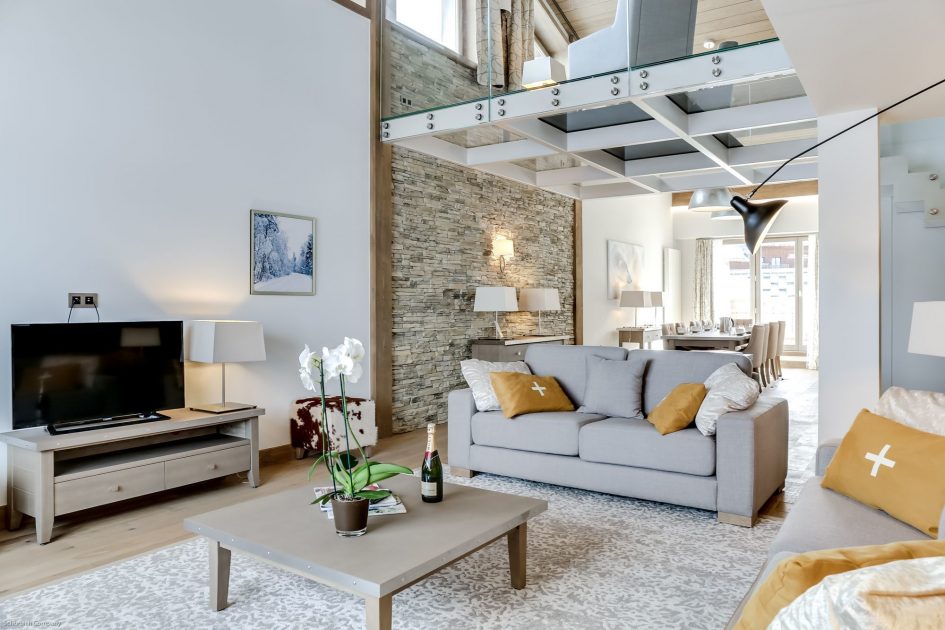 Following on from viewing the Carre Blanc apartments we headed down to Courchevel Le Praz. Often ignored by people looking for luxury accommodation in Courchevel but it really shouldn't be. Courchevel Le Praz has some of the best chalets in Courchevel at a fraction of the price of the villages further up the mountain. If you combine this with a traditional village environment and some of the best restaurants in Courchevel then it is easy to see why luxury ski holidays in Courchevel Le Praz are on the increase.
In Courchevel Le Praz we saw what we all agreed was up there with the best chalets in Courchevel that we saw during our time in resort. Chalet Blossom Hill was AMAZING. This incredible chalet was completely unexpected. It was modern and the large open plan living areas gave the property a feeling of immense space. the main feature of this incredible property was the indoor/outdoor swimming pool accompanied by the stunning mountain vista. When we arrived the pool couldn't be seen. Instead we were met by a large terrace area. At the touch of a button though the terrace disappeared into the ground, water came flooding in and were were met with a height adjustable swimming pool. It was awesome.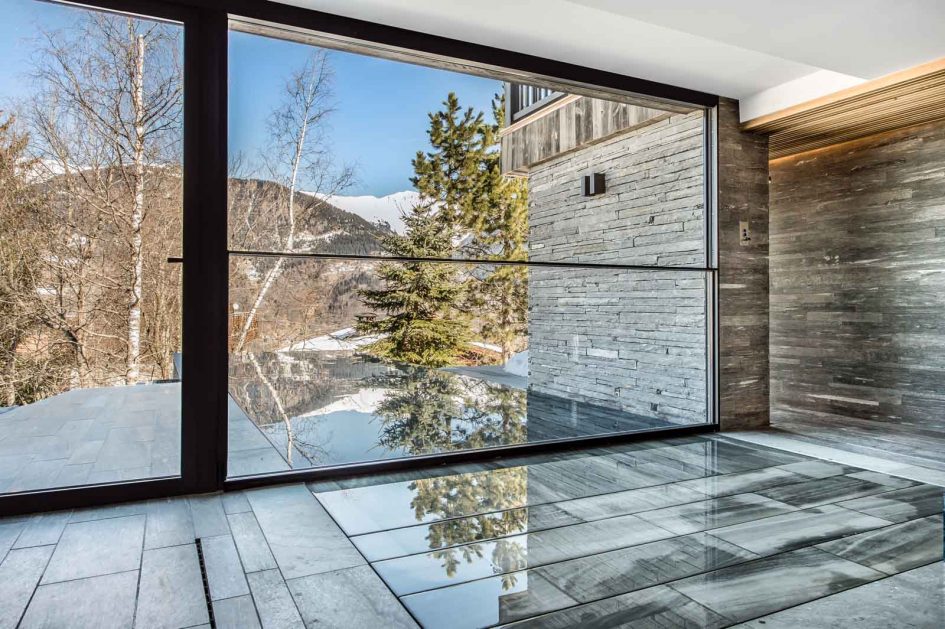 After quickly seeing the locations of Chalet Kibo, Chalet Ancolie and Chalet Alpette in Courchevel Village, we were taken to what would be our home for the next 3 nights, the amazing Chalet Le 1550 in Courchevel Village.
Chalet Le 1550 is the prime example of what great value for luxury you can get from staying in Courchevel Village instead of Courchevel 1850. This amazing chalet has a gym, large indoor swimming pool, sauna and hot tub with stunning views. There is a fire pit on the large terrace and the spacious open plan living area with huge picture windows all adds to the ambiance of this luxury chalet in Courchevel.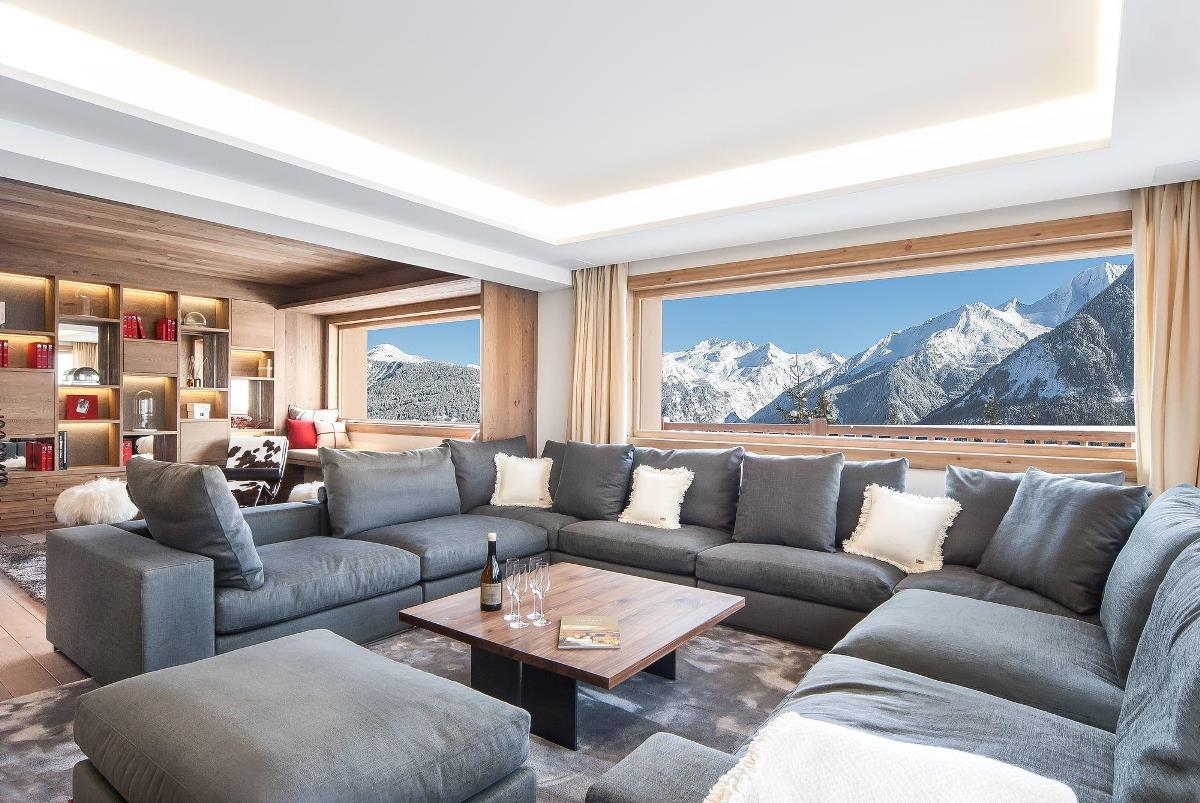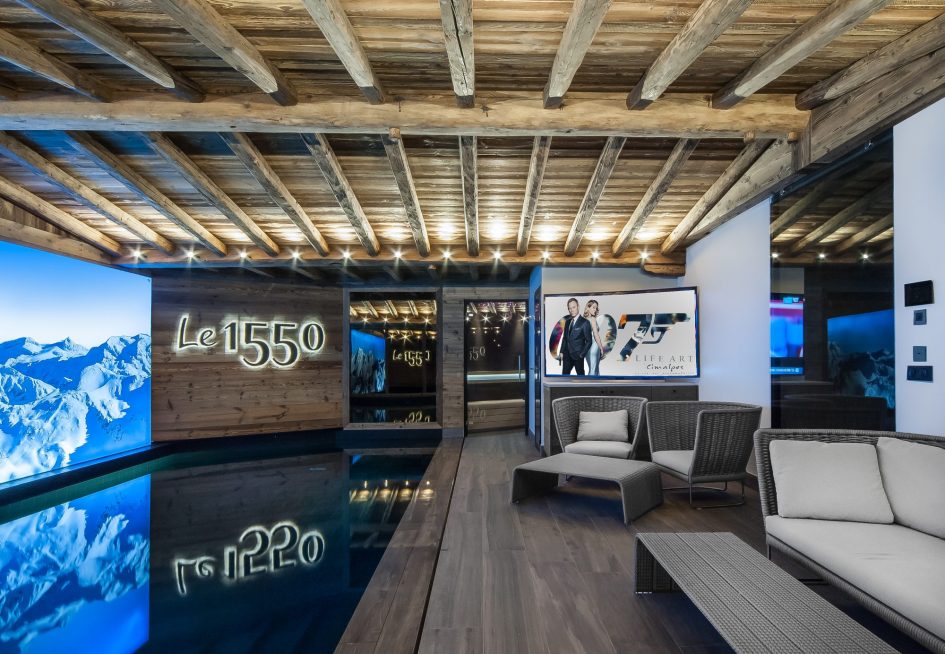 After testing out the wellness facilities (just to make sure they worked obviously) we headed down for dinner where we met with Benjamin and Olivier, the original founder of Cimalpes. Meeting the two of them and having time to talk to them was very useful. It gave us a chance to discuss what a great job they were doing but also gave us a chance to offer the feedback that we very kindly receive from our clients. Cimalpes offer a fantastic product and service but Benjamin and Olivier were also very welcoming to ideas of how they can improve. Together we want our joint clients to have a fantastic luxury ski holiday, so by working together we know that we can not only maintain the high standards already offered, but also move and adapt to the times and trends of what our clients require from their luxury ski chalet holiday.
Our evening meal was cooked by leading freelance chef Paul Pires whilst his wife Morgan was our host for the evening. Paul has worked in many Michelin Star restaurants and his food was delicious. Paul runs a company which has a number of chefs who can come to your self-catered luxury chalet in Courchevel and serve up a culinary treat…..obviously this can all be organised through Ski In Luxury.
After dinner we had the biggest shock of the day so far. The shock of the day up until then had been finding out we would be getting a helicopter to resort but this surpassed even that….Andy was going to bed early!!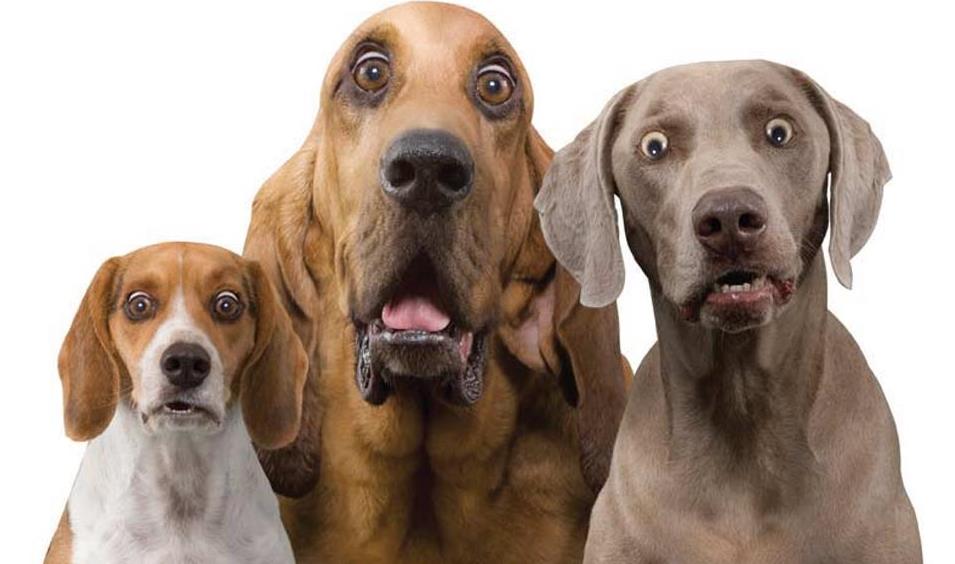 Now for anyone who knows Andy, they will know that this doesn't happen very often. Andy is like a night owl in resort and often the last one to go to bed (if at all). To hear that he was calling it a night took us all by surprise. Little did we know what he had planned for the following day….
To find out what happened next read part 2 of the blog.