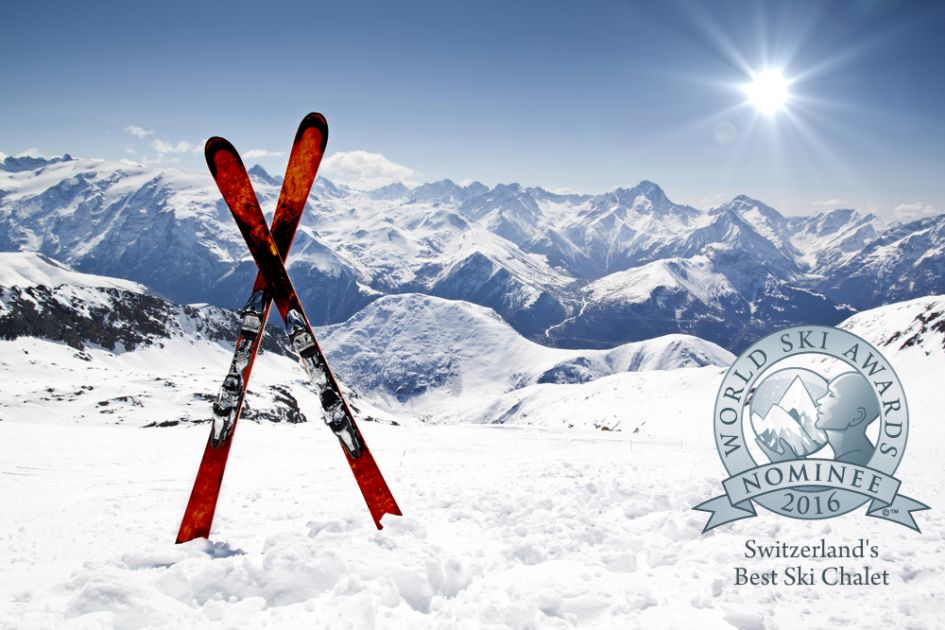 The 4th Annual World Ski Awards will be taking place on the 18th – 20th November 2016 in Kitzbuhel, Austria. World Ski Awards™ is the only global initiative to recognise, reward and celebrate excellence in ski tourism. Today Ski In Luxury are going to take a look at the nominees for Switzerland's Best Ski Chalet 2016.

Firstly let's take a look at the incredible chalets on Ski in Luxury's portfolio, which have managed to make the Swiss cut this year: Bella Coola, Chalet Grace, Les Anges, Chalet Maurice, Zermatt Peak, Chalet Chesetta, Hidden Dragon, Mon Izba, Sirocco, The Lodge and Tivoli Lodge.

So, let's see if we can help you to decide who to vote for in this incredibly tough category.
An exquisite chalet, consisting of traditional Swiss wood contrasted superbly with inspiring antiques, offering 11 very lucky guests a fabulous stay in the heart of Verbier, with complete privacy yet with the convenience of the shops, bars and restaurants only a short walk away. Set over four floors Bella Coola benefits from a stunning indoor pool, which is overlooked by a colonial style pool bar and Turkish Hammam; outdoor hot tub, with stunning views of the mountains; and five en-suite bedrooms to retire to after a perfect day on the slopes.
Situated in an idyllic location only 3 minutes by electro taxi from the village centre, Chalet Grace offers breathtaking views of the Matterhorn from all three levels. This chic and sumptuous chalet benefits from five en-suite bedrooms for 10-12 guests to enjoy and relax in, along with an open-plan lounge with adjoining bar area, a luxuriously-seated cinema, games room with pool table, sauna, massage room and an outdoor hot tub to soothe those aching muscles. If that wasn't enough then how about a large pilates/yoga studio with ambient lighting and music.
This beautiful contemporary chalet, designed by the renowned interior Architect Magali de Tschamer, sits in an ideal position in the Petit Village area. Chalet Les Anges benefits from large panoramic windows offering majestic mountains views of the Matterhorn and its modern contemporary style with the highest quality natural fabrics is counterbalanced by the symmetry of the furniture to enhance the feeling of warmth and luxury. Over three floors there are seven stunning en-suite bedrooms for 14 guests, a TV room/library, sauna, Hammam, massage room, hot tub and relaxation zone featuring fountain and ornamental pond. Where do you possibly start in this luxurious chalet?!
Located in the exclusive Petit Village area accessed via a private funicular railway through the mountains, Chalet Maurice provides outstanding views of the Matterhorn. A charming chalet where the careful balance of architecture and interior design combines beautifully to create a luxuriously chic alpine retreat for 12 guests to enjoy in six large en-suite bedrooms. A truly astounding chalet consisting of a sauna, massage room, outdoor hot tub with sensational views and even an internal lift, for when your legs are feeling extra tired after a long day on the slopes.
This premier luxury chalet, winner of this prestigious award in 2013, offers uninterrupted views of the Matterhorn and occupies a landmark position just minutes from the town centre. The interiors are all designer inspired with unique interior fixtures and fittings which have been sourced from all over the world to make this a truly inspiring chalet that oozes style, luxury and panache. Once again a luxury chalet which offers you the choice of a sauna or steam bath followed by a soak in the Jacuzzi. A masseuse will be on hand to aid aching and tired muscles, and for those more active clients a fully equipped gym is available. Not forgetting the library, internal lift and wine cellar. Zermatt Peak truly is a spectacular chalet.
Chalet Chesetta is an elegant property, rebuilt on the site of the former village blacksmiths, offering plenty of room to relax and entertain. Meticulous attention has been paid to every detail with deep, comfortable sofas and local antiques mixed with a collection of contemporary art sitting against a backdrop of old wood and granite, to make for a truly stunning property. The chalet benefits from seven bedrooms to retire to, along with a well equipped gym, sauna, Hammam, fully stocked playroom/home cinema room. A truly sumptuous chalet, perfect for 12 guests to enjoy their luxurious holiday.
Another worthy nominee is the magnificent Hidden Dragon, perched at 1500m on its own private grounds. This secluded mountain retreat offers four floors of spacious Alpine-chic living, with six en-suite bedrooms for 12 guests. With ski in ski out from the superb ski room, which comes complete with its very own après-ski bar, you can't go wrong with this fabulous chalet. A true haven offering a cinema room, Hammam, sauna, hot-tub, meditation room, yoga deck and massage therapy to soothe aching limbs. A wonderful added touch to this chalet is the state-of-the-art wine cellar, where guests are encouraged to handpick wines to accompany their evening feast.
Mon Izba is an enchanting winter residence with commanding panoramic views across the village below, spread over five floors and benefitting from five en-suite bedrooms, sleeping 10 adults and 2 children. This fabulous property provides you with every luxury and comfort you could wish for, including a plush cinema room, a well equipped gym, outdoor hot tub and not forgetting the impressive spa, with indoor swimming pool, massage room, sauna and Hammam. Alpine luxury at its best!
This stunning nine bedroom chalet with an additional bunk room for 6 children to enjoy, offers a total of 24 guests one of the Alp's most exclusive resorts in a perfect location. The Lodge provides for a unique and fun setting, offering an indoor swimming pool, indoor and outdoor jacuzzis, gym, wine cellar, luxury spa with steam room and lounge room with large plasma screen and home entertainment system. This spectacular chalet will provide you with an unforgettable experience and the perfect year round escape.
This majestic chalet offering ski in ski out with the nearest lifts only 200m away, is located on the exclusive Paludastrasse. Tivoli Lodge has set a new benchmark in Alpine Luxury with its beautiful contemporary interior offering 700m2 of living space and sensational views from the south-facing windows towards the highest peaks of the Engadine. This salubrious chalet, sleeping up to 16 guests, benefits from a spa complex housing the indoor swimming pool with jet stream, massage waterfall and air-jet massage, jacuzzi and a separate sauna and steam room complex. For the adults an extensive wine cellar is on offer but most impressively up to twenty younger guests can enjoy hours of endless fun in the incredible indoor two story soft play gym. Whether it's the library or snuggling up by the fireplace you can be promised to have an unforgettable experience at Tivoli Lodge.
As you can see a very difficult decision for you all to make, as all of these are more than deserving winners of the best chalet in Switzerland. So good luck in picking your favourite before the 23rd September, when voting closes.
There is never a time quite like the present so please head here to vote for Switzerland's Best Ski Chalet 2016 and while you are there please vote for Ski in Luxury for World's Best Ski Travel Agent.

If any or all of the above chalets have got you thinking about your next luxury ski holiday or if you would like any more information then contact the team on +44 1202 203 650 or send us an email.