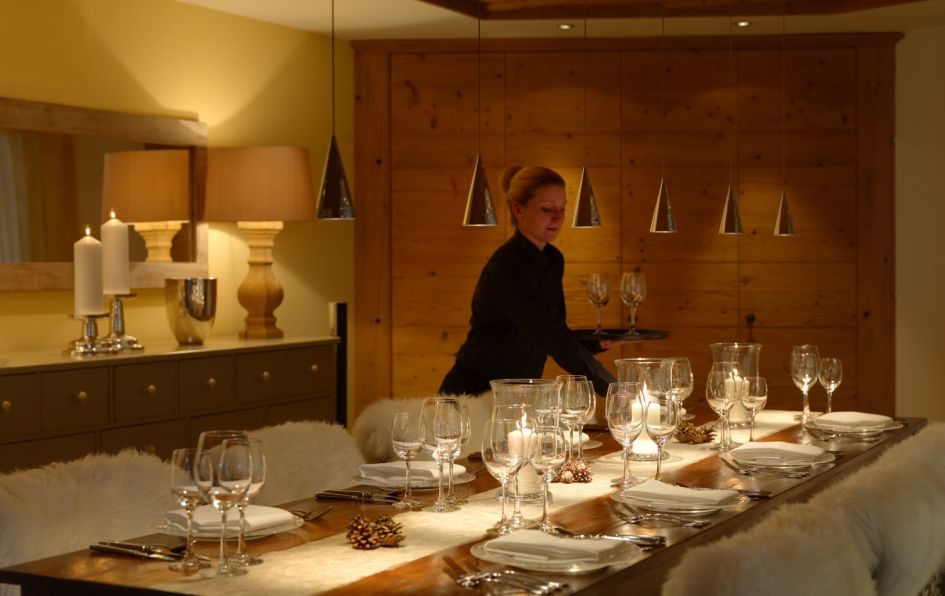 There is a lot to consider before going on a luxury ski chalet holiday. Whether you require a luxury celebration ski chalet for a special family occasion, combination chalets for large group ski holidays or ski chalets for hen parties and skiing stag dos, every group's needs will differ, and as a result, will require different chalet service levels to ensure you get the most out of your luxury ski holiday! However, without experiencing a luxury serviced ski holiday first-hand, it can be difficult to know what chalet service level is best suited to you and your group. Featuring catered ski chalets in Verbier, self-catered rentals in Megeve and incredible ski-in, ski-out chalets in Lech, this ultimate Ski In Luxury guide will prepare you for your next luxury serviced ski chalet holiday to the Alps…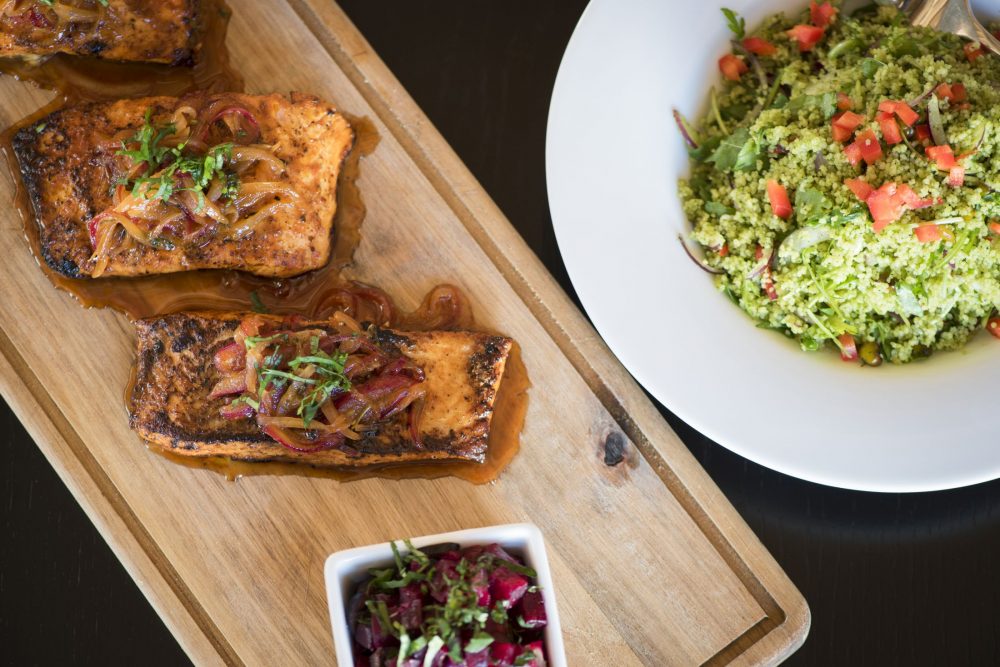 Arguably one of the most popular chalet service levels and highly regarded as the best option for an ultimate luxury ski holiday experience, luxury catered chalets bring a foodie's dream to life. Many serviced ski chalets have Michelin star chefs and, with the evolving diversity of luxury catered chalets, it can feel like you have a gastronomic restaurant in the privacy and luxury of your catered ski chalet.
For pure unadulterated indulgence, your private chefs will conjure up mouth-watering signature dishes for 5 or 6 nights of your stay, allowing you to also sample a taste of the local cuisine on the staff nights off. However, if bespoke, gastronomic chalet dining doesn't tantalise your taste buds or just seems like a huge over indulgence, simpler but equally delicious dishes can also be prepared – you will in most cases be able to have a pre-arrival menu consultation with your chef to discuss your food preferences and any special dietary requirements, to ensure every member of your group is catered for. If this is all new to you, then read our blog 'A Day in the Life at Chalet Maurine, Verbier' to find out what you can expect from a typical day in a luxury catered ski chalet.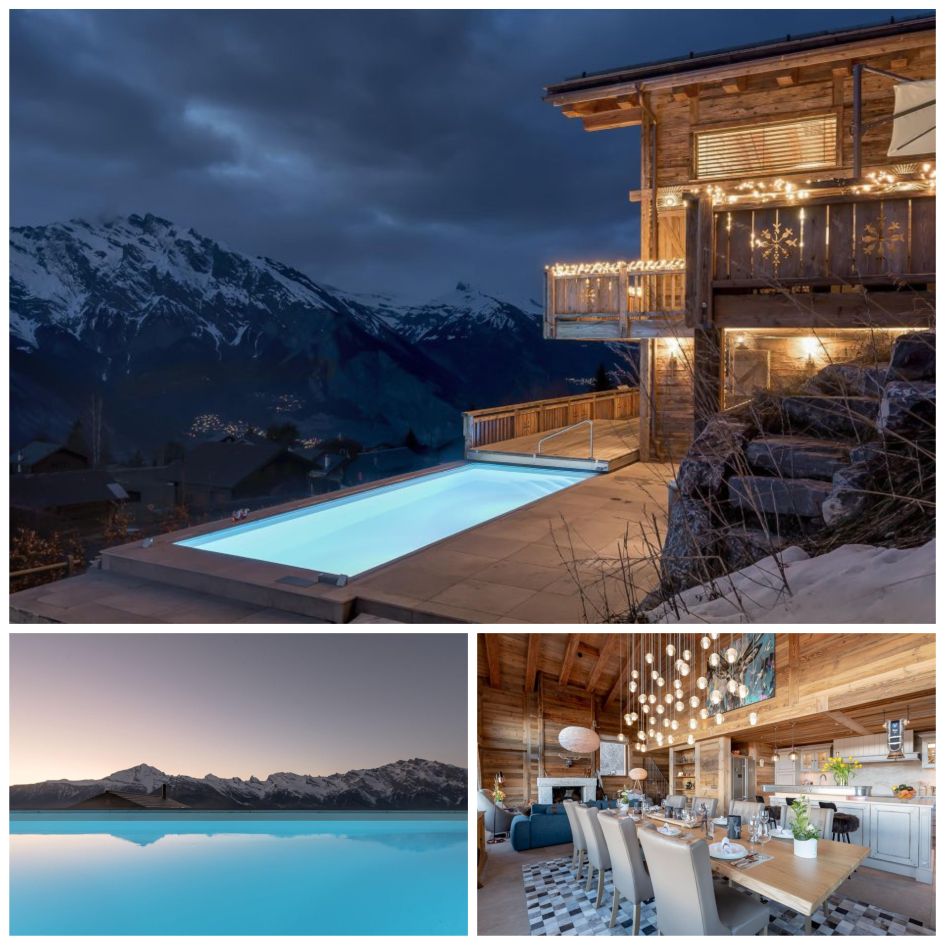 If a luxury fully catered ski chalet is what you're looking for, then look no further than Chalet V. Showcasing truly spectacular, snow-topped mountain views, this elegant luxury catered chalet creates a cosy and homely feel, whilst ensuring ultimate relaxation is still achieved. Fully admire the breathtaking views from the warmth of the heated outdoor swimming pool or immerse yourself in the bubbles of the outdoor hot tub. Also featuring a: steam shower, sauna, outdoor fire pit and even a pinball machine, means you will have plenty of choice for your after-ski relaxation and evening's entertainment. Sleeping up to 8 adults and 4 children across 4 floors, Chalet V presents the perfect place to enjoy your next luxury ski holiday in Verbier's undiscovered neighbour.
Luxury Fully Staffed Ski Chalets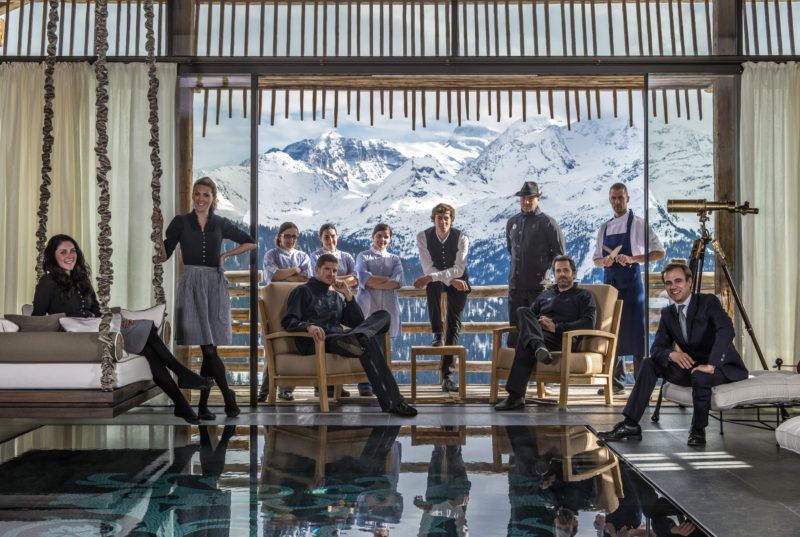 Offering, some would argue, a more flexible and personalised service compared to a catered ski chalet, a luxury fully staffed chalet could prove a better prospect for some. With similar levels of staffing as a traditional catered ski chalet package, the food and drink inclusions are the only major difference between these two chalet service options – you are in complete control of what you eat, how much you eat, and when you choose to eat at the chalet or out in town. You are in direct contact with your chef to work on your perfect menu each day – enjoy lobster and caviar followed by the finest cote de boeuf, or a more simple yet equally appetising menu of classic pasta dishes and healthy salads. Prior to your stay, you will be able to hold thorough discussions with the chalet's concierge team, to request the succulent ingredients and mouth-watering meals you desire. After your catered ski holiday you will then only be charged for the food and drink you have ordered and consumed, usually at cost price, in addition to the price of the chalet – simple!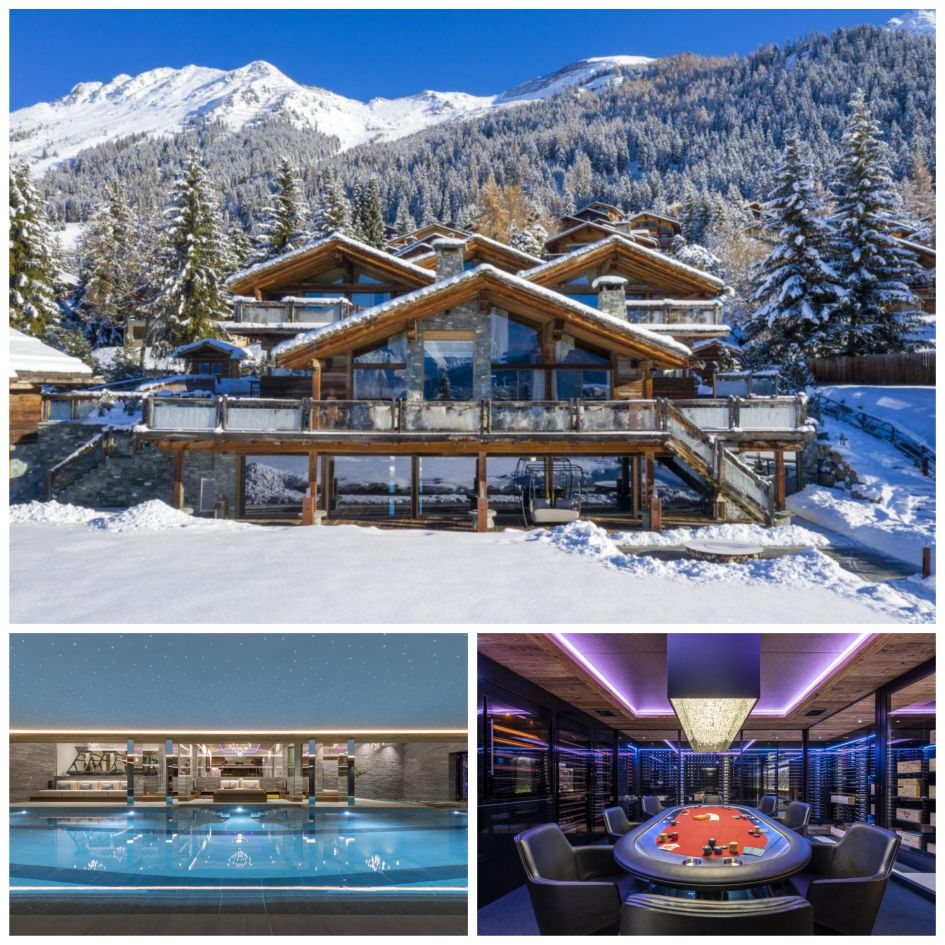 If a luxury fully staffed ski chalet sounds more intriguing, then Chalet Marmottière will serve your every need and desire. Arguably the most luxurious ski chalet in Verbier, this astounding chalet is truly at the pinnacle of luxurious mountain living. Uniquely opulent and modern in design, the chalet features heavenly panoramic mountain views, which will leave you in awe. Sleeping 18 guests, 1,500m² of living space is needed to accommodate: 9 sumptuous bedrooms, a 17m swimming pool, bowling alley, 3D cinema room, gym and wellness area including a sauna, Hammam and outdoor hot tub.
Luxury Bed and Breakfast Ski Chalets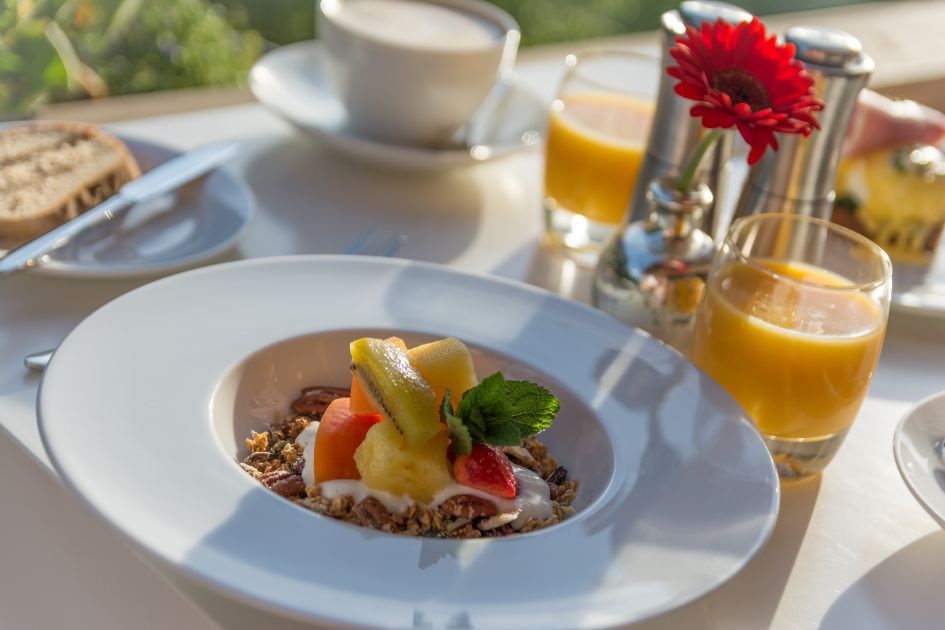 Breakfast is considered as the most important meal of the day. Essential for fuelling a fun-filled day on the slopes, you will be able to enjoy the delight of a continental breakfast, incorporated with your choice of a heavenly cooked option, all in the comfort of your luxury bed and breakfast chalet. The flexibility of this service then allows you to experience the fabulous in-resort restaurants, or let your own nominated cook test out their culinary skills for the rest of the group, in the evening. In the afternoon, enjoy a spot of lunch on the mountains to replenish your energy levels, whilst being surrounded by the breath-taking snow-topped backdrop.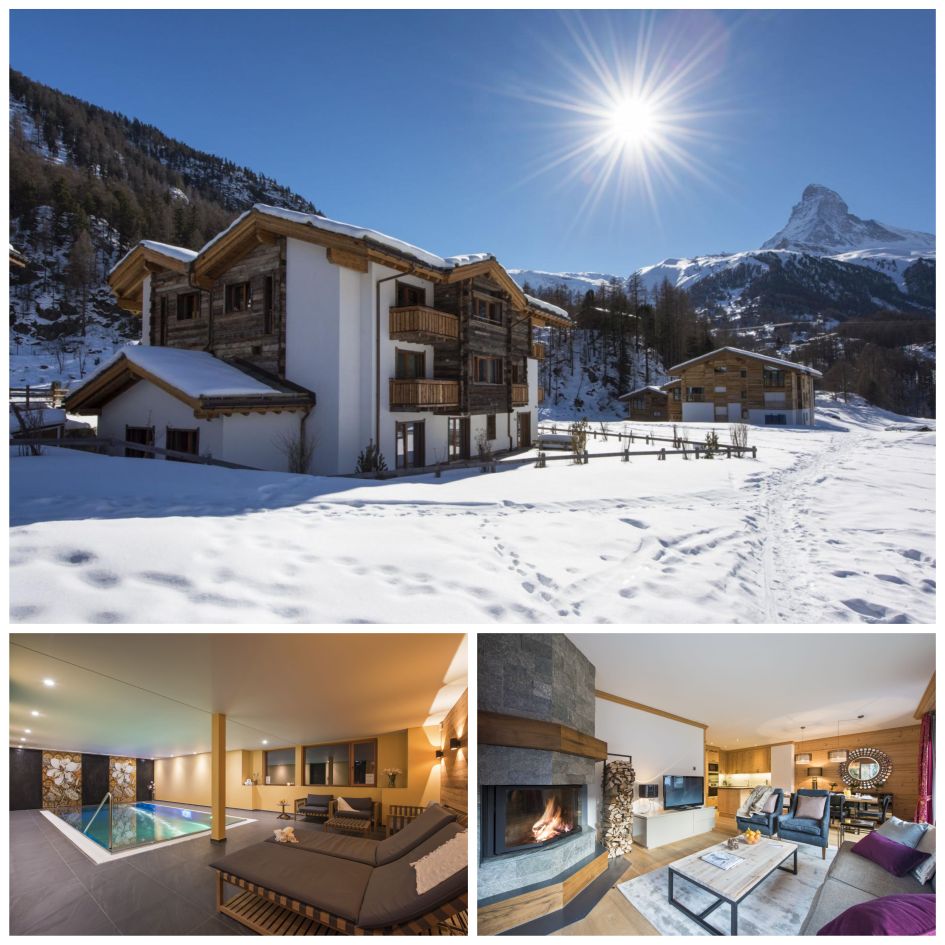 If a luxury bed and breakfast ski chalet is better suited to your group's requirements, then Chalet Elena could provide you with the perfect solution! Occupying the ground floor of Chalet Shalimar, this stylish apartment offers a perfect luxury family ski holiday, positioned in front of the world-renowned Matterhorn peak. Relax and unwind with all of the family in the spacious open-plan living and dining area, a great way to end a long day on the slopes. Continue your after-ski relaxation in the remarkable wellness area, sharing these facilities with the luxury apartment Alex. Featuring a sauna, Hammam, massage room and indoor swimming pool, these facilities are a great way to soothe any aching muscles after a hard day's skiing. With discounted prices on all of its remaining weeks, book your luxury serviced ski chalet holiday in Zermatt to avoid disappointment!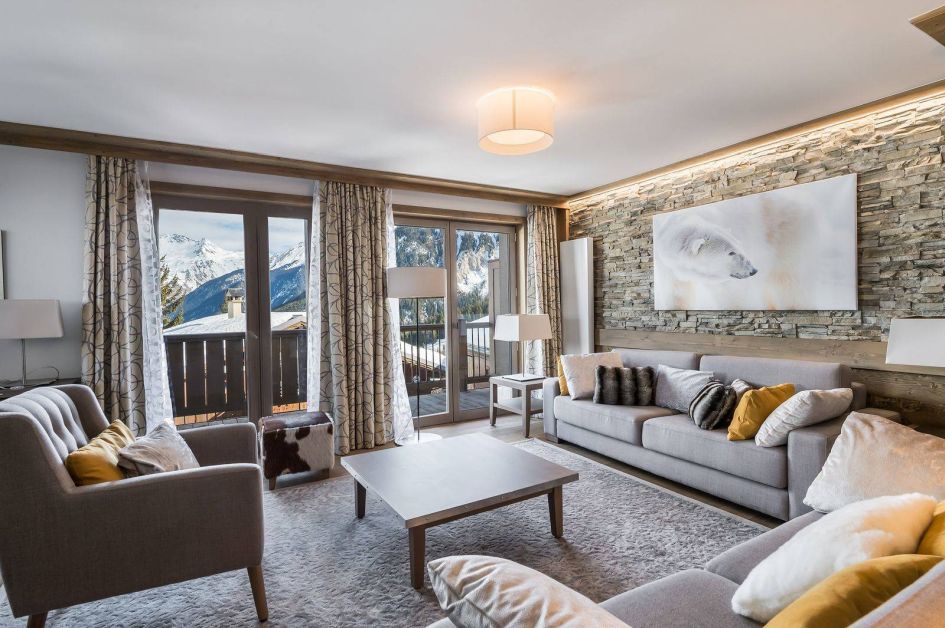 A luxury self-catered ski chalet offers, arguably, the most flexible package for your luxury serviced ski holiday. Not being confined to your chalet or having to abide to specific meal times, provides a lot of flexibility to your evenings – especially if you've had one too many at après and require a short siesta on the return to your luxury chalet! A perfect solution for any foodie who wants to experience the best restaurants in resort, or for those avid cooks amongst us. Alternatively, with the growth of gourmet chalet food private catering and delivery services, such as Spoony Cooks or Huski Mountain Food Delivery, you can enjoy a couple of nights catered in your chalet, or have the ease of just popping a home prepared ready meal in the oven.
You will also be able to experience a more affordable luxury ski holiday, as self-catered chalets are often cheaper compared to their service level counterparts, despite some of them still including housekeeping, welcome baskets, essentials for the week, concierge service and sometimes even a driver service!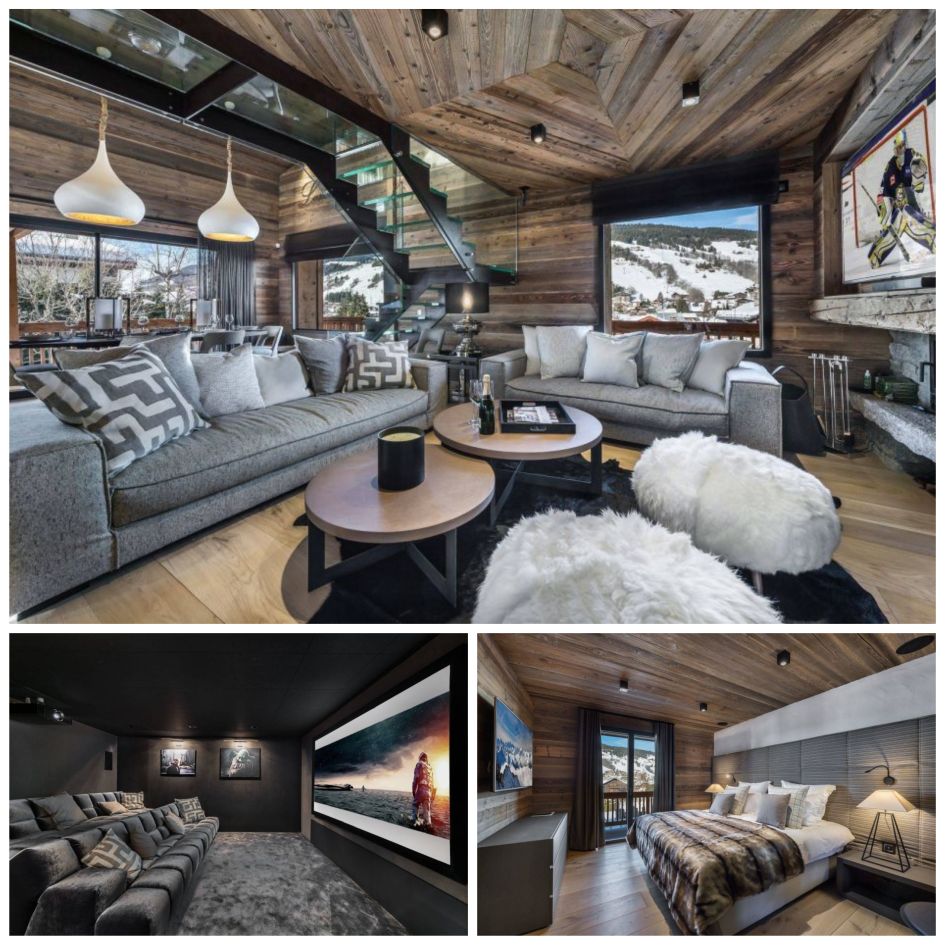 If a luxury self-catered ski chalet is sounding like an appealing option for your group, we feature a range of luxury chalets on our portfolio to meet your requirements, including the best new self-catered ski chalets in France and luxury self-catered rentals in Val d'Isere.
Chalet Lamartine is a beautiful 325m² chalet, sleeping up to 12 guests, ideally located for your luxury ski holiday in Megeve. Rare to find a luxury chalet of this size so close to the centre of Megeve, this sensational chalet has been lovingly crafted to create a charming home-from-home. Showcasing exceptional facilities, including an outdoor hot tub, cinema room and fitness room, Chalet Lamartine is leading the luxury line of self-catered ski chalets in Megeve.
Ski In/Ski Out Chalets vs Chalets with Driver Service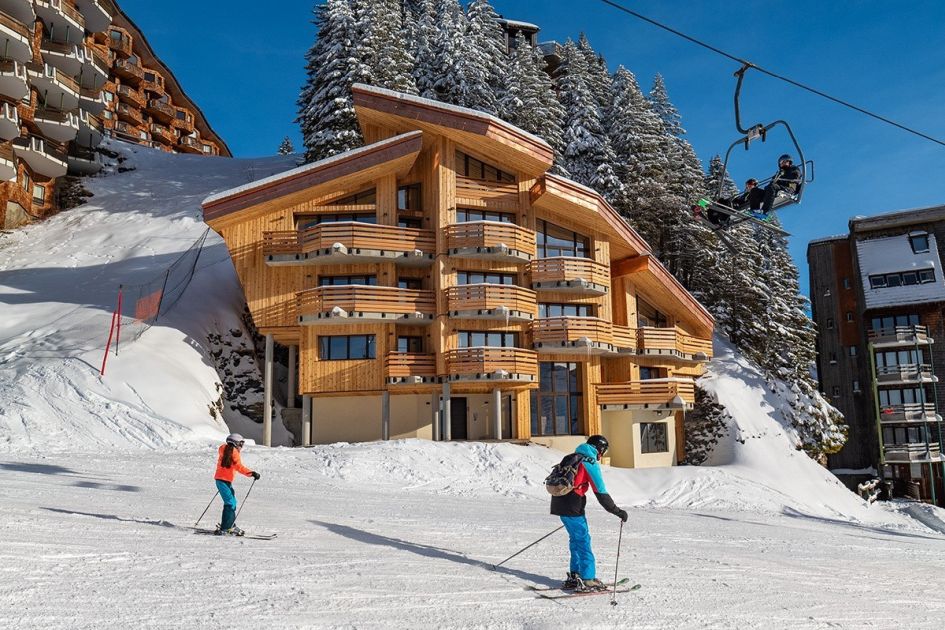 Luxury ski-in, ski-out chalets are at the top of the majority of our client's list of priorities. Being able to meet your instructor in the comfort of your own chalet, clip on your skis just outside the backdoor and ski off without having to wait for any queues is something that is brought to life in a luxury ski-in, ski-out chalet – even beginners can bask in the benefits a ski-in, ski-out chalet brings as our 'Best Ski In/Ski Out Chalets for Beginners' blog outlines.
However, despite the prestigious status that a ski-in, ski-out chalet holds, luxury chalets with driver services hold their own benefits as well. With a driver service, you will be able to travel to the best slopes with the most rewarding conditions in resort, to start your fun-filled day on the slopes in the best possible way! Compare this to skiing down the same slope every day in a ski-in, ski-out chalet, regardless of adverse snow conditions, makes luxury chalets with a driver service seem an exciting proposition. As well as this, your invaluable driver will take care of all the loading/unloading of your skis and equipment, meaning you will not have to lift a finger! After you've enjoyed a day on the slopes, some driver services also offer extra incentives – they can bring your comfortable shoes to change into, drop you into town, transport you to restaurants on your staff night off and even pick you up after après to save you stumbling back to your chalet (certain restrictions and time limits may apply).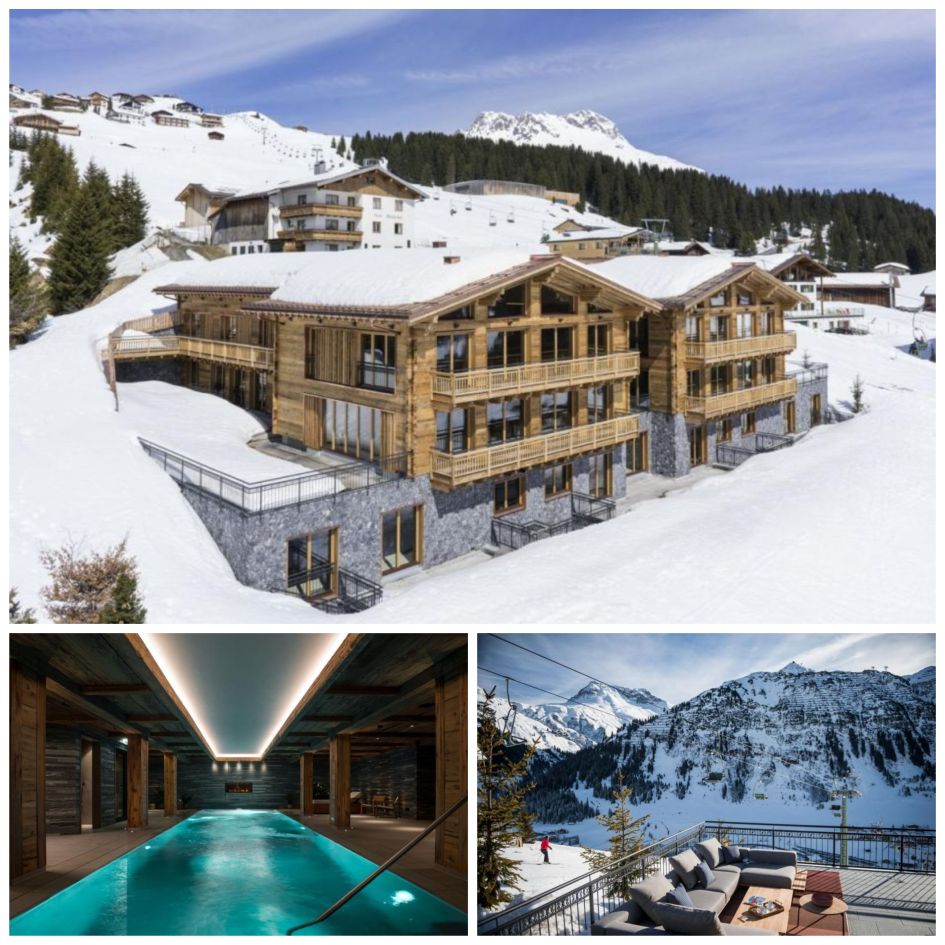 If the illustrious reputation of a luxury ski-in, ski-out chalet is too good to miss out on, the Arula Chalets will provide you with everything you could possibly desire. Raising the bar for luxury chalets in Lech, the Arula Chalets present an incredible luxury serviced ski holiday benefiting from breath-taking, panoramic mountain views and a plethora of exceptional wellness facilities. Featuring 2 indoor swimming pools, large outdoor Jacuzzi's, sauna and massage rooms, a bar area, gym, as well as many more facilities for your entertainment, these chalets allow you to experience the pinnacle of luxury. Consisting of Arula Chalet 1 and Arula Chalet 2, the Arula Chalets accommodate up to 29 guests, perfect for a large group ski holiday in Lech.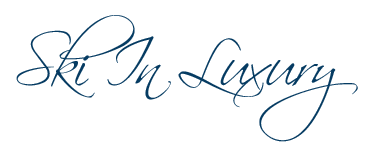 If you are interested in any of the luxury catered, fully-staffed, bed and breakfast or self-catered ski chalets featured in this blog for your next luxury serviced ski holiday, or have any questions for our team into what chalet service level is most suited to your group, then please do get in touch and we will be more than happy to discuss your requirements! You can give us a call on +44 1202 203650 or you can send us an email. We look forward to hearing from you!