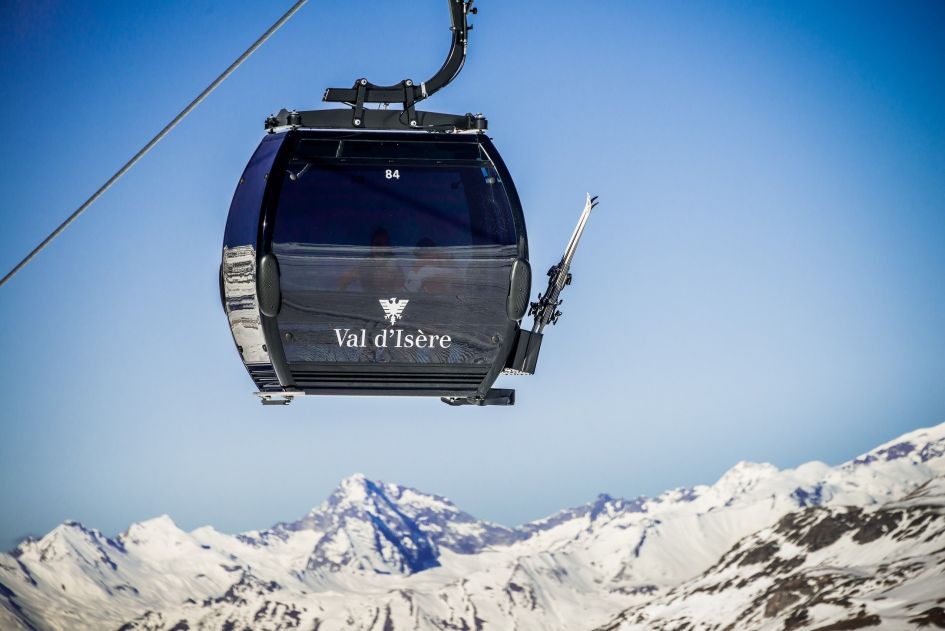 At the beginning of January 2022, I headed off to the ski resort of Val d'Isère for training towards my BASI Ski Level 3 ISIA Qualification with the ICE training program. Over the course of the next four months, I spent a lot of time becoming very familiar with the slopes of Val d'Isère, giving me some expert knowledge on the location of the ski in ski out chalets and pistes that lead to them.
The aim of this blog will be to highlight several luxury ski in ski out chalets in Val d'Isère, the various pistes you will travel in and out of, and the many highlights of both. This will not be an all-inclusive list of chalets by any means; Val d'Isère is teeming with almost too many to name. It will however give a wide variety of options, perfect for all ski enthusiasts, that will make Val d'Isère the top pick for your next luxury ski holiday in France.
Overview
It's no good getting into the ins and outs of the Val d'Isère ski in ski out chalets without first covering the basics of the ski area itself. Unlike some similar popular ski resorts in France which tend to be staggered down the mountain, such as many in the Three Valleys, Val d'Isère sits in the Isère valley with mountains flanking either side. On one side you have the towering sheer cliff faces of the Aiguille du Dôme while the other provides access to the skiable Tignes-Val d'Isère domain. The Solaise and Rocher de Bellevarde are the two primary mountains where you will begin your ski day before travelling further afield.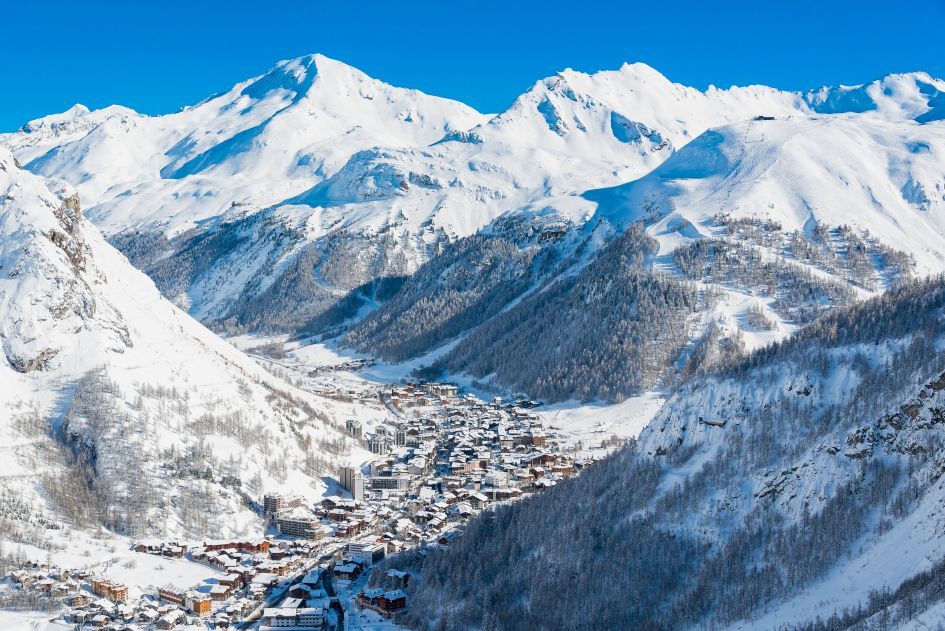 A luxury ski holiday in Val d'Isère means 300+km of fantastic skiing. Sitting at an altitude of 1,850m with runs that go up to nearly 3,500m, Val d'Isère is the definition of a snow-sure ski resort, with one of the longest running winter seasons in the Alps. World-renowned après ski is just the cherry on top. It's fair to say that Val d'Isère is one of the best ski resorts in the world. And what better way to experience it than with a stay in one of Val d'Isère's ski in ski out chalets. Matching luxury living with premier facilities, 5* services and an unbeatable location on the edge of some incredible pistes to finish off your ski day.
I will look at the different ski in ski out pistes of Val d'Isère, along with what type of skier they're suitable for, the lifts you can access them from, standout mountain restaurants and bars to visit on the way down, and any other notable features on the way. I'll also have a look at just a selection of some of the luxury ski in ski out chalets in Val d'Isère we have on our portfolio here at Ski In Luxury.
La Face de Bellevarde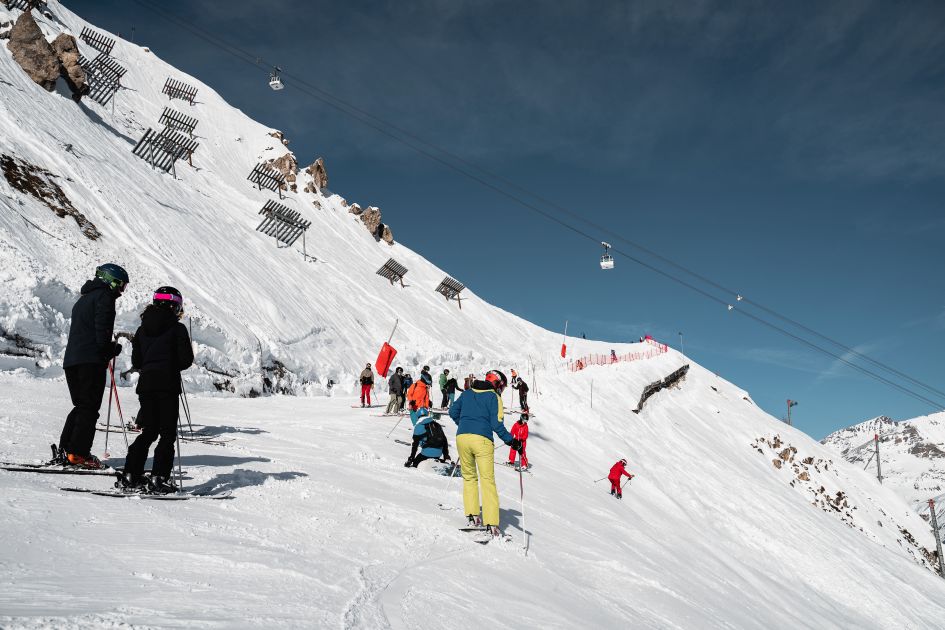 Where better to start our list than with one of the steepest slopes in Val d'Isère. La Face de Bellevarde offers up the toughest of challenges for even the hardiest of skiers. 3km of black pitches, with gradients as steep as 71%, means a leg-burning test for anyone. The best time of day to ski the Face is first thing in the morning, incidentally this was the warm-up run for many a training day when I was in Val d'Isère myself.
Snow conditions on La Face can vary wildly even at different points of the same day. Fresh corduroy can quickly give way to icy sheets that by the end of the day can even become moguls. It is safe to say that La Face is for experts only.
One particular place to note is the fabulous restaurant: Peau de Vache. Situated at the top of the Bellevarde Express chairlift, this cosy mountain restaurant offers the finest local specialities and even has a small terrace for the sunnier days. You'll have to reserve in advance but it is most definitely worth it; so good in fact it made our list of the best places to eat in Val d'isère!
Ski In Ski Out Chalet on La Face de Bellevarde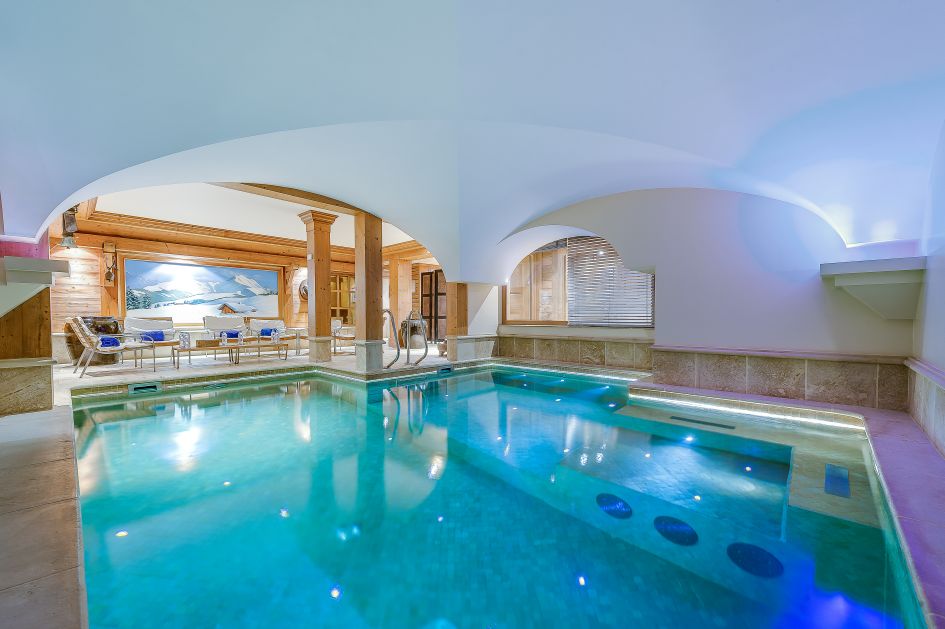 Chalet Montana is a luxury ski in ski out chalet with a wealth of incredible facilities. This traditional chalet is suitable for between 10 and 15 people across 6 well-appointed bedrooms. You will fall in love with this chalet not only for its pool, sauna and piste-side location, but also the stone fireplaces and cosy Alpine interiors that ooze buckets of charm. The chalet is located towards the bottom of the run. This means that you won't have to worry about starting your day with the hardest run before you get your ski legs warmed up. A short ski will deliver you to the main snow front.
Santons & Épaule du Charvet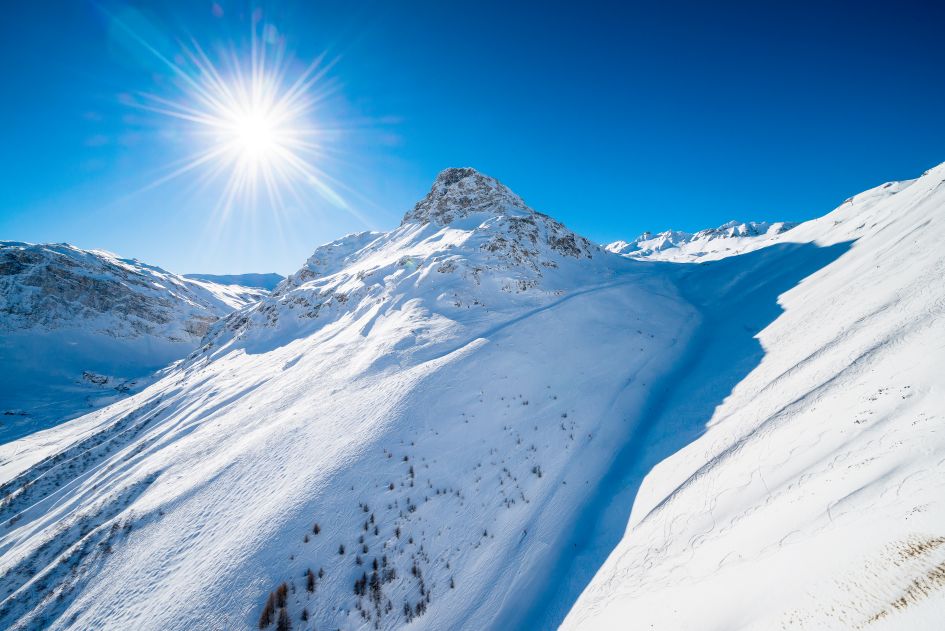 Sticking to runs reached from the top of the Bellevarde mountain, we have two pistes that converge into one at the bottom, where you will reach some fantastic ski in ski out chalets in Val d'Isère. Starting at the bottom of the Fontaine Froid chairlift, a fork in the piste will give you the option of two very different but equally fun skiing experiences. Head left to find yourself on the Santons red piste. A narrow gully forming almost a natural half pipe will have you whizzing down it. Be careful to keep check of your speed and make lots of turns, as the further down the run you go, the narrower the piste and choppier the snow. It all comes to a funnel at the end, where there's a tendency for skiers to congregate.
If you take the right fork, you will be treated to the black run, épaule du Charvet. Don't let the beginning fool you, this is for expert skiers only. What begins as a gentle flat path around the mountain starts to get bumpier and bumpier until you open up onto a very steep black run with eye-wateringly large moguls all the way down. This run was rarely, if ever, groomed when I was in Val d'Isère, meaning that over the course of the season the moguls only got even larger!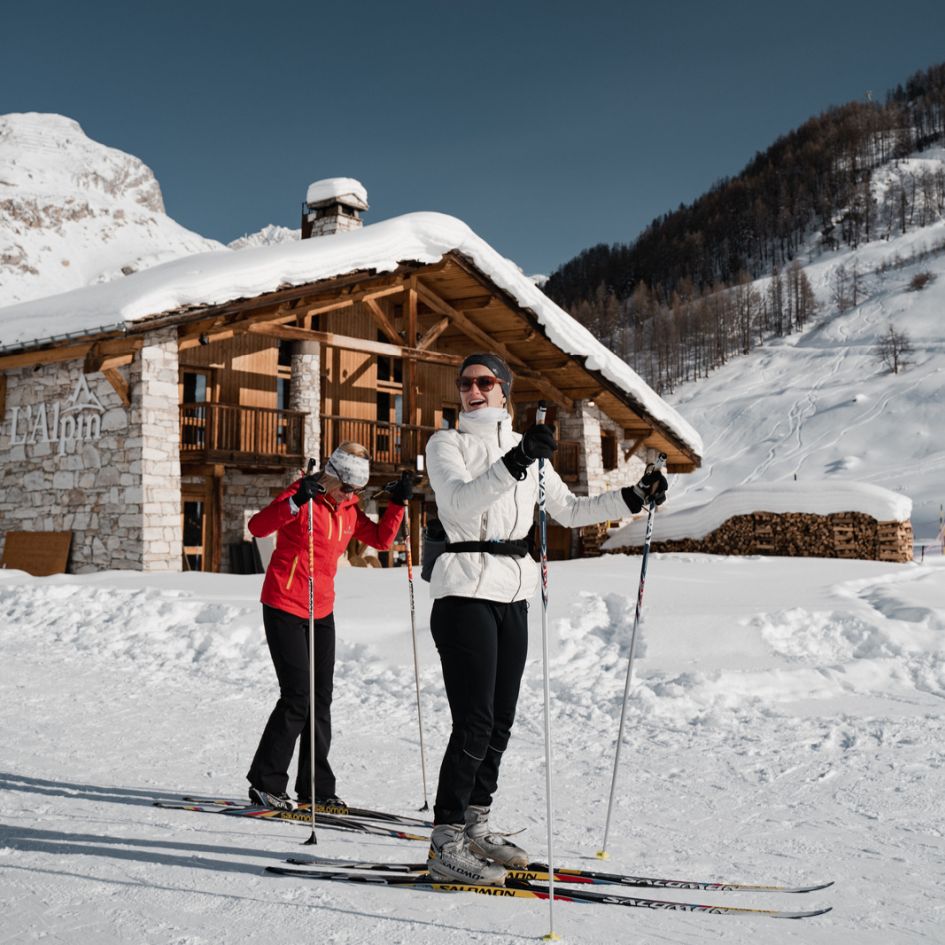 If you successfully navigate the mogul field, or wisely opt for the Santons gully, the two runs meet up again past the funnel point. From here a big schuss is needed as the run becomes very flat. Sorry snowboarders, but it is guaranteed that you will have to walk a bit of this last section. The runs actually join up at the end of a cross-country skiing area, look out for any skiers travelling the opposite direction as you zoom on by. On the right of the run, you can stop off at Restaurant L'Alpin Val d'Isère. Gourmet dishes paying tribute to the Savoyard region await inside. On the outside, a giant panoramic sun terrace will allow you to soak up the rays as you enjoy a well-deserved break. Continue past to reach your ski in ski out chalet and the snow front of Val d'Isère.
Ski In Ski Out Chalets on Santons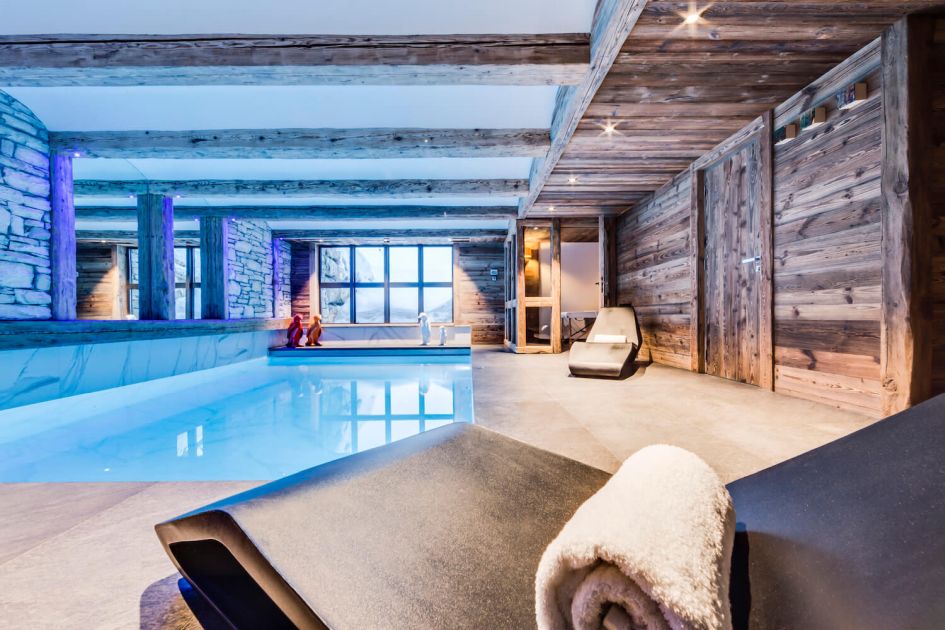 Just a short ski down from L'Alpin, before you ski across the bridge over the river, you will find yourselves at Chalet Daria. This catered ski in ski out chalet in Val d'Isère offers ultimate luxury in both facilities and services. A luxury chalet with a pool, Hammam and massage room, in addition to an open bar – what better place to treat yourself after a long day of skiing? Enjoy fine gourmet dining on five nights and an in-resort chauffeur service to take you about the village. Sleeping 14 guests over 7 elegant bedrooms that can be configured as either double or twin rooms, this is the perfect chalet for a corporate retreat or a larger mixed group looking for a luxury ski holiday in France.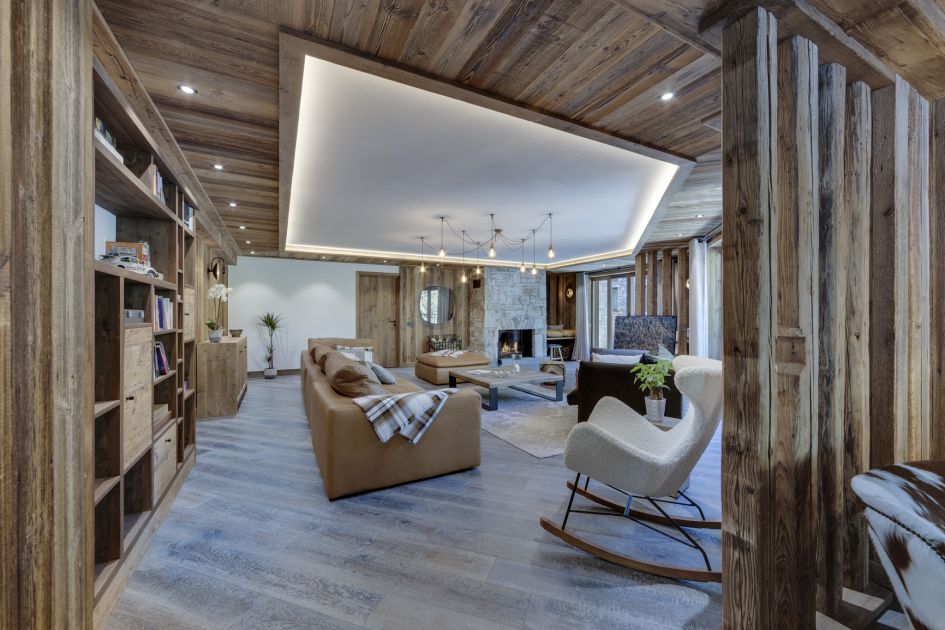 As the name would suggest, Cala Slopeside is in a prime ski in ski out location. This luxury duplex apartment accommodates 10 guests across five stylish bedrooms, using reclaimed wood to create a traditional chalet feel. After a long day on the slopes, there's nothing better than relaxing tired legs and aching muscles in either the private hot tub or comforting sauna. Offered with a bed and breakfast service, you will be well looked after before you head off for a day of skiing. What's more, the property sits in a good location, just 10 minutes walk to the centre, allowing you to better explore the resort in the evenings.
Piste M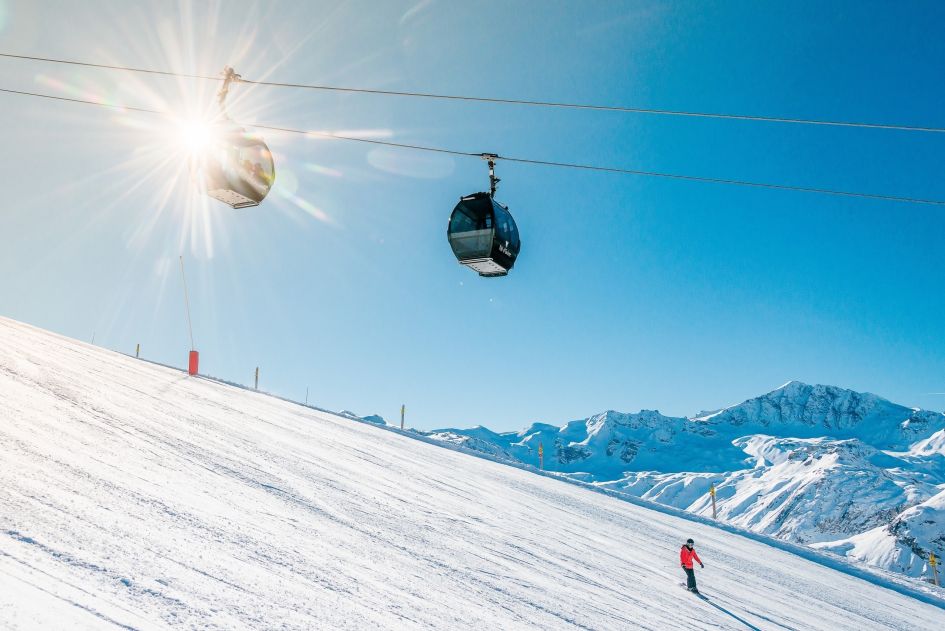 Starting from the top of the Solaise gondola, the Plan red run becomes the red Piste M with an easy blue section at the bottom as you ski past the Legettaz button lift. Piste M is a notoriously busy run, being the easiest route directly down from the top of Solaise (short of taking the gondola). Wide and open at the top, you'll have a lot of space to play about and test your technique on a nice and forgiving red piste. Once you get below the treeline, however, the piste forms a much narrower path where other skiers will become your biggest obstacle.
For anyone worried about taking on a slalom of weary skiers at the end of the day, fear not! If you choose to take the gondola down, or reach the central lift hub of Val d'Isère by any other means, the Rogoney chairlift is your friend. From the top of this lift, a gentle blue traverse brings you to the lowest blue section of Piste M, with every ski in ski out chalet along the piste reachable from this point. Similarly to Santons and La Face, Piste M is another run that brings you to the main snow front of Val d'Isère.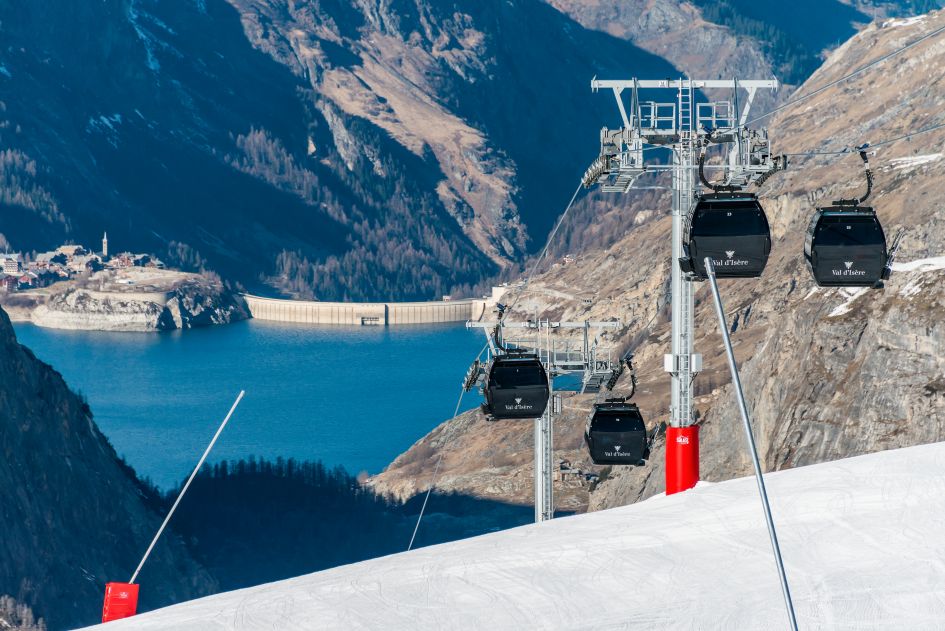 There are two additional highlights worth mentioning at the top of Piste M. The first is the phenomenal views. As you make your way over the brow of the hill, you might be forgiven for focusing on your own skiing and the increasing steepness of the slope. However, if you take a second to stop, you will have a breathtaking view of not just Val d'Isère, but all the way down the valley, towards the Lac du Chevril, the Tignes Dam and beyond.
Secondly, for the experts amongst your group, the Piste S or "S Bumps" as we would always refer to it, is a mogul challenge like no other. Beginning at the top of Piste M and rejoining at the final red stretch, this is another black, ungroomed run to test your mettle on. A wide field of moguls gets narrower, bigger and steeper as you head below the treeline. Successfully making it to the bottom is always a cause for celebration.
Ski In Ski Out Chalets on Piste M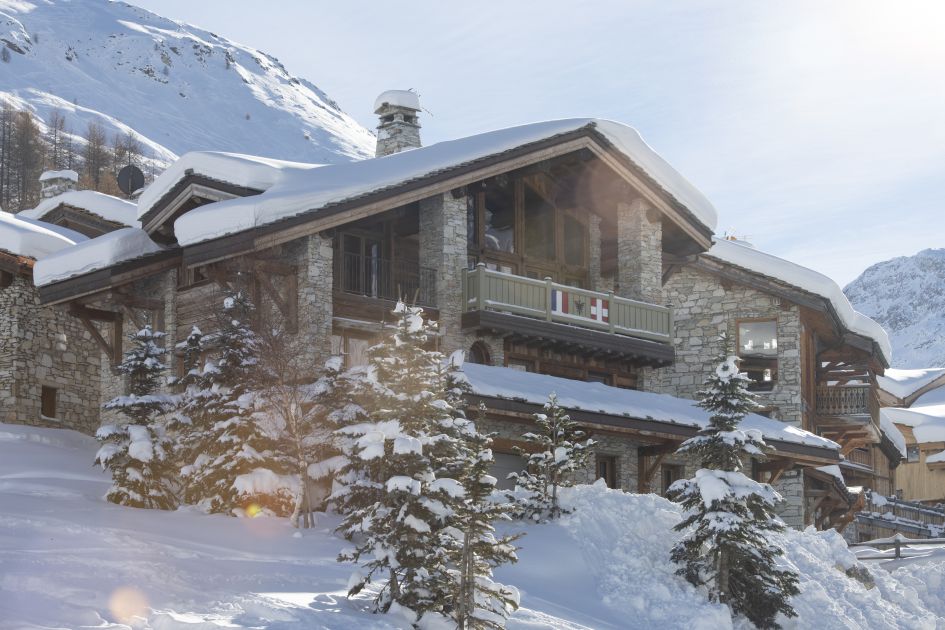 The majestic Chalet Face À Face, so called for its incredible views of a previously mentioned ski in ski out piste in Val d'Isère, La Face de Bellevarde. Part of our Ultimate Collection, making this one of the best ski in ski out catered chalets in France, this place has so much to offer you'll never want to leave. There is room for 14 guests over 6 bedrooms and 380m² of floorspace. Striking interior design and chic furniture will delight those with expensive tastes, while the incredible wellness facilities and entertainment options will keep everyone occupied. An indoor swimming pool, outdoor hot tub, sauna, Hammam, cinema room and massage room will leave you spoilt for options on what to do in the evenings, and that's before even mentioning all the delectable food you'll get to taste at dinner time.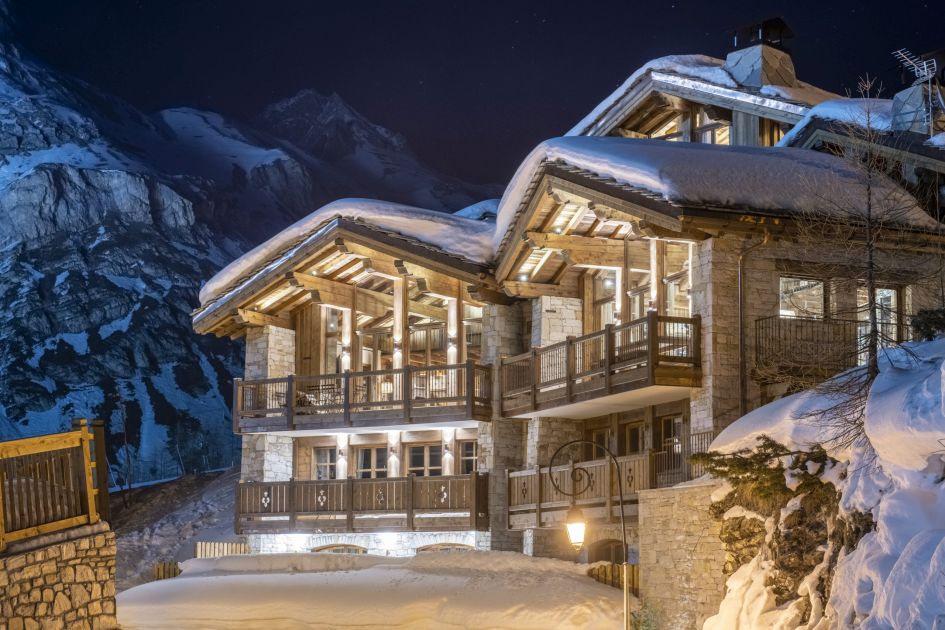 Grand Pré 4 is a ski in ski out chalet in Val d'Isère that has been featured on a previous blog, the top luxury bed and breakfast chalets in Val d'Isère. While technically one of four luxury apartments in the building, Grand Pré 4 still spans three floors and can sleep 8 guests over four double bedrooms. Stunning views of the commanding Bellevarde mountain opposite and beautiful, sophisticated furnishings make this a wonderful retreat for a Val d'Isère ski holiday. There is also shared access to the wellness facilities in the building, with a swimming pool and sauna awaiting you on return from skiing.
The Snow Front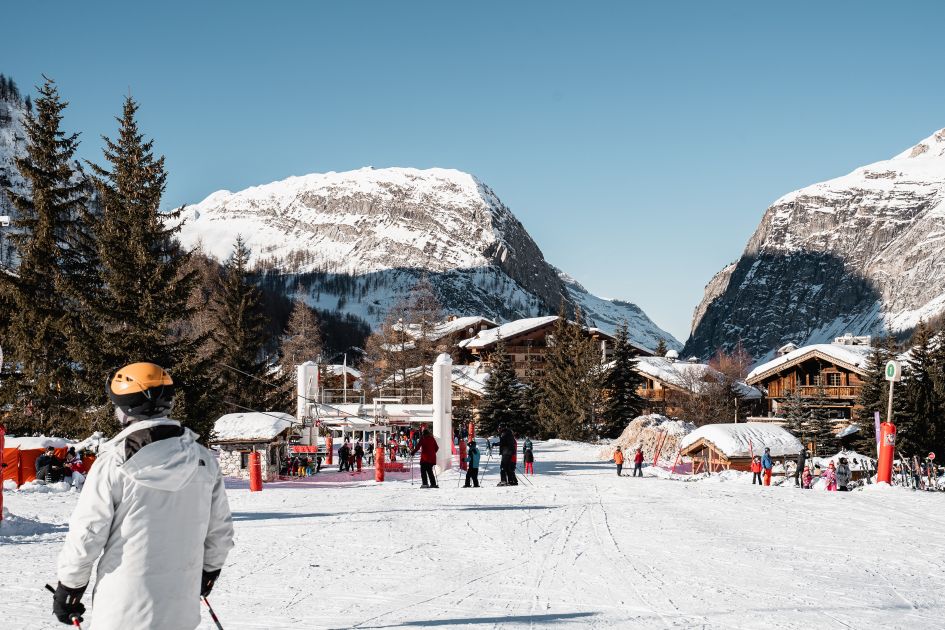 One thing that all the pistes mentioned so far have in common is that they all lead in to the main snow front of Val d'Isère. This expansive area at the bottom of the mountains will be the point where you ski down to from your luxury ski in ski out chalet to regularly start your day. In addition to the ski school meeting points and the nursery slopes, this is also the central lift hub of the resort.
If you take the Solaise gondola up the Solaise mountain, you will find another beginner's area with an assortment of green runs in an alpine bowl. It's from here where you can also take a two-way chairlift up and over a mountain to the glacier skiing of Le Fornet. This area is an excellent spot for some off-piste skiing in Val d'Isere. Should you head up the other mountain from the central lift hub and take the Bellevarde cable car, you will find an assortment of runs suitable for every ability of skier. Heading up this way will also connect you to lifts that bring you over to Tignes, should you have a ski pass that encompasses the entire Tignes-Val d'Isère ski area.
For non-skiing related activities, the snow front has a number of cafés, bars and shops and leads directly into the centre of the village. The most notable of all spots, and I wouldn't be able to write a blog on Val d'Isère without mentioning it, is the lively aprés bar, Cocorico. I have spent many a late afternoon on return from skiing living my best life in the party atmosphere of Coco's. Live music, dancing and good vibes are what you will find at this bar nestled into the piste on the snow front. One of the best parts about staying in one of the aforementioned ski in ski out chalets in Val d'Isère is that you are only a short walk down a very flat slope to the bar. It also means you can store all your ski gear safe in the chalet, and freshen up if it's been a particularly vigorous day on the slopes, before heading down to Val d'Isère's top aprés location.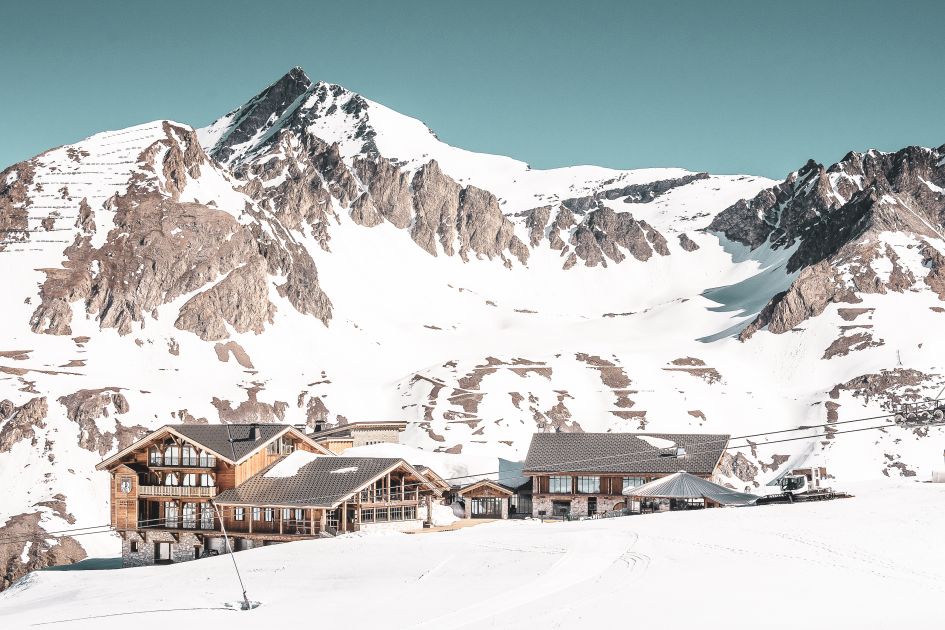 The most unique place to stay for a Val d'Isère ski holiday is at Le Refuge de Solaise. Sitting on top of the Solaise mountain, this hotel, restaurant and spa can only be accessed via the gondola between the hours of 9am and 4:30pm, with no possibility to leave between 5pm and 9am for security reasons. The perfect Alpine retreat, at an altitude of 2,551m, will treat you with unbeatable views in this incredible location. This ski in ski out hotel leads directly out on the Plan red piste which transitions into Piste M. Alternatively, a short walk, via the help of a magic carpet, will bring you to the top of the gondola station.
On top of the regular hotel rooms, there are a number of luxury apartments available to stay in the Refuge, the foremost being the Penthouse Charvet. At 380m² and with space for up to 18 guests, this heavenly Alpine lodge affords all the benefits of the hotel while still being in your own private space. You will have the use of Le Refuge de Solaise restaurants and bar, as well as the fantastic spa area. The spa contains a large swimming pool, 2 Jacuzzis, 2 Hammams, an outdoor sauna, several massage and treatment rooms and even a gym. This really is one of the most special places to stay on a luxury ski holiday in France.
La Daille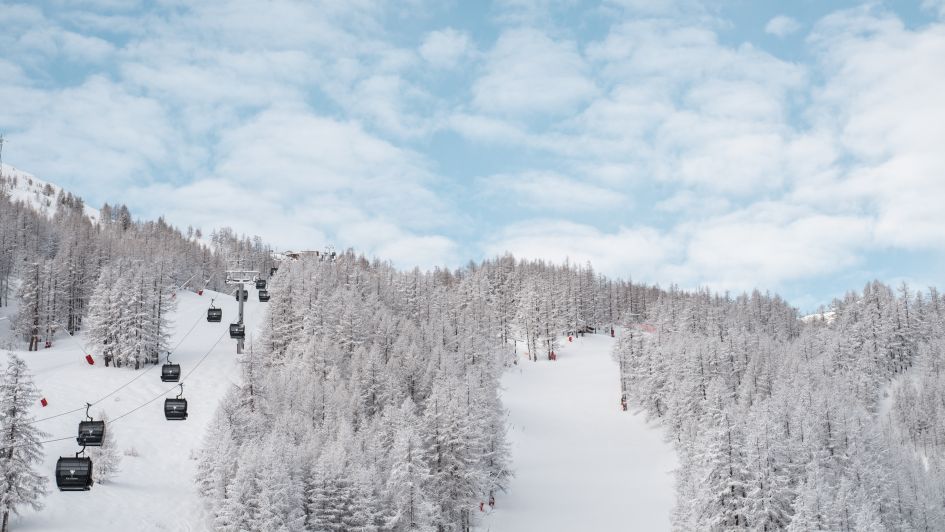 While the ski in ski out chalets of La Daille are all technically serviced via the green Verte piste, it would be doing a disservice to only mention that one run. The pistes at La Daille are a spider's web of interconnecting runs. The green Verte, blue Diebold and red OK Coupe de Monde and Orange all start at the top of the Rocher de Bellevarde, and join up with several more runs on the way down to La Daille. The pistes all criss-cross each other so often that you could probably spend an entire ski holiday in Val d'Isère and never ski the same route twice. With lots of different pitches of varying difficulty, this is a fantastic area for skiers of all abilities and one that we would often train in during my time in Val d'Isère, in order to perfect technique before moving onto harder areas.
As a hamlet of Val d'Isère, La Daille is the ideal spot for anyone looking for a bit of a quieter ski holiday. However, just because it is not as centrally located, it doesn't mean you will be missing out on anything. Regular free buses will take you to the centre of Val d'Isère within 10 minutes, or you may be able to take advantage of your luxury chalet driver service. The Funival will bring you to the top of the Bellevarde mountain, while the La Daille gondola provides access to the Mont Blanc and Tommeuses chairlifts, which take you off to the Val d'Isère snowpark and the Tignes ski area respectively.
La Daille Highlights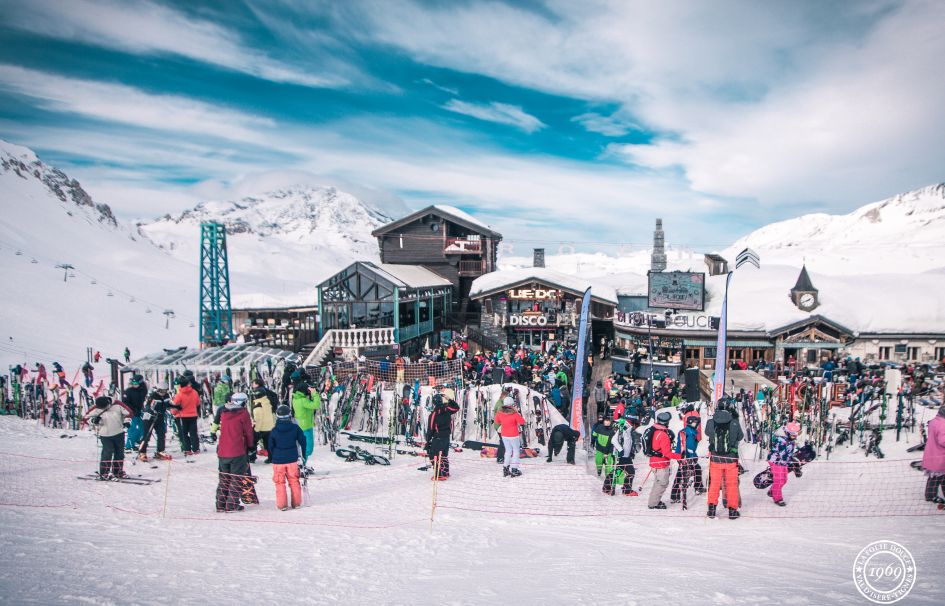 La Daille is where I lived on my ski season in Val d'Isère and as such I became very familiar with all the best places on the mountain there. I won't bury the lead here, at the top of the La Daille gondola you have the original, and arguably still the greatest, La Folie Douce. The famous on-piste aprés bar has locations all over France and its reputation has become that of legend. DJs, singers, dancers, acrobats; there's always a show going on here. You can't visit Val d'Isère without at least one afternoon spent in Folie. Although best known for the party, La Folie Douce is also one of the best places to eat in Val d'Isère, with no less than 5 different restaurants to satisfy any member of your ski group.
Halfway down the web of runs from the gondola there are more gems to discover. At a meeting point of the Verte green, Diebold blue and OK red runs, Le Trifollet is a mountain restaurant with a mix of traditional cuisine, pizzas and pastries. A cosy atmosphere indoors provides a welcome respite on snowy days, while two terraces outside offer up beautiful views of the tree-lined runs and beyond, all the way to the Solaise mountain. Coming off the Criterium and Diebold blue runs and the OK red, Le Village Perdu is a sustainable, eco-friendly outdoor play and relaxation area. Hidden amongst the trees of the Etroit forest, you can ski off-piste into the heart of the space before taking off your skis to explore the suspended wooden walkways and treehouses.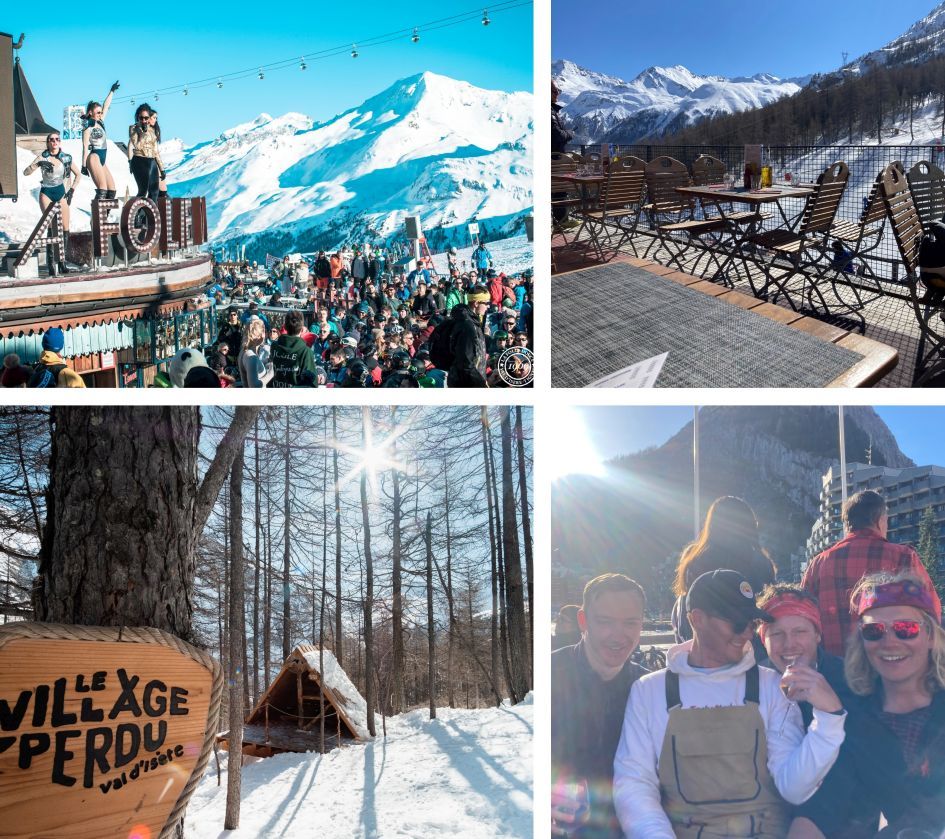 The final place worth a mention sits just across the bridge at the foot of all the slopes of La Daille. No more than a minute walk from any of the ski in ski out chalets in La Daille, there is the bar La Rosée Blanche. There are not enough superlatives in the world to describe my love of La Rosée Blanche. While Rosée is enjoyable at any time of the season, it really comes into its own as you head towards the spring. The longer days mean many extra hours of sunlight which you can spend on the always bustling sun terrace. The occasional live music is an added bonus and there's nothing more fun than sitting back with a drink and watching the skiers who've had a bit too good of a time at Folie as they come off the slopes.
Ski In Ski Out Chalets in La Daille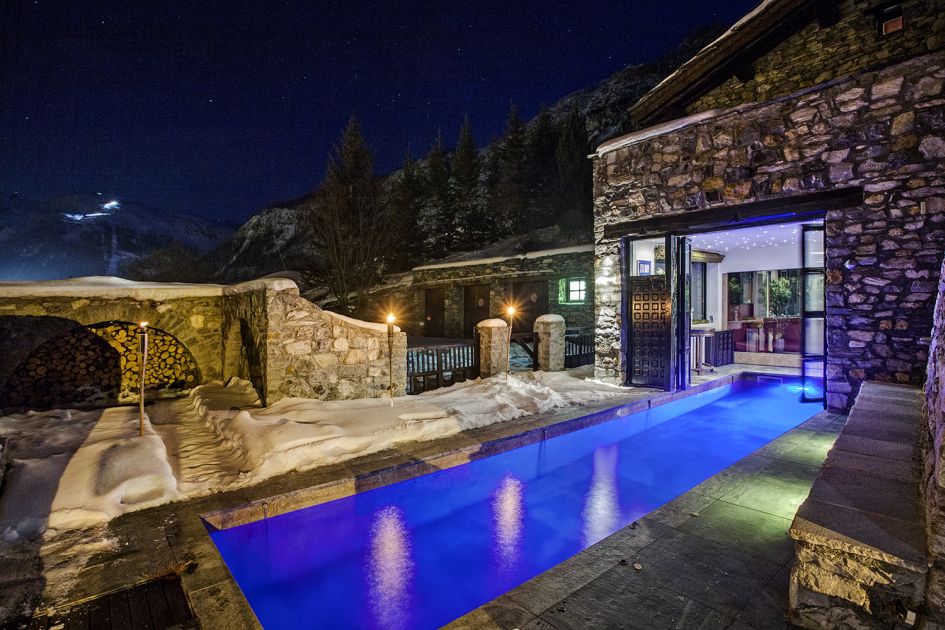 Chalet Toit du Monde is a luxury ski in ski out chalet in Val d'Isère that pulls out all the stops. Of all the ski in ski out chalets in France, this is probably one with the most history behind it, having been converted from a 17th century French monastery. This catered chalet is full of rustic charm with mountain decor from all over the world, as well as having excellent facilities. An indoor to outdoor pool with adjustable depth, cigar lounge, sauna and massage treatment room are just some of the great facilities on offer here. A standout feature of Chalet Toit du Monde is its bathrooms. Each bathroom has a sizeable bath carved out of marble, with glass walls that allow the bathrooms to double up as Hammams, giving the chalet four Hammams in total. Suitable for 8 to 10 guests, larger groups can take the chalet with the adjoining one as Domaine Toit du Monde, where 16-20 guests can be accommodated, and you have twice the amazing facilities. Its size, facilities and flexibility means it is an excellent choice for a corporate ski holiday too.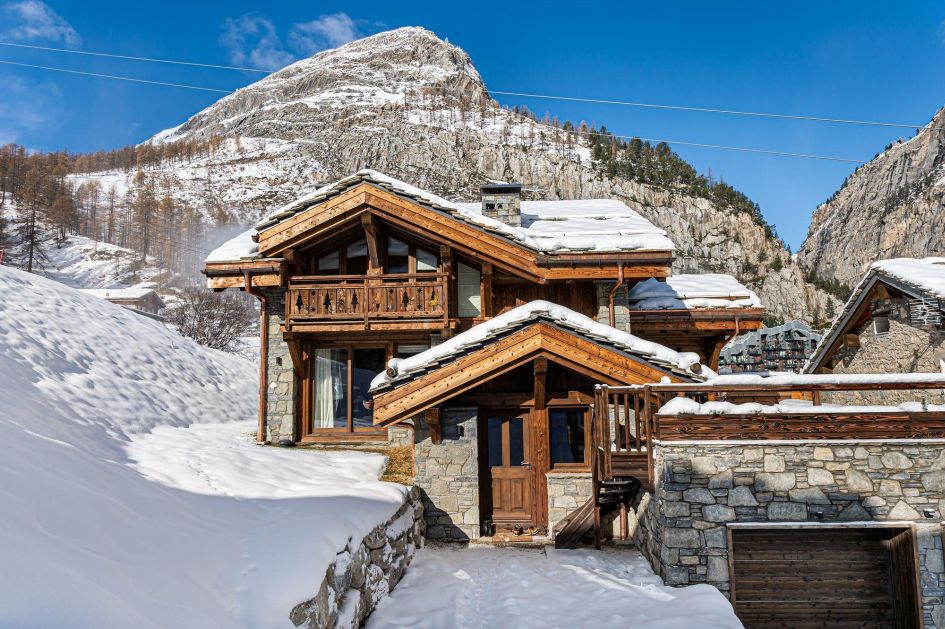 A modern chalet inspired by classical design, Chalet Saint Joseph provides an intimate self-catered home for 10 or 11 guests. Light woods give the chalet an airy and spacious feel. As well as the ski in ski out aspect, the chalet comes with a sauna to ease any aches and pains from skiing. A large terrace provides fantastic views along the valley and also offers an intimate space to enjoy a post-ski apéritif.
Conclusion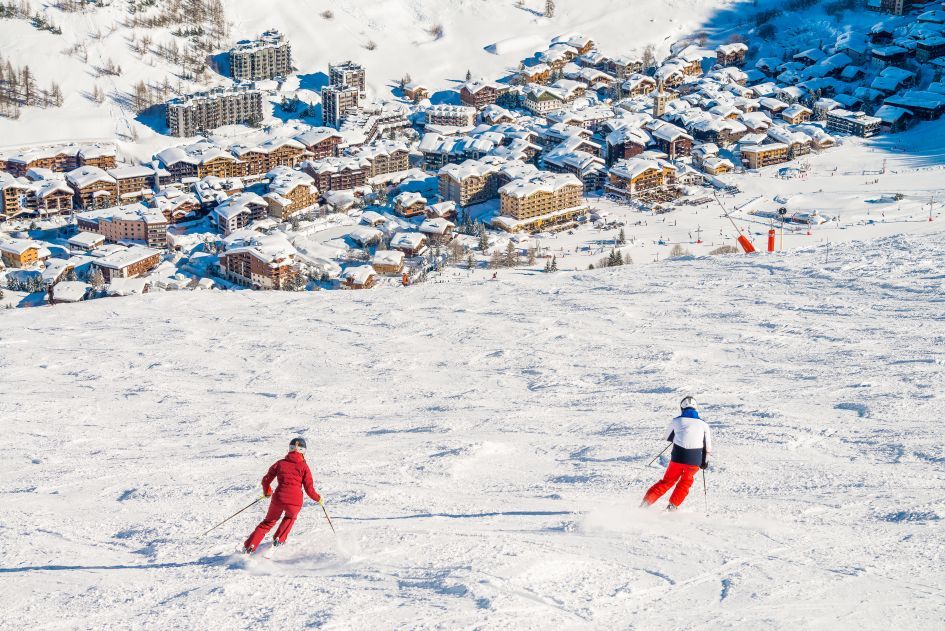 A luxury chalet situated on a ski in ski out piste in Val d'Isère is about more than just convenience of location. The pistes themselves provide a mix of positive attributes; from challenging steepness, delightful mountain restaurants and lively après, there are runs to please every type of skier. And with the interconnecting nature of the slopes, there is often more than one way to arrive back at the ski in ski out chalets in Val d'Isère.
If any of the chalets listed here have piqued your interest, or if you are interested in a luxury ski holiday in any of our ski chalets in Val d'Isere, then feel free to give us a call and speak to one of our Ski Specialists on +44 1202 203650. Alternatively, send us an email and we can get planning a luxury ski holiday in Val d'Isère for you.