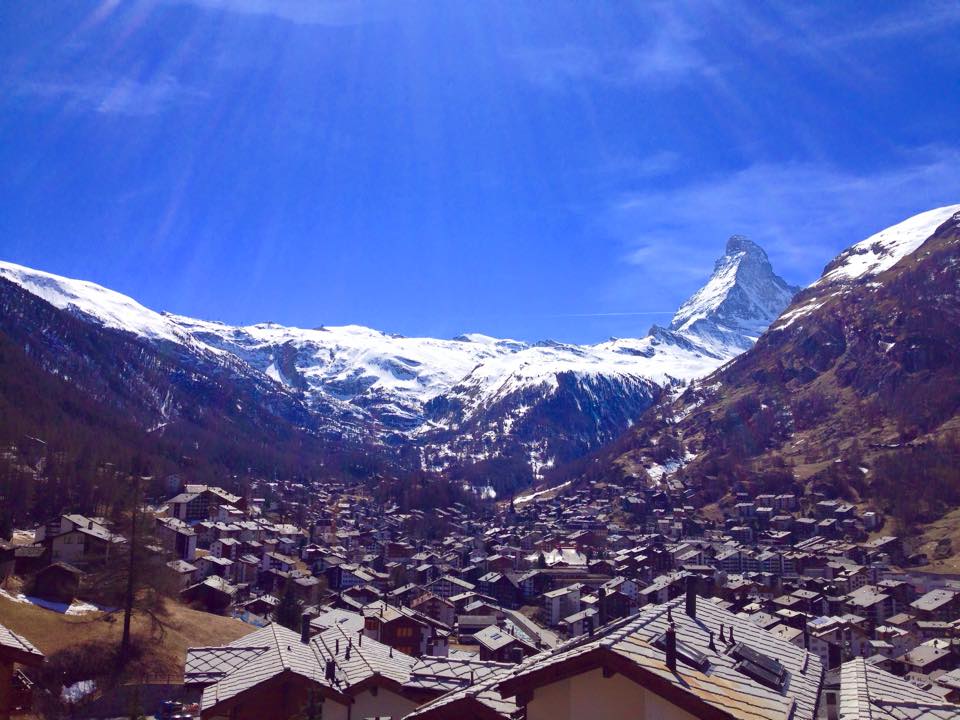 It may have been almost a week since my return from Zermatt, but if I close my eyes tightly enough I am still transported to the balcony of Chez Vrony with the sun on my face and a very full belly after what can only be described as the best burger of my life! A perfect lunchtime spot after a morning's skiing in glorious Spring skiing conditions with soft fresh powder, not a cloud in the sky and barely a Swiss roll (soul) on the slopes….
In the weeks leading up to my second work trip to resort, I had a fair few people tell me that Zermatt is amazing and I will have a fab time. The usual polite response I assumed, to which I replied thanks and thought nothing more of. For why was Zermatt so special in comparison to any other resort? I'd heard the Swiss are more efficient than the neighbouring French and Italian resorts and also that the journey from Geneva to Zermatt by train is very pretty. Aside from what I have read online that was pretty much all I knew of in terms of real resort knowledge!
True to what I'd been told the 1st class train journey from Geneva to Zermatt was rather spectacular (thank you to the Swiss Tourist board for the pass), however nothing could prepare me for my arrival and from the minute I stepped out of the station into glorious sunshine, Zermatt felt like no other Ski resort I have visited.
The Eco Warrior of resorts, Zermatt is a car free zone with quirky electro-taxis or your feet to get you from one end of resort to the other. Aside from this there are only two 5* Palaces which offer a more lavish method of transport and being lucky enough to spend two nights in the Mont Cervin Palace, I was collected from the station in a beautiful horse drawn carriage…Que lot's of tourists taking pictures of a 'VIP' aka just little old me on a work jolly!
After a quick freshen up I has a tour of my hotel and what I enjoyed most about the Mont Cervin Palace is that although it has all the glitz and glamour you'd expect for 5*, the hotel  really prides itself on the history of Zermatt. Director of Sales, Petra, regaled me with a fantastic story about their "Joseph's Bar" named after the first local priest who welcomed the odd walker and mountain enthusiast into his home way back in 1842 as a stop gap before the Matterhorn Ascent. His brother Alexander soon joined him as word spread about the Village, moving just up the road to expand a 6 bedroom chalet into a 35 bed residence now known as the sister hotel of the Mont Cervin, The Monte Rosa!
My tour was followed by a superb lunch in the hotel where I was joined by Martin of Zermatt Bergbahnen. He brought me up to speed (pardon the pun) on how efficient the lift system is, something which the town is well known for. The gondolas are all eco-friendly and the tourist board have invested 1 Million Swiss Franc annually in environmental measures since 2002. Even the Zermatt Bergbahnen restaurant and shop runs solely on the electricity it produces from its own photovoltaics plant!
In Winter, Zermatt has 350km of groomed pistes and with the Matterhorn ski paradise being the highest skiing area in the alps, it is also the only resort where you can actually ski 365 days of the year! As you can imagine, a huge amount of money, time and effort is invested into keeping the resort and snow conditions of a quality standard for people to enjoy all year round. The resort is busy throughout summer with tourists having the luxury of skiing up on the glacier in the morning before sunbathing for the afternoon down in the village! For non skiing (or sunbathing) enthusiasts there is a huge amount of history to take in just walking around the village, alongside mountain biking and of course climbing the infamous Matterhorn!
My afternoon was spent visiting some beautiful chalets and apartments including High 7 Penthouse, Aria Penthouse, Tuftra Apartments, Chalet D'Amore and Chalet White Pearl which is the only chalet in Zermatt in our portfolio that features an indoor swimming pool!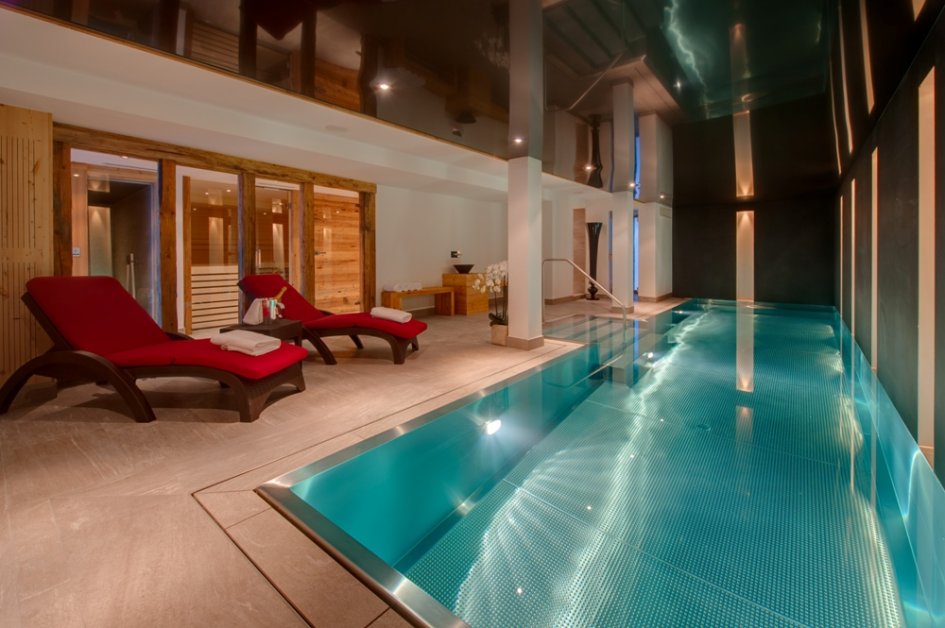 Zermatt is certainly not your man made ugly ski resort, it is a home for hundreds of generations and continues to be a popular place to settle permanently. The amount of people I spoke to who had arrived into Zermatt and never left became a running theme during my trip!
Walking around the village, it was immediately clear that Zermatt is something truly special and although Switzerland as a whole is pricey in comparison to neighbouring French and Italian resorts, it is easy to see why. You get what you pay for as the saying goes and Zermatt is so much more than just a World class ski resort. The village exudes a deep history which is reflected throughout in the contrast between old and new.
There is a beautiful little park and memorials for those who have perished climbing the Matterhorn alongside a quaint Catholic Church where I witnessed 3 weddings in my 5 day trip! The really really old part of the town still has buildings dating back to the 1800's complete with bizarre stone slabs propping up what would have been the bedroom quarters I presumed. I later found out these circular slabs were put in place by locals to stop the mice sharing a bed with them, for they can't climb upside down!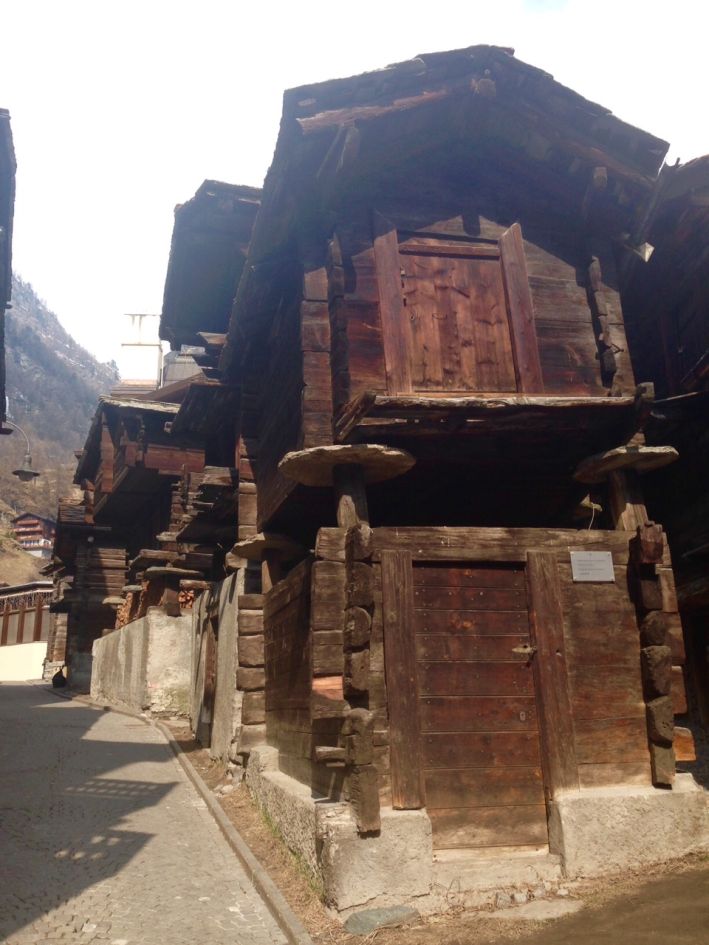 After a lovely evening spent in Gee's Bar & Brassiere, which I will be featuring in a separate blog interview shortly, I slept like a dream in my hotel suite and headed out to meet Thomas of Backstage Hotel the following morning. Many buildings in recent years have been designed by popular Swiss architect and design guru Heinz Julen who's stamp can be seen in numerous cobbled back streets and bars. The Backstage Hotel is one of them and will shortly feature on our portfolio alongside their Luxus Chalet and Luxury Loft.
The Luxury Loft sits on the river just a ten minute walk from the main hotel and the ski lift just 2 mins. A very quirky feature of the loft is the 500 year old 'Stubli' that has been carefully modernised whilst still maintaining its original charm and it serves as the Master Suite for guests. The Luxus Chalet features a unique hydraulic hot tub that actually rises up through the roof of the chalet, providing an experience that can be found in no other chalet that we know of in the World! For these reasons both will soon also be featured on our Ultimate Luxury Chalets website.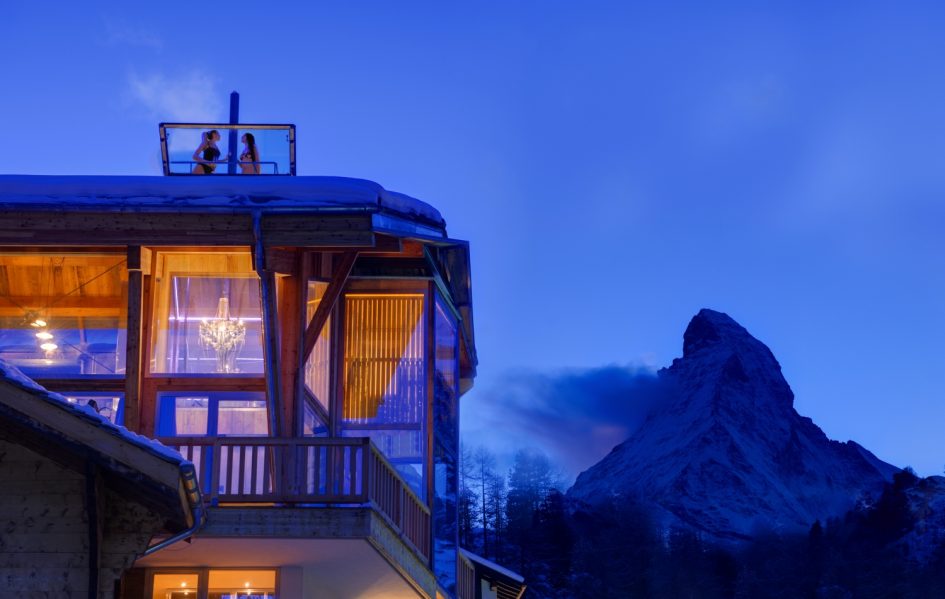 One chalet that I was most looking forward to visiting was the infamous Zermatt Peak….why? Because it has won 'Best Ski Chalet in Switzerland at the World Ski Awards, was voted the number 1 Swiss chalet in the Ultra-Luxe category with Premium Switzerland and has an International award nomination in design and architecture. With an official 5 star+ rating from the Swiss Hotel Association and Swiss Tourism, Zermatt Peak is truly spectacular! Although at the height of the luxury rental market, what I loved about the chalet was its understated element of glamour and class. No garish fabrics and giant naked shrines to try and interpret like some more popular ski resorts (not naming any names). It is easy to see why the rich and royal enjoy this chalet in equal measures throughout the year.
I also visited some further new additions to our portfolio including apartments Elise & Elsa, Heinz Julen Penthouse and Mera Peak which was one of my favourite apartments of all during my visit to Zermatt, although a little further out of town.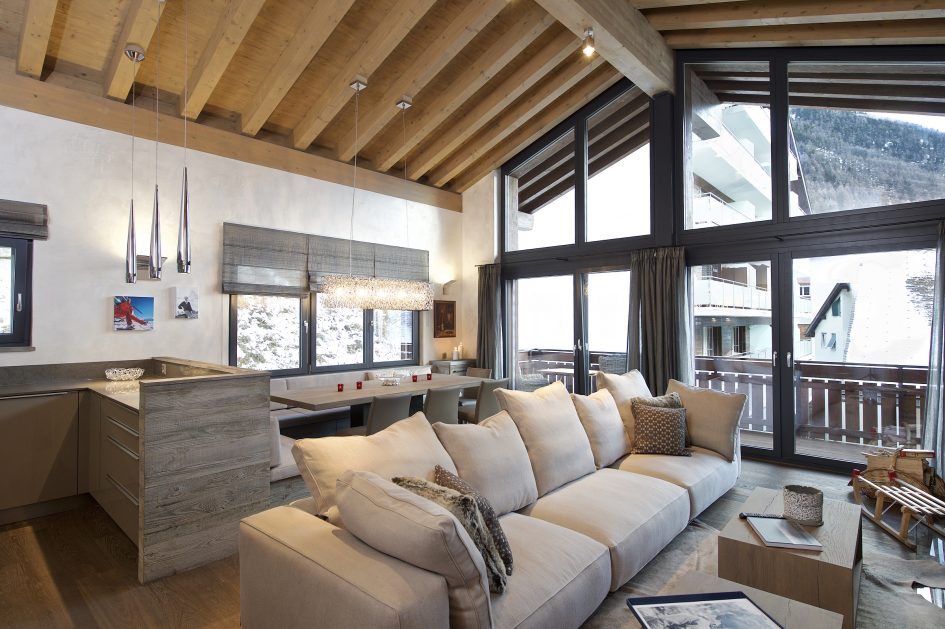 My evening was spent being hosted in Chalet Gemini, one of four lovely chalets tucked against the hillside (Castor, Pollux and Ibron being the other three). Its location provides the best of both worlds as it is high up and accessed by a lift at ground level giving guests the feeling of being in a small hamlet, however is just 200m from the Matterhorn Express base lift station. Gemini has large balconies and terraces offering spectacular views of the village below and is very safe for families, providing plenty of outdoor space for children to play in the snow.
The service and food in the chalet was outstanding, with Theo our Greek chef offering perfect mini egg yolk and bacon toasties as canapés, an exotic seafood soup, veal with a red wine and wait for it….chocolate jus. Sounds rather odd but it really was delicious, all washed down with Swiss local wines!
After a fabulous evening and fair few glasses of Vino, I was drunkenly tricked into thinking I had magical mountain powers when I was asked to pick a colour for the little blue light seen far away on the mountainside. After excitedly changing the light to a succession of colours I was informed about the Lumorama, where by dialling a number from a mobile, locals can change the colour. Each call contributes to the fund in favour of mountain Guides of Zermatt and their families in case of death or invalidity through accidents. Magical and Touching!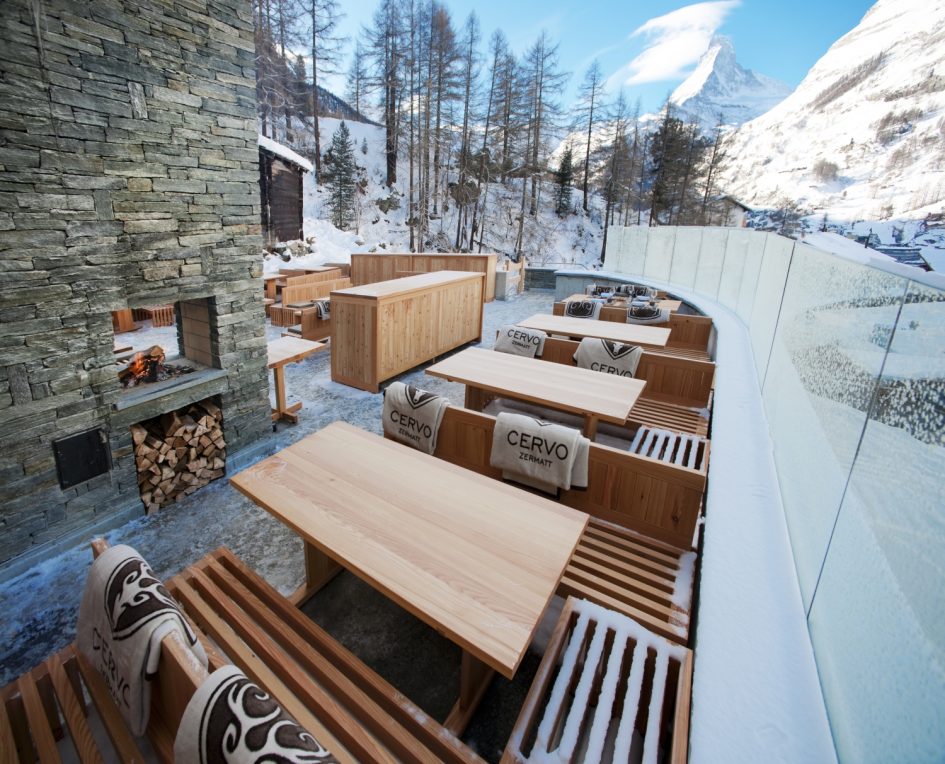 Following my trip, we welcome the funky Cervo Boutique Hotel, Zermatt's only "ski in/ski out" hotel! It takes less than 10 minutes on foot to the Train Station and from the valley station of the Sunnegga funicular the lift takes you directly to reception. It is very uniquely designed as six chalets including the owner's lodge, with spacious rooms and suites. You can clearly see that the owner's passion is hunting and the small print of the hotel even states "Dogs, Cats and Deer welcome"! Situated on one of the last ski runs back into resort, the Cervo Hotel is also a popular après spot for skiers, just look at that terrace!
The last two days of my trip were spent being hosted in one of the Ski in Luxury Team's favourite Chalet's on our website, Chalet Grace. Being beautifully sunny in resort, I spent the afternoon sunbathing up on the large terrace enjoying champagne and afternoon tea with freshly squeezed lemonade, salmon and home made cakes being a daily delight in the chalet. I say it time and time again, but it is such a hard life working for a Luxury Ski Agency!
The chalet staff and service were again exceptional and I was even treated to a complimentary massage, which was one of the best I have received (living in the south I have visited a lot of New Forest Spa's). We received grand tours of Chalet Maurice and Les Anges, alongside the newly built Haus Alpa apartments featuring Penthouse Louisa and Lara.
We even managed to get a day's skiing in on Monday and the conditions could not have been better! Despite skiing for most of my life, I have no patience for lugging my ski equipment to the lifts each morning and queuing for what feels like a lifetime – the standard protocol during peak times and one what I am all too familiar with, usually skiing in December or January with friends and family.
Zermatt was simply fantastic and although I appreciate it was drawing to the end of the ski season, apparently queues are few and far between with only small queues on peak weeks – something you experience daily off peak in other resorts!
It was so refreshing to take the Klein Matterhorn lift from down in town up past Furi and Schwarzee where you can hop off if desired, right up to the Matterhorn Glacier Paradise at 3,883m without even having to change cable cars. The views from here are incredible as not only are you able to see the iconic Matterhorn from a slightly different angle, but also the Grand Paradiso which is Italy's highest Mountain and the Mont Blanc – the highest mountain in the entire alps!
The pistes were a delight and with hardly anyone on the slopes, we cruised as a group effortlessly covering a huge range of what the resort has to offer for just a few hours, all with the Matterhorn in our sigts! Zermatt is also highly regarded for its mountain restaurants and we dined for lunch at the popular Chez Vrony, where I had my amazing burger mentioned at the beginning of my blog!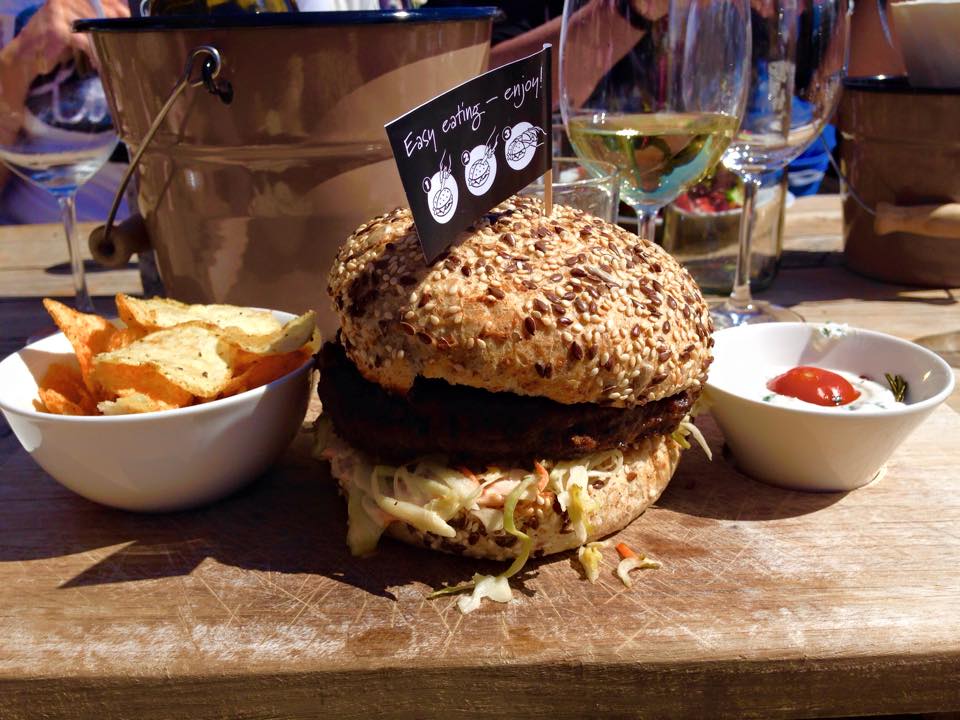 I couldn't possibly ski with such heavy legs after this feast so we took the Sunnegga funicular back down into resort and spent an afternoon relaxing before being treated to yet more food and wine!
Overall my time in Zermatt could not have been better. The resort is stunning with character and history at every turn, boutique shops and lively bars and restaurants. What stood out most is that although Zermatt is seen as one of the most exclusive ski destinations in the world, everyone in resort is relaxed and friendly with no arrogance or showmanship as I first rather expected.
Now all I need to do is save every last penny to try and get back out into resort on a family or friends trip next season!
Find a beautiful selection of our Ski in Luxury chalets in Zermatt on Pinterest
Visit our Facebook Page for all the latest chalet offers in resort. You can also find us on Twitter!
For more information on Zermatt just take a look on our Ski in Luxury website!